Analisis Vegetasi Riparian di Tepi Sungai Porong, Kabupaten Sidoarjo
Abstract
Penelitian ini bertujuan untuk mendeskripsikan keanekaragaman spesies, spesies dominan, dan spesies yang berpotensi sebagai fitoremidiator di tepi Sungai Porong, Kabupaten Sidoarjo. Analisis vegetasi riparian dilakukan di empat stasiun, yaitu area dekat tambak (1), pabrik (2), TPL Lapindo (3), dan pemukiman (4) menggunakan metode kuadran. Tiap pengamatan diulang sebanyak tiga kali. Hasil penelitian menunjukkan vegetasi riparian di area dekat tambak mempunyai keanekaragaman spesies paling tinggi bila dibandingkan dengan area lainnya, ditunjukkan oleh indeks keanekaragaman spesies (1,03) dengan kategori sedang (1≤H'≤3). Area dekat pabrik (0,95), TPL Lapindo (0,88), dan pemukiman (0,95) mempunyai keanekaragaman spesies kategori rendah (H' < 1). Turi, tebu, dan rumput Bermuda mendominasi area dekat tambak. Pepaya, pisang, dan rumput gegenjuran mendominasi area dekat pabrik. Buah anjang dan rumput Bermuda mendominasi area dekat TPL Lapindo. Sementara, di area dekat pemukiman, tumbuhan yang mendominasi adalah pohon jati, buah anjang, dan rumput Bermuda.
References
Andriyono, S. 2010. Kondisi Muara Porong Berdasarkan Indeks Klorofil-a dan Total Suspended Solid (TSS). Jurnal Ilmiah Perikanan dan Kelautan. 2(2):171-177.
Harnanto, A. 2011. Peranan Sungai Porong dalam Mengalirkan Lumpur Sidoarjo ke Laut. BAPEL. BPLS. Sidoarjo.
Nurry, A.M.F. & I.M. Anjasmara. 2014. Kajian Perubahan Tutupan Lahan Daerah Aliran Sungai Brantas Bagian Hilir Menggunakan Citra Satelit Multi Temporal (Studi Kasus: Kali Porong, Kabupaten Sidoarjo). GEOID. 10(1): 70-74.
Yuniar, D.W., T.W. Suharso, & G. Prayitno. 2010. Arahan Pemanfaatan Ruang Pesisir Terkait Pencemaran Kali Porong. Jurnal Tata Kota dan Daerah. 2(2):63-74.
Kocher, S.D. & R. Harris. 2007. Riparian Vegetation. ANR Publication 8240 1-7.
Sudarmono. 2010. Zona Riparian dalam Areal Bakal Kebun Raya Sambas; Suatu Kajian Vegetasi dan Hidrologi. Prosiding Seminar Nasional Limnologi V 345-355.
Hastiana, Y. 2014. Ecological Studies of Riparian Vegetation Reviewed by Physicand Chemistry Aquatic Conditions at Sematang Borang River, South Sumatera. Jurnal Ilmu-ilmu MIPA Eksakta. 14(2):6-12.
Fachrul, M. F., 2007. Metode Sampling Bioekologi. Bumi Aksara. Jakarta.
Prasetyo, H.D. & C. Retnaningdyah. 2013. Peningkatan Kualitas Air Irigasi Akibat Penanaman Vegetasi Riparian dari Hidromakrofita Lokal Selama 50 Hari. Biotropika. 1(4): 149-153.
Nazli, M.F. & N.R. Hashim. 2010. Heavy Metal Concentrations in An Important Mangrove Species, Sonneratia caseolaris, in Peninsular Malaysia. Environment Asia. 3(1):50-55.
Singh, A.N. Z. De-Hui, & C. Fu-Sheng. 2005. Heavy Metal Concentrations in Redeveloping Soil of Mine Spoil under Plantations of Certain Native Woody Species in Dry Tropical Environment, India. Journal of Environmental Sciences. 117(1):168-174.
Kok, T. 2014. Rooting and Acclimatization of The Selected Cultures of Musa paradisiaca in Media Containing Copper Ions. International Conference on Challenges in IT, Engineering, and Technology.105-108.
Sharmaa, S., B. Singha, S.K. Thulasidas, M.J. Kulkarnib, V. Natarajan, & V.K. Manchanda. 2016. Evaluation of Terrestrial Plants Extracts for Uranium Sorption and Characterization of Potent Phytoconstituents. International Journal of Phytoremediation. 18(1):10-15.
Majid, N.M. M.M. Islam, Y. Riasmi, & A. Abdul. 2012. Assessment of Heavy Metal Uptake and Translocation by Pluchea indica L. from Sawdust Sludge Contaminated Soil. Journal: Food, Agriculture and Environment (JFAE). 10(2):849-855.
Sampanpanish, P., S. Khaodhiar, W. Pongsapich, dan E. Khan. 2007. Alternative for Chromium Removal : Phytoremediation and Biosorption with Weed Plant Species in Thailand. Science Asia.
: 353-362.
Abe, T., M. Fukami, N. Ichizen, & M. Ogasawara. 2006. Susceptibility of Weed Species to Cadmium Evaluated in a Sand Culture. Weed Biology and Management. 6:107-114.
Patra, J., M. Lenka, & B.B. Panda. 1994. Tolerance and Co-Tolerance of The Grass Chloris barbata Sw. to Mercury, Cadmium, and Zinc. New Phytol. 128:165-171.
Estuningsih, S.P., Juswardi, B. Yudono, dan R. Yulianti. 2013. Potensi Tanaman Rumput sebagai Agen Fitoremediasi Tanah Terkontaminasi Limbah Minyak Bumi. Prosiding Semirata FMIPA Universitas Lampung. 365-369.
Juhaeti, T., S. Fauzia, & N. Hidayati. 2005. Inventarisasi Tumbuhan Potensial untuk Fitoremediasi Lahan dan Air Terdegradasi Penambangan Emas. Biodiversitas. 6(1):31-33.
Purwantari, N.D. 2007. Reklamasi Area Tailing di Pertambangan dengan Tanaman Pakan Ternak; Mungkinkah? WARTAZOA. 17(3): 101-104.
Siahaan, B.C., S. R. Utami, dan E. Handayanto. 2014. Fitoremediasi Tanah Tercemar Merkuri (Hg) Limbah Tailing Tambang Emas Menggunakan Lindernia crustacea, Digitaria radicosa, dan Cyperus rotundus serta Pengaruhnya terhadap Pertumbuhan dan Produksi Tanaman Jagung. Jurnal Tanah dan Sumberdaya Lahan. 1(2): 38-48.
Ashraf, M.A., M.J. Maah, & I. Yusoff. 2013. Evaluation of Natural Phytoremediation Process Occurring at Ex-Tin Mining Catchment. Chiang Mai J. Sci. 40(2):198-213.
Garba, S.T., A.S. Osemeahon, H.M. Maina, & J.T. Barminas. 2012. Ethylenediaminetetraacetate (EDTA)-Assisted Phytoremediation of Heavy Metal Contaminated Soil by Eleusine indica L. Gearth. Journal of Environmental Chemistry and Ecotoxicology. 4(5):103-109.
Garba, S.T., B.G. Kolo, A. Samali, & I.I. Nkafaminya. 2013. Phytoremediation: Enhanced Phytoextraction Ability of E. Indica atDifferent Level of Applied EDTA. I.J.S.N. 4(1):72-78.
Juhaeti, T., F. Syarif, dan N. Hidayati. 2006. Potensi Tumbuhan Liar dari Lokasi Penampungan Limbah Tailing PT. Antam Cikotok untuk Fitoremediasi Lahan Tercemar Sianida. Jurnal Teknik Lingkungan. 8(1): 174-180.
Paz-Alberto, A.M., G.C. Sigua, & B.G. Baui., J.A. Prudente. 2007. Phytoextraction of Lead-Contaminated Soil Using Vetivergrass (Vetiveria zizanioides L.), Cogongrass (Imperata clylindrica L.) and Carabaograss (Paspalum conjugatum L.). Env. Sci. Pollut. Res. 14(7):498-504.
Ogbo, E.M., M. Zibigha, & G. Odogu. 2009. The Effect of Crude Oil on Growth of The Weed (Paspalum scrobiculatum L.) –Phytoremediation Potential of The Plant. African Journal of Environmental Science and Technology. 3(9):229-233.
Safiul, F.M.A., W.M. Haq, S. Rahman, S. Jahan, T. Morshed, S. Islam, M.H. Reza C., & M. Rahmatullah. 2014. Phytoremediation and Prospects of Cleaning Up a Tannery Waste Contaminated Site in Dhaka, Bangladesh. Advances in Environmental Biology. 8(12):242-246.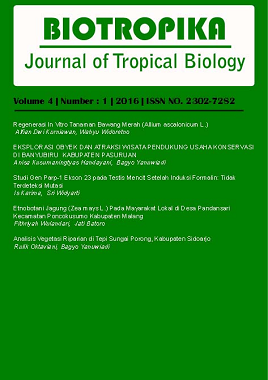 Downloads
License
Copyright and Attribution:
Articles in Biotropika: Journal of Tropical Biology are under Creative Commons Attribution-NonCommercial (CC-BY-NC) copyright. The work has not been published before (except in the form of an abstract or part of a published lecture or thesis) and it is not under consideration for publication elsewhere. When the manuscript is accepted for publication in this journal, the authors agree to the automatic transfer of the copyright to the publisher.
Journal of Biotropika: Journal of Tropical Biology is licensed under a Creative Commons Attribution-NonCommercial 4.0 International (CC BY-NC 4.0).
Permissions:
Authors wishing to include figures, tables, or text passages that have already been published elsewhere and by other authors are required to obtain permission from the copyright owner(s) for both the print and online format and to include evidence that such permission has been granted when submitting their papers. Any material received without such evidence will be assumed to originate from one of the authors.
Ethical matters:
Experiments with animals or involving human patients must have had prior approval from the appropriate ethics committee. A statement to this effect should be provided within the text at the appropriate place. Experiments involving plants or microorganisms taken from countries other than the author's own must have had the correct authorization for this exportation.