Etnobotani Jagung (Zea mays L.) Pada Mayarakat Lokal di Desa Pandansari Kecamatan Poncokusumo Kabupaten Malang
Keywords:
Desa Pandansari, Etnobotani, Jagung, Wawancara, UVs
Abstract
Penelitian ini bertujuan untuk mengungkap pengetahuan masyarakat, sistem pengelolaan, keanekaragaman kultivar, dan pemanfaatan tanaman jagung di Desa Pandansari. Penelitian dilaksanakan di Desa Pandansari, Kecamatan Poncokusumo, Kabupaten Malang. Penelitian dilakukan dengan metode wawancara bebas, mendalam dan metode wawancara semi-terstruktur. Data kuantitatif diperoleh dengan menggunakan metode pendekatan nilai penting (Use Value, UVs). Hasil penelitian menunjukkan bahwa masyarakat Desa Pandansari memiliki pengetahuan cukup baik mengenai tanaman jagung. Hasil identifikasi tanaman jagung meliputi empat kultivar, yaitu jagung lokal, jagung manis, jagung hibrida, dan jagung putih. Dari keempat kultivar jagung tersebut yang paling banyak dimanfaatkan oleh masyarakat Desa Pandansari adalah jagung lokal. Nilai UVs tertinggi bagian tanaman jagung yaitu bagian buah dan biji jagung sebesar 2,9. Nilai UVs pemanfaatan keseluruhan organ tanaman jagung tertinggi yaitu sebagai bahan pakan ternak (4,65). Selain itu tanaman jagung di Desa Pandansari dimanfaatkan sebagai bahan makan (gerit), kayu bakar, pupuk, dan pembungkus rokok.
References
Rifai, I.M.A. dan Waluyo, E.B. 1992. Etnobotani dan pengembangan Tetumbuhan Pewarna Indonesia: Ulasan suatu Pengamatan di Madura. Makalah Seminar Nasional Indonesia Etnobotani. Bogor: 19-20 Februari1992.
Belfield, dkk. 2008. Field Crop Manual: Maize (A Guide to Upland Production in Cambodia). Canberra.
Phillips, O. & A.H. Gentry. 1993. The useful plants of Tambopata, Peru: I. Statistical hypotheses tests with a new quantitative technique. Economic Botany 47:15-32.
Anonym. 2011. Karakteristik Biji Jagung. http://www.plantamor. com/index.php?plant=1301. Diakses Pada Tanggal 15 Maret 2014.
Johnson, L.A. 1991. Corn: Production, Processing and atilitation. Di dalam Lorenzo K.J., Kulp K., (Editor). Handbook of Cereal Science and Technology. Marcel Dekker Inc. New York.
Rubatzky, V.E. dan M. Yamaguchi. 1998. World Vegetables: Principles, Production and Nutritive Values (Sayuran Dunia I, Prinsip , Produksi dan Gizi, alih bahasa oleh C. Horison). Institut Teknologi Bandung, Bandung.
Dinas Pertanian Provinsi NTB. 2006. Varietas Unggul Baru Jagung Hibrida. Balai Pengkajian Teknologi Pertanian (BPTP) Nusa Tenggara Barat. AGDEx:111/42.
Haryanto, B. S.P. 2005. Sukses Bertanam Jagung Komoditas Pertanian yang Menjanjikan. Pustaka Baru Press. Yogyakarta.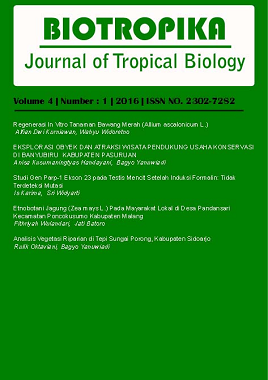 Downloads
License
Copyright and Attribution:
Articles in Biotropika: Journal of Tropical Biology are under Creative Commons Attribution (CC-BY-SA) copyright. The work has not been published before (except in the form of an abstract or part of a published lecture or thesis) and it is not under consideration for publication elsewhere. When the manuscript is accepted for publication in this journal, the authors agree to the automatic transfer of the copyright to the publisher.
Journal of Biotropika: Journal of Tropical Biology is licensed under a Creative Commons Attribution-ShareAlike 4.0 International License.
Permissions:
Authors wishing to include figures, tables, or text passages that have already been published elsewhere and by other authors are required to obtain permission from the copyright owner(s) for both the print and online format and to include evidence that such permission has been granted when submitting their papers. Any material received without such evidence will be assumed to originate from one of the authors.
Ethical matters:
Experiments with animals or involving human patients must have had prior approval from the appropriate ethics committee. A statement to this effect should be provided within the text at the appropriate place. Experiments involving plants or microorganisms taken from countries other than the author's own must have had the correct authorization for this exportation.