Studi Gen Parp-1 Ekson 23 pada Testis Mencit Setelah Induksi Formalin: Tidak Terdeteksi Mutasi
Abstract
Penelitian   ini   bertujuan   untuk   mengetahui pengaruh induksi formalin terhadap mutasi pada gen PARP-1 ekson 23. Penelitian ini menggunakan hewan coba mencit (Mus musculus) Balb-c jantan berumur 3 bulan, berat 20-30 g, yang dibagi menjadi 3 kelompok, yaitu kelompok kontrol tanpa paparan formalin (KB), kelompok formalin dosis 2 mg/kg BB (F2), dan kelompok formalin dosis 25 mg/kg BB (F25). Sediaan formalin dalam bentuk cairan diberikan secara peroral menggunakan sonde selama 60 hari. DNA diisolasi dari organ testis dilakukan amplifikasi menggunakan primer forward (5'-GTTGTTTGTGGTT TGTCCTA-3') dan reverse (5'-TTTTTAGCTCAAAATAAATGCTTAA-3'). Hasil sekuensing menunjukkan tidak ada perubahan basa nukleotida (mutasi) gen PARP-1 ekson 23 pada testis mencit (Mus musculus) Balb-c setelah induksi formalin.
References
Cahyadi, W. 2006. Analisis dan Aspek Kesehatan: Bahan Tambahan Pangan. Bumi Aksara. Jakarta.
Norliana, S., Abdulamir A.S., Abu Bakar F., & Salleh A.B. 2009. The Health Risk of Formaldehyde to Human Beings. American Journal of Pharmacology and Toxicology, 4 (3): 98-106.
Allen, R.G. & Tressini M. 2000. Oxidative Stress and Gene Regulation. Free Radical Biology Medicine, 28: 463-499.
Widyarti, S. & Wibi R. 2009. Laporan Penelitian Hibah Penelitian Strategis Nasional: Potensi Formalin dalam Meningkatkan Kerentanan Mutasi Gen Parp-1 dan Suseptibilitas terhadap Bahan Karsinogenik. Universitas Brawijaya. Malang.
Kim, M.Y., Zhang T., & Kraus W.L. 2005. Poly(ADP-ribosyl)ation by PARP-1: 'PAR-laying' NAD+ into a Nuclear Signal. Genes Development, 19: 1951-1967.
Yelamos, J., Jordi F., Laura L., Coral A., & Juan M.C. 2011. Review Article PARP-1 and PARP-2: New Players in Tumour Development. American Journal of Cancer Research, 1 (3): 328-346.
Golalipour, M.J., Azarhoush R., Ghafari S., Gharravi A.M., Fazeli S.A., & Davarian A. 2007. Formaldehyde Exposure Induces Histopathological and Morphometric Changes in The Rat Testis. Folia Morphology, 66 (3): 167-171.
Imron, M.T.A. 2010. Studi Paparan Formalin terhadap Struktur Histologi Testis Mencit (Mus musculus) BALB/c. Jurusan Biologi Fakultas Matematika dan Ilmu Pengetahuan Alam Universitas Brawijaya. Malang. Skripsi.
Ausubel, F.M., Roger B., Robert E.K., David D.M., Seidman J.G., John A.S., & Kevin S. 2003. Current Protocols in Molecular Biology. John Wiley & Sons, Inc. USA.
Zhou, D.X., Qiu S.D., Wang Z.Y., & Zhang J. 2005. The Protective Effect of Vitamin E Against Oxidative Damage Caused by Formaldehyde in the Testes of Adult Rats. Asian Journal of Andrology, 8: 584-588.
Alano, C.C., Garnier P., Ying W., Higashi Y., Kauppinen T.M., Swanson R.A. 2010. NAD+ Depletion is Necessary and Sufficient for Poly(ADP-ribose) Polymerase-1 Mediated Neuronal Death. Journal Neurosci, 30: 2967-2978.
Meyer-Ficca, M.L., Lonchar J., Credidio C., Ihara M., Li Y., Wang Z.Q., & Meyer R.G. 2009. Disruption of Poly(ADP-Ribose) Homeostasis Affects Spermiogenesis and Sperm Chromatin Integrity in Mice. Biology of Reproduction, 81: 46-55.
El-Domyati, M.M.M.D., Abo B.M.A.D.M.D., Manal T.B.M.D., Hasan M.E.F.M.D., Jiasen X., & Denny S. 2009. Deoxyribonucleic Acid Repair and Apoptosis in Testicular Germ Cells of Aging Fertile Men: The Role of The Poly(adenosine diphosphate-ribosyl)ation Pathway. Elsevier, 91 (5): 2221-2229.
Corebima, A.D. 2000. Genetika Mutasi dan Rekombinasi. Handout Perkuliahan. Universitas Negeri Malang. Malang.
Myers, J.A., Mall J., Doolas A., Jakate S.M., & Saclarides T.J. 1997. Absorption Kinetics of Rectal Formalin Instillation. World Journal of Surgery, 21: 886-889.
Eells, J.T., Mc Martin, Black K. 1981. Formaldehyde Poisoning: Rapid Metabolism to Formic Acid. JAMA, 246:1237-1238.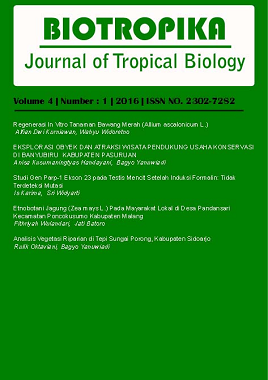 Downloads
License
Copyright and Attribution:
Articles in Biotropika: Journal of Tropical Biology are under Creative Commons Attribution (CC-BY-SA) copyright. The work has not been published before (except in the form of an abstract or part of a published lecture or thesis) and it is not under consideration for publication elsewhere. When the manuscript is accepted for publication in this journal, the authors agree to the automatic transfer of the copyright to the publisher.
Journal of Biotropika: Journal of Tropical Biology is licensed under a Creative Commons Attribution-ShareAlike 4.0 International License.
Permissions:
Authors wishing to include figures, tables, or text passages that have already been published elsewhere and by other authors are required to obtain permission from the copyright owner(s) for both the print and online format and to include evidence that such permission has been granted when submitting their papers. Any material received without such evidence will be assumed to originate from one of the authors.
Ethical matters:
Experiments with animals or involving human patients must have had prior approval from the appropriate ethics committee. A statement to this effect should be provided within the text at the appropriate place. Experiments involving plants or microorganisms taken from countries other than the author's own must have had the correct authorization for this exportation.