Regenerasi In Vitro Tanaman Bawang Merah (Allium ascalonicum L.)
Keywords:
2, 4-Dichlorophenoxyacetic acid, Allium ascalonicum, kinetin, NAA, kalus, plantlet
Abstract
Penelitian ini bertujuan untuk mengetahui pengaruh zat pengatur tumbuh yang ditambahkan pada media terhadap induksi kalus dan regenerasi tanaman bawang merah (Allium ascalonicum L.) secara in vitro. Kalus diinduksi dari eksplan cakram /basal stem menggunakan media Murashige dan Skoog (MS) dengan penambahan 2,4-D konsentrasi 1, 2, 3 dan 4 mg/L. Kalus dikultur pada media MS dengan penambahan NAA 0,1 mg/L dan beberapa konsentrasi  kinetin (2, 3 dan 5 mg/L) untuk induksi tunas. Tunas disubkultur pada media MS + IBA 2 mg/L untuk membentuk plantlet. Penambahan 2,4-D pada media kultur mampu menginduksi pembentukan kalus pada eksplan, tetapi konsentrasi 2,4-D yang tinggi pada media menghambat pembentukan dan pertumbuhan kalus serta menyebabkan terjadi pencoklatan pada eksplan. Penambahan kinetin yang dikombinasikan dengan NAA pada medium mampu menginduksi tunas bawang merah dari eksplan kalus. Peningkatan konsentrasi kinetin berpengaruh terhadap jumlah tunas yang terbentuk pada kalus. Konsentrasi kinetin 2 mg/L mampu menghasilkan tunas lebih banyak dibandingkan dengan kinetin pada konsentrasi yang lebih tinggi (3 dan 5 mg/L). Plantlet bawang merah diperoleh setelah tunas disubkultur pada media yang mengandung IBA 2mg/L, akar mulai muncul setelah 6-8 minggu kultur.
References
Suhendra. 2014. Ini Alasan Indonesia Harus Tetap Impor Bawang Merah. htttp://finance.detik.com/read/2014/05/06/134735/2574622/4/ini-alasan-indonesia-harus-tetap-impor-bawang-merah
Budiyono, J.P. 2012. Multiplikasi In vitro Tunas Bawang Merah (Allium ascalonicum l.) pada Berbagai Taraf Konsentrasi Air Kelapa. Jurnal Agronomi 8(2):75-80
Dixit, V., S. P. Rai & B. R. Chaudary. 2013. Allium sativum: Four-Step Approach to Efficient Micropropagation. Int. J. Innov. Biol. Res. 2(1): 6-14.
Hailekidan, B., M. Andargie. & K. Assefa. 2013. In vitro Plantlet Regeneration from the Bulbs of Shallot (Allium cepa Var. Group Aggregatum). Research in Plant Sciences 1 (2): 45-52
Marinangeli,P., D. Zappacosta, C.Galmarini & N. Curvetto. 2005. Callus Induction and Plant Regeneration in Onion (Allium cepa L.). Acta Hortic 688 :301-308
Hidayat, I.M. 2005. In vitro Plant Regeneration and Bulbet Formation of Shallots (Allium ascalonicum L.). Acta Hort. 688:251-258
Khar, A., B. Ramdhan., Y. Neelam. & V.K. Chowdhury. 2005. Effect of explant and genotype on callus culture and Regeneration in onion ( Allium cepa l.). Akdeniz üniversitesi ziraat fakültesi dergisi 18(3): 397-404
Monemi, M. B., S. K. Kazemitabar, G. B.Khaniki, E. Yasari, F. Sohrevardi & R.Pourbagher. 2014. Tissue Culture Study of the Medicinal Plant Leek (Allium ampeloprasum L.). IJMCM. 3(2):1-8
Salam, M. A., M. R. Ali, Md. E. Ali, K. A.Alam, M. S. H. Reza, S. Salam & S.M. M. Rahman. 2008. Callus Induction and Regeneration of Indigenous Garlic (Allium sativum L.). Am. J. Plant Physiol 3(1): 33-39
Mungole, A., R. Awati., S. Dey., A. Chaturvedi. & P. Zanwar. 2009. In-vitro callus induction and shoot regeneration in Ipomoea obscura (L.): potent Indian medicinal plan. Indian Journal of Science and Technology 2(8): 24-26
Gull,I., N.Asma., A.Shahbaz., A.Amin. 2014. Comparative effect of different pyhtohormones on the micropropagation of Allium sativum . Pak. J. Biochem. Mol. Biol 47(1-2): 121-124.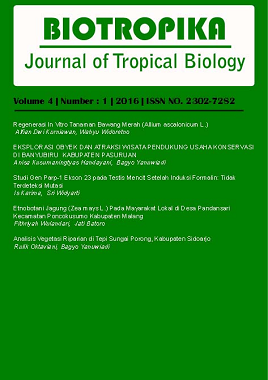 Downloads
License
Copyright and Attribution:
Articles in Biotropika: Journal of Tropical Biology are under Creative Commons Attribution (CC-BY-SA) copyright. The work has not been published before (except in the form of an abstract or part of a published lecture or thesis) and it is not under consideration for publication elsewhere. When the manuscript is accepted for publication in this journal, the authors agree to the automatic transfer of the copyright to the publisher.
Journal of Biotropika: Journal of Tropical Biology is licensed under a Creative Commons Attribution-ShareAlike 4.0 International License.
Permissions:
Authors wishing to include figures, tables, or text passages that have already been published elsewhere and by other authors are required to obtain permission from the copyright owner(s) for both the print and online format and to include evidence that such permission has been granted when submitting their papers. Any material received without such evidence will be assumed to originate from one of the authors.
Ethical matters:
Experiments with animals or involving human patients must have had prior approval from the appropriate ethics committee. A statement to this effect should be provided within the text at the appropriate place. Experiments involving plants or microorganisms taken from countries other than the author's own must have had the correct authorization for this exportation.