STUDI PENGARUH HIPERTIROIDISME TERHADAP SIKLUS ESTRUS DAN GAMBARAN HISTOLOGI OVARIUM PADA TIKUS BETINA (Rattus norvegicus)
Abstract
Hipertiroidisme merupakan salah satu penyakit yang disebabkan oleh jumlah hormon tiroid yang disekresikan oleh kelenjar tiroid terlalu tinggi. Hipertiroidisme banyak terjadi pada wanita sebab selama proses kehamilan, janin yang sedang berkembang membutuhkan asupan yodium (iodin) yang lebih. Tujuan dari penelitian ini adalah untuk mengetahui pengaruh induksi Natrium iodin sebagai penyebab Hipertiroidisme pada siklus estrus tikus betina (Rattus norvegicus) beserta gambaran histologi ovarium tikus betina (Rattus norvegicus). Metode yang dilakukan yaitu dengan melakukan induksi secara berlebih Natrium Iodin (NaI) yang menyebabkan Hipertirodisme kemudian dilakukan pengamatan siklus estrus dan pengamatan secara histologis melalui gambaran histologi ovarium. Hasil penelitian menunjukkan bahwa pengaruh Hipertiroidisme pada tikus betina menyebabkan siklus estrus tikus betina menjadi tidak normal dan berpengaruh terhadap fase estrus sedangkan gambaran histologis ovarium pewarnaan Hematoxylin-eosin menunjukkan tidak ada perbedaan antara tikus kontrol dengan tikus hipertiroid.

 

Kata kunci :Â  Hipertiroidisme, siklus estrus, ovarium.
References
Fumarola,A., A. Di Fiore, M.Dainelli, G. Grani., & A. Calvanese.2010.Medical Treatment of Hyperthyroidsm: State of Art. Exp Clinical Endocrinol Diabetes
Delf, M.H & Manning, R.T. 1996. Major's Physical Diagnosis 9th ed. EGC.Jakarta
Underwood, E.J.1999. The Mineral Nutrition of Livestock. CABI Publishing. New York
Bartalena, L.2011. Antithyroid Drugs. Thyroid International., 2:3-15
Norris, D.O.2007. Vertebrate Endocrinology 4th ed. Elsevier Academic Press. Burlington
Yu, Shiguang., M. Brad, Y. Hideo & B.M. Helen. 2001. Characteristic of Inflamatory Cells in Spontaneus Autoimmune Thyroiditis of NOD.H-2h4 Mice. Autoimmunity., 16: 37-46
Nagayama, Y., H. Ichiro, S. Ohki, N. Mami, & A. Norio. 2007. CD4+ CD25+ Naturally Occuring Regulatory T Cells and Lymphopenia Play Role in the Pathogenesis of Iodin e-Induced Autoimmune Thyroiditis in NOD.H2h4 mice. Autoimmunity., 29, 195-202.
Morohoshi, K., Y. Katsumi, N. Yoshinori, H. Saeko, O. Hiroshi, T. Yurie, I. Sadayoshi, dan M. Kouki. 2011. Effect of Synthetic Retinoid Am80 on Iodine Induced Autoimmune thyroiditis in Nonobese Diabetic Mice. Cellular Immunology., 2710, 1-4
Permaesih, D., Latinulu,S., Kartono, D., Susanto, D.The Profile of Iodized Salt Use in The District Level in Indonesia.Gizi Indon 2000.,14, 25-31
Malole M.B.M dan Pramono C.S.U.1989. Penggunaan Hewan-Hewan Percobaan di Laboratorium Pusat Antar Universitas Bioteknologi IPB.Bogor.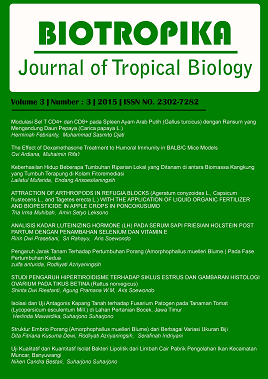 Downloads
License
Copyright and Attribution:
Articles in Biotropika: Journal of Tropical Biology are under Creative Commons Attribution (CC-BY-SA) copyright. The work has not been published before (except in the form of an abstract or part of a published lecture or thesis) and it is not under consideration for publication elsewhere. When the manuscript is accepted for publication in this journal, the authors agree to the automatic transfer of the copyright to the publisher.
Journal of Biotropika: Journal of Tropical Biology is licensed under a Creative Commons Attribution-ShareAlike 4.0 International License.
Permissions:
Authors wishing to include figures, tables, or text passages that have already been published elsewhere and by other authors are required to obtain permission from the copyright owner(s) for both the print and online format and to include evidence that such permission has been granted when submitting their papers. Any material received without such evidence will be assumed to originate from one of the authors.
Ethical matters:
Experiments with animals or involving human patients must have had prior approval from the appropriate ethics committee. A statement to this effect should be provided within the text at the appropriate place. Experiments involving plants or microorganisms taken from countries other than the author's own must have had the correct authorization for this exportation.