ATTRACTION OF ARTHROPODS IN REFUGIA BLOCKS (Ageratum conyzoides L., Capsicum frustecens L., and Tagetes erecta L.) WITH THE APPLICATION OF LIQUID ORGANIC FERTILIZER AND BIOPESTICIDE IN APPLE CROPS IN PONCOKUSUMO
Abstract
The objective of this research was to know the community structure of arthropods and to know visiting patterns of arthropods in refugia blocks. The method used in this research was Visual Encounter in fruiting season and flowering season. The observation was held four times in each season and four times a day. The observation was held on the refugia blocks that were applied a liquid organic fertilizer and biopesticide (POCB) and Control. Measurement of abiotic factors was done including temperature, humidity and light intensity. The result was analyzed using important value (INP) and Shannon-Wienner Index (HI). Overall the total abundance of arthropods was 32 family in flowering season and 33 family in fruiting season. All of the refugia blocks were dominated by family Muscidae in flowering season and dominated by family Apidae in fruiting season. The Diversity of arthropods in flowering season and fruiting season is quite high with the value was ranged from 3 to 4. Arthropods visiting patterns on the refugia block showed an increase in the abundance of arthropods in period 2 that was during 9:00 to 10:30 am. Â  Key word : Arthropods, Biopesticide, Flowering Season, Fruiting Season, Liquid Organic Fertilizer, Refugia Blocks, Visual Encounter
References
Balitjestro.2014. Desa Poncokusumo Andalkan Apel dan Wisata Alam .http://balitjestro.litbang. pertanian.go.id. tanggal akses : 20 Oktober 2014.
Untung, K. 2006. Pengantar Pengolahan Hama Terpadu. Gadjah Mada University Press. Yogyakarta.
Laba I.W. dan Kartohardjono A. 1998. Pelestarian Parasitoid dan Predator dalam pengendalian Hama Tanaman. Jurnal Penelitian dan Pengembangan Pertanian XVII. 121 – 129.
Muslim, Zaki. 2006. Kelimpahan lalat predator Coenosia humilis meigen (diptera: muscidae) pada pertanaman caisin organik dan konvensional di cisarua, bogor. Skripsi. Departemen Proteksi Tanaman Fakultas Pertanian, Institut Pertanian Bogor. Bogor.
Hasyim, M.A. 2012. Komposisi serangga yang berpotensi sebagai polinator bunga apel dab ketertarikannya terhadap tumbuhan liar di sekitar kebun apel desa bumiaji kota batu. Tesis.Jurusan Biologi FMIPA Universitas Brawijaya. Malang.
Erniwati dan Kahono, S. 2009. Peranan Tumbuhan Liar Dalam Konservasi Serangga Penyerbuk Ordo Hymenoptera. Jurnal Tekhnologi Pertanian. 10 (2): 195–203.
Carmona D, Lajeunesse MJ and Johnson MTJ. 2011. Plant traits that predict resistance to herbivores. Functional Ecology 25:358-367.
Allifah, A.N. 2011. Efek blog refugia (Chromolaena odorata, Mimosa pudica, Brachiaria mutica, Panicum repens) terhadap pola kunjungan harian musuh alami di lahan pertanian. tesis. program pasca sarjana, fakultas matematika dan ilmu pengetahuan alam. Universitas Brawijaya, Malang.
Jumar. 2000. Entomologi Pertanian. Rineka Cipta. Jakarta.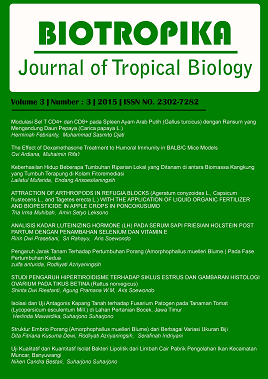 Downloads
License
Copyright and Attribution:
Articles in Biotropika: Journal of Tropical Biology are under Creative Commons Attribution (CC-BY-SA) copyright. The work has not been published before (except in the form of an abstract or part of a published lecture or thesis) and it is not under consideration for publication elsewhere. When the manuscript is accepted for publication in this journal, the authors agree to the automatic transfer of the copyright to the publisher.
Journal of Biotropika: Journal of Tropical Biology is licensed under a Creative Commons Attribution-ShareAlike 4.0 International License.
Permissions:
Authors wishing to include figures, tables, or text passages that have already been published elsewhere and by other authors are required to obtain permission from the copyright owner(s) for both the print and online format and to include evidence that such permission has been granted when submitting their papers. Any material received without such evidence will be assumed to originate from one of the authors.
Ethical matters:
Experiments with animals or involving human patients must have had prior approval from the appropriate ethics committee. A statement to this effect should be provided within the text at the appropriate place. Experiments involving plants or microorganisms taken from countries other than the author's own must have had the correct authorization for this exportation.