The Effect of Dexamethasone Treatment to Humoral Immunity in BALB/C Mice Models
Abstract
ABSTRACT
Glucocorticoids (GCs) are a class of steroid hormones which regulate a variety of essential biological functions. The profound anti-inflammatory and immunosuppressive activity of synthetic GCs, combined with their power to induce lymphocyte apoptosis place them among the most commonly prescribed drugs worldwide. Endogenous GCs also exert a wide range of immunomodulatory activities, including the control of T cell homeostasis. Dexamethasone is kind of glucocorticoid which is used to control some deseases. The purpose of this experiment is to know the effect of dexamethasone on B220. There are three different doses of treatments applied: 0.0 mg/kg BW (control), 0.5 mg/kg BW, and 10 mg/kg BW.  Each treatment uses 6 mice (2 weeks old) with intraperitoneal injection. The treated mice were observed for 7 days and spleen cells were isolated for flow cytometric immunophenotyping . The data were analyzed by BD CellQuest and tested using One-way ANOVA (p<0,05) then Tukey's test with SPSS 16.0 for Windows program. The result of this experiment showed that the dose of 0.5 mg/kg BW did not decrease B220 cell number significantly, but the dose of 10 mg/kg BW did.
Keyword : B220, Dexamethasone, Glucocorticoids
References
Hodrea, J. 2011. The glucocorticoid deksametasone programs human dendritic cells forenhanced phagocytosis of apoptotic neutrophils and inflammatory response. University of Debregen. Thesis.
Kong FK, Chen CL, and Cooper MD. 2002. Reversible disruption of thymic function by steroid treatment. J Immunol 168:6500–6505.
Lepine S, Lakatos B, Courageot MP, Le Stunff H, Sulpice JC, and Giraud F. 2004. Sphingosine contributes to glucocorticoid-induced apoptosis of thymocytes independently of the mitochondrial pathway. J Immunol 173:3783–3790.
ABWas A., Lichtman A. 2007. Cellular and Molecular Immunology. Saunders Elsevier. Philadelphia.
Allman D & Pillai S. 2008. Peripheral B cell subsets. Curr Opin Immunol 20:149-157.
Baratawidjaja, K. G. 2006. Imunologi Dasar Edisi ke-7. Balai Penerbit Fakultas Kedokteran Universitas Indonesia. Jakarta.
Herold K. G, McPherson & H. M. Reichardt. 2005. Glucocorticoids in T cell apoptosis and function. Cell. Mol. Life Sci 63:60–72.
Rifa'i M. CD4+CD25+. 2013. Regulatory T Cells Prevent Detrimental Autoimmune. The Open Autoimmunity Journal. Vol.5:1-5
Rifa'i M, Widodo N. 2014. Significance of propolis administration for homeostasis of CD4+CD25+ immunoregulatory T cells controlling hyperglycemia. Springer 3(1):1-8
Rifa'i M, Fatma AA, Aulani'am. 2013. Splenectomy and Salmonella Typhi Exposure Lead to Quantitative Alterations of Bone Marrow B220+ Cells and CD4+ T Cells on BALB/c Mice. Turk J Immunol 1 (2), 47-53
Rodiq. 2005. The CD45 isoform B220 indentifies select subsets of human B cels and B-cell lymphoproliferstive disorder. Human patology 36, 51-57.
Roitt I., Jonathan B, David M. 1989. Immunology. Second ed. Harper&Row Publishers Inc.
Schuhmann B, Dietrich A, Sel S, Hahn C, Klingenspor M, Lommatzsch M, Gudermann T, Braun A, Renz H & Nockher WA. 2005. A role for brain-derived neurotrophic factor in B cell development. J Neuroimmunol 163(1-2):15-23.
Butcher E.C & Picker L.J. 1996. Lymphocyte homing and homeostasis. Science 272. 60–66.
Gavrilova-Jordan, T.M. Price. 2007. Actions of steroids in mitochondria, Semin. Reprod. Med. 25:154–164.
Rifa'i, M. 2012. Imunologi dan Bioregulator Edisi Pertama. Galaxy Sciences. Malang.
Alberts B., Jhonson A., Lewis J., Raff M., Roberts K., Walter, P. 2008. Molecular Biology of The Cell. 5th Ed. Garland Science. USA. Pp 63-66.
Gruver-Yates & Cidlowski.2013. Glucocorticoids.In Yaffe SJ, Aranda JV eds.Pediatric Pharmacology, Theurapeutic Principles in Practice.WB Saunders 466 – 75.
Rifa'i, M. 2011. Alergi dan Hipersensitif. Jurusan Biologi, Fakultas Matematika dan Ilmu Pengetahuan Alam. Universitas Brawijaya.
Diver DJ, Williams MJ, Cool M, Stetson DB, Williams MG. 2001. Develophment and maintenance of a B220 memory cell compartement. Jornal of Immunology 167: 1393-1405
Lehner, M.D., lttner J., Bundschuh D.S., Van Rooijen N., Wendel A., Hartung T. 2001. Improved Innate Emmunity of Endotoxin-Tolerant Mice Increase Resistance to Salmonella Enterica Serovar Typhimurium Infection Despite Attenuated Cytokine Response. Infect Immun. 69:463-471.
Craxton A., Shu G., Graves J.D., Saklatvala J.,Krebs E.G., Clark E.A. 1998. p38 MPAK is Required for CD40-induced Gene Expression and Proliferation in B Lymphocytes. Journal of Immunology 161 : 3225-3236.
Puig P, Pérez-Cano F.J., Santana C.R., Castellote C., Pulido M.I., Permanyer J., Franch M., Castell M. 2007. Spleen lymphocyte function modulated by a cocoa-enriched diet. Journal Experimental Immunology 149 : 535-542.
Endharti, A.T., M. Rifa'I, Z. Shi, Y. Fukuoka, Nakahara, Y. Kawamoto, K. Takeda, K. Isobe, H. Suzuki. 2005. Cutting edge: CD8+CD122+ regulatory T cells produce IL-10 to suppress IFN-gamma production and proliferation of CD8+ T cells. Journal of immunology 175 (11):7093-7097.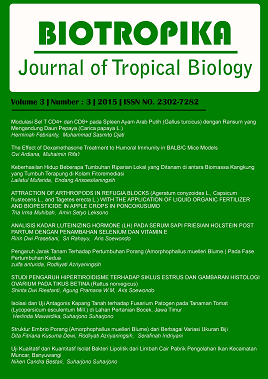 Downloads
License
Copyright and Attribution:
Articles in Biotropika: Journal of Tropical Biology are under Creative Commons Attribution (CC-BY-SA) copyright. The work has not been published before (except in the form of an abstract or part of a published lecture or thesis) and it is not under consideration for publication elsewhere. When the manuscript is accepted for publication in this journal, the authors agree to the automatic transfer of the copyright to the publisher.
Journal of Biotropika: Journal of Tropical Biology is licensed under a Creative Commons Attribution-ShareAlike 4.0 International License.
Permissions:
Authors wishing to include figures, tables, or text passages that have already been published elsewhere and by other authors are required to obtain permission from the copyright owner(s) for both the print and online format and to include evidence that such permission has been granted when submitting their papers. Any material received without such evidence will be assumed to originate from one of the authors.
Ethical matters:
Experiments with animals or involving human patients must have had prior approval from the appropriate ethics committee. A statement to this effect should be provided within the text at the appropriate place. Experiments involving plants or microorganisms taken from countries other than the author's own must have had the correct authorization for this exportation.