Modulasi Sel T CD4+ dan CD8+ pada Spleen Ayam Arab Putih (Gallus turcicus) dengan Ransum yang Mengandung Daun Pepaya (Carica papaya L.)
Abstract
ABSTRAK
Usaha peternakan ayam arab (Gallus turcicus) saat ini telah berkembang pesat di Indonesia. Ayam ini memiliki berbagai macam keunggulan, salah satunya adalah produktivitas telur yang tinggi. Penggunaaan feed additive merupakan kebutuhan yang hampir tidak terpisahkan dalam pemeliharaan ayam yang umumnya berguna sebagai Antibiotic Growth Promote (AGP). Konsumsi ransum dengan feed additive sintetis dapat menyebabkan residu antibiotik di dalam hasil produksi seperti telur dan daging, karena proses ekskresi yang tidak sempurna. Daun pepaya (Carica papaya L.) yang memiliki senyawa flavonoid dan alkaloid untuk memodulasi aktivitas sistem imun. Tujuan percobaan ini untuk mengetahui pengaruh pemberian daun pepaya dalam ransum terhadap modulasi jumlah sel T CD4+ dan CD8+ pada spleen ayam arab putih. Metode penelitian diantaranya pembuatan ransum kontrol (0 %), dosis 1 (6 %) dan dosis 2 (12 %) dari daun pepaya, dengan bahan lain yaitu jagung, bekatul dan konsentrat. Pembedahan dilakukan setelah perlakuan selama 2 bulan. Sel limfosit diisolasi dari spleen dan diinkubasi dengan antibodi rat-anti-CD4+PE dan rat-anti-CD8+FITC dengan pengenceran PBS (1:100 μl), masing-masing sebanyak 50 μl, kemudian dilakukan running pada flowcytometer, selanjutnya dilakukan analisis jumlah relatif sel limfosit T CD4+ dan CD8+ menggunakan SPSS 16 for Windows dengan α=0,05. Hasil menunjukkan bahwa pemberian pakan dengan tambahan daun pepaya secara signfikan dapat memodulasi jumlah relatif sel limfosit, terutama pada sel T CD4+. Perlakuan dengan kemampuan paling baik dalam meningkatkan jumlah relatif sel T CD4+ secara signifikan adalah ransum daun pepaya 6 % yakni sebesar 2,39 %, sedangkan perlakuan kontrol sebesar 0,58 % dan dosis 12 % sebesar 0,50 %. Sedangkan jumlah relatif CD8+ memiliki nilai yang tidak berbeda nyata dari semua perlakuan. Sehingga dapat dibuktikan bahwa daun pepaya mampu berperan sebagai imunomodulator dalam sistem imunitas ayam arab.
Kata kunci : ayam  arab, CD4+, CD8+, daun  pepaya
References
Sarwono, B. 2001. Ayam Arab Petelur Unggul. Penebar Swadaya. Jakarta.
Darmana, W & M. Sitanggang. 2003. Meningkatkan Produktivitas Ayam Arab Petelur. AgroMedia Pustaka. Jakarta.
Solomons, I.A. 1978. Antibiotic in animal feeds-human and aninial safety issues. Journal of Aninial Science. 46:1360-1368.
Pelczar, M.J & E. C. S Chan. 1986. Dasar-dasar Mikrobiologi. UI Press. Jakarta.
Murtidjo, B.A. 2003. Pedoman Meramu Pangan Unggas. Kanisius. Yogyakarta.
European Commission. 1998. Commission Regulation of Amending Council Directive 70/524/DEC Concerning Additives in Feedingstuffs as Regards Withdrawal of Authorization of Certain Antibiotics. No. VI/7767//98, Brussels, Belgium.
Dalimartha, S. 2003. Ramuan Tradisional Untuk Pengobatan Kanker, Seri Agrosehat. Penebar Swadaya. Jakarta.
Nugroho, A.E. 2012, Farmakologi. Pustaka Pelajar. Yogyakarta.
Mayer, G. 2003. Virology Chapter Twelve "Virus Host Interactionsâ€. University of South Caorlina.
Jiao Y., Wen J., & Yux. 1999. Influence of flavanoid of astragalus membranaceus' stem and leaves on the function of cell mediated immunity in mice. Heilongjiang University. China.
Peters, B., Schneider-Stock R., Boltze C, Jager V., Epplen J, Landt O, Rys, J., & Roessner, A. 2003. Elevated telomerase activity, c-myc-, and htert mrna expression: association with tumour progression in malignant lipomatous tumours. Jpathol. 199:517-525.
Mittrucker, H. W& S. H. Kaufmann. 2000. Immune response to infection with salmonella typhimurium in mice. Journal of Leukocyte Biology. 67(4):457-463.
Hargono, J. 1996. Efek Samping Obat dari Bahan Alam Lebih Kecil daripada Efek Samping Obat Kimia Murni. Cermin Dunia Farmasi. Edisi Khusus Cermin Dunia Kedokteran.
Ratnam I., Chiu, C., Kandala, N.B., & Easterbrook, P.J. 2006. Incidence and risk factors for immune reconstitution inflammatory syndrome in an ethnically diverse HIV type-1-infected cohort.Clin Infect Dis. 42:418-427.
Chakravarti, A. 1995. The CD4/CD8 ratio: message in a bottle?. Nature Med. 1:1240-1241.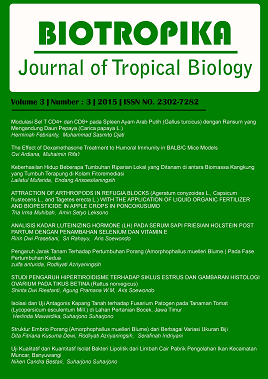 Downloads
License
Copyright and Attribution:
Articles in Biotropika: Journal of Tropical Biology are under Creative Commons Attribution (CC-BY-SA) copyright. The work has not been published before (except in the form of an abstract or part of a published lecture or thesis) and it is not under consideration for publication elsewhere. When the manuscript is accepted for publication in this journal, the authors agree to the automatic transfer of the copyright to the publisher.
Journal of Biotropika: Journal of Tropical Biology is licensed under a Creative Commons Attribution-ShareAlike 4.0 International License.
Permissions:
Authors wishing to include figures, tables, or text passages that have already been published elsewhere and by other authors are required to obtain permission from the copyright owner(s) for both the print and online format and to include evidence that such permission has been granted when submitting their papers. Any material received without such evidence will be assumed to originate from one of the authors.
Ethical matters:
Experiments with animals or involving human patients must have had prior approval from the appropriate ethics committee. A statement to this effect should be provided within the text at the appropriate place. Experiments involving plants or microorganisms taken from countries other than the author's own must have had the correct authorization for this exportation.