Identifikasi Synaptula (Echinodermata : Holothuroidea) Raja Ampat Berdasarkan Gen COI
Abstract
Identification of species Raja Ampat required in order to obtain marine biodiversity in Raja Ampat. Synaptula is one of the organism that inhabit in Raja Ampat and belonging to sea cucumber. Sea cucumber is an organism that difficult to distinguish through morphological characteristic.. This study aimed to identify Synaptula from Raja Ampat based on mitochondrial gene, cytochrome c oxidase subunit 1 (COI). The results of the study that Synaptula of Raja Ampat (UNP 101) is Plakobranchus ocellatus, the result is different with identification through morphological. Synaptula of Raja Ampat (UNP 101) has a high similarity with Plakobranchus ocellatus species from Sulawesi and the Philippines. Genetic distance Synaptula of Raja Ampat (UNP 101) with Synaptula reciprocans is 76.8%, while similarity values is 23.6%. The difference in the results of species  identification may be caused by contamination DNA Plakobranchus UNP 67A to DNA Synaptula UNP 101, contamination is likely to occur during the identification process which simultaneity.
Keywords: COI gene, identification, Synaptula.
 
References
McKenna, S.A,Gerald R Allen, and Suer suryadi. 2002. A Marine Rapid Assessment Of The Raja Ampat Islands, Papua Province,Indonesia.Conservation International.
Hebert PD, Cywinska A, Ball SL, deWaardJR. 2003. Biological identificationsthrough DNA barcodes. Proc. R. Soc.Lond 270: 313-321.
Myers, P., R. Espinosa, C. S. Parr, T. Jones, G. S. Hammond, and T. A. Dewey. 2013. The Animal Diversity Web (online). Accessed at http://animaldiversity.org. diakses pada 1 November 2013.
Folmer M, M Black, W Hoeh, R Lutz & R Vrijenhoek. 1994. DNA primers for amplification of mitochondrialcytochrome c oxidase subunit I from diverse metazoaninvertebrates. Molecular Marine Biology andBiotechnology 3: 294-299.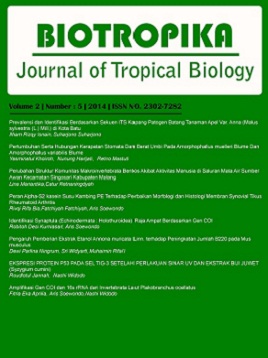 Downloads
License
Copyright and Attribution:
Articles in Biotropika: Journal of Tropical Biology are under Creative Commons Attribution (CC-BY-SA) copyright. The work has not been published before (except in the form of an abstract or part of a published lecture or thesis) and it is not under consideration for publication elsewhere. When the manuscript is accepted for publication in this journal, the authors agree to the automatic transfer of the copyright to the publisher.
Journal of Biotropika: Journal of Tropical Biology is licensed under a Creative Commons Attribution-ShareAlike 4.0 International License.
Permissions:
Authors wishing to include figures, tables, or text passages that have already been published elsewhere and by other authors are required to obtain permission from the copyright owner(s) for both the print and online format and to include evidence that such permission has been granted when submitting their papers. Any material received without such evidence will be assumed to originate from one of the authors.
Ethical matters:
Experiments with animals or involving human patients must have had prior approval from the appropriate ethics committee. A statement to this effect should be provided within the text at the appropriate place. Experiments involving plants or microorganisms taken from countries other than the author's own must have had the correct authorization for this exportation.