EKSPRESI PROTEIN P53 PADA SEL TIG-3 SETELAH PERLAKUAN SINAR UV DAN EKSTRAK BIJI JUWET (Syzygium cumini)
Abstract
Tubuh terlindungi dari lingkungan luar karena adanya kulit. Adanya paparan lingkungan luar, seperti sinar UV dapat mempengaruhi sel pada kulit. Dalam jangka pendek dapat menyebabkan kulit terbakar serta dalam jangka panjang menyebabkan kanker atau penuaan dini. Salah satu cara yang biasa digunakan untuk melindungi sel kulit dari paparan sinar UV adalah dengan penggunaan antioksidan. Jambolan (S. cumini) merupakan salah satu tumbuhan yang memiliki kandungan antioksidan yang tinggi. Protein p53 merupakan salah satu protein yang bertugas dalam melindungi DNA dari kerusakan yang ditimbulkan setelah sel kulit terpapar sinar ultraviolet (UV). Penelitian ini bertujuan untuk melihat ekspresi protein p53 pada sel fibroblast TIG-3 setelah dipapar sinar UV serta pemberian ekstrak biji juwet. Sel dikultur dan dipapar sinar UV 30mJ/cm2 lalu diberi ekstrak biji juwet dengan dosis 0,1% dan 10%. Pemberian ekstrak biji juwet mampu meningkatkan ekspresi protein p53 pada sel TIG-3.
 
Kata kunci: ellagitannin, fibroblas, jambolan, p53, UV.
References
Tortora, G. J. dan B. Derrickson. 2009. Principles of Anatomy and Physiology. United States of America: John Wiley and Sons Inc.
Marieb, E. N. 2003. Human Anatomy and Physiology. New York: Pearson Education.
Saladi, R.N., dan Persaud, A.N., 2005. The causes of skin cancer: a comprehensive review drug. (41):37–53.
Agyare, C., dkk. 2011. Ellagitannins from Phyllanthus muellerianus (Kuntze) Exell.: Geraniin and furosin stimulate cellular activity, differentiation and collagen synthesis of human skin keratinocytes and dermal fibroblasts. Journal of Phytomedicine. 18 (7): 617-624.
Chaudhary, B. dan K. Mukhopadhyay. Syzygium cumini (L.) Skeels. A Potential Source of Nutraceuticals. International Journal of Pharmacy and Biological Science. 2(1):46-53.
Lu, H., R. A. Forbes, A. Verma. 2002. Hypoxia-inducible factor 1 activation by aerobic glycolysis implicates the warburg effect in carcinogenesis. Biological Chemistry. 277: 23111-23115.
Wadhwa, R., dkk. 2013. Water Extract of Ashwaganda Leaves Has Anticancer Activity: Identification of an Active Component and Its Mechanism of Action. PLOS ONE. 8(10):e77189.
Hseu, Y. C., dkk. 2012. Ellagic acid protects human keratinocyte (HaCaT) cells against UVA-induced oxidative stress and apoptosis through the upregulation of the HO-1 andNrf-2 antioxidant genes. Journal of Food and Chemical Toxicology. (50):1245-1255.
Rothkamm, K. dan S. Horn. 2009. Æ"-H2AX as protein biomarker for radiation exposure. ANN IST SUPER SANITA. (45):265-271.
Halicka, H. D., dkk. 2005. Histone H2AX Phosphorylation after Cell Irradiation with UV-B. Cell-Cycle. 4(2):339-345.
Adimoolam, S. dan J. M. Ford. 2003. P53 and regulation of DNA damage recognition during nucleotide excition repair. DNA Repair 2 ELSEVIER. (2003): 947-954.
Kastan, M. B., dkk. 1991. Participation of p53 protein in the cellular response to DNA damage. Cancer research. (51):6304-6311.
Li, T. M., dkk. 2005. Ellagic Acid Induced p53/p21 Expression, G1 Arrest and Apoptosis in Human Bladder Cancer T24 Cells. Anticancer Research. (25): 971-980.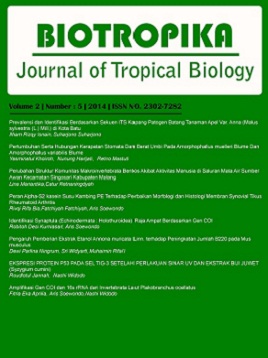 Downloads
License
Copyright and Attribution:
Articles in Biotropika: Journal of Tropical Biology are under Creative Commons Attribution (CC-BY-SA) copyright. The work has not been published before (except in the form of an abstract or part of a published lecture or thesis) and it is not under consideration for publication elsewhere. When the manuscript is accepted for publication in this journal, the authors agree to the automatic transfer of the copyright to the publisher.
Journal of Biotropika: Journal of Tropical Biology is licensed under a Creative Commons Attribution-ShareAlike 4.0 International License.
Permissions:
Authors wishing to include figures, tables, or text passages that have already been published elsewhere and by other authors are required to obtain permission from the copyright owner(s) for both the print and online format and to include evidence that such permission has been granted when submitting their papers. Any material received without such evidence will be assumed to originate from one of the authors.
Ethical matters:
Experiments with animals or involving human patients must have had prior approval from the appropriate ethics committee. A statement to this effect should be provided within the text at the appropriate place. Experiments involving plants or microorganisms taken from countries other than the author's own must have had the correct authorization for this exportation.