Prevalensi dan Identifikasi Berdasarkan Sekuen ITS Kapang Patogen Batang Tanaman Apel Var. Anna (Malus sylvestris (L.) Mill.) di Kota Batu
Abstract
ABSTRAK
Penurunan jumlah pohon apel produktif mengakibatkan rendahnya daya saing apel di dalam negeri. Berkurangnya jumlah tanaman apel produktif salah satunya disebabkan oleh kapang patogen. Penelitian ini bertujuan untuk mengidentifikasi spesies kapang patogen yang menyerang batang tanaman apel berdasarkan sekuen ITS. Sampel diambil dari perkebunan Gabes, Dusun Junggo, Desa Tulungrejo Kecamatan Bumiaji, Kota Batu. Kapang diisolasi dari lima batang bergejala penyakit dan dimurnikan, diuji patogenisitas terhadap bibit tanaman apel, isolasi DNA, dan identifikasi molekular. Berdasarkan hasil penelitian gejala AN3 banyak ditemui pada perkebunan organik dengan prevalensi  59,6 , sedangkan gejala AN5 merupakan gejala penyakit yang paling sedikit dengan prevalensi  1,69. Isolat AN5.2 teridentifikasi sebagai Neofusicoccum parvum yang menyebabkan penyakit busuk kering dan berakibat kematian pada batang, sedangkan isolat AN3.2 teridentifikasi sebagai Aureobasidium pullulans.
 
Kata kunci: Aureobasidium pullulans, identifikasi molekular, kapang patogen, Malus sylvestris Mill., Neofusicoccum parvum
References
DAFTAR PUSTAKA
Jonsson , A.H. 2007. Organic apple production in Sweden: Cultivation and cultivars. Swedish University of Agricultural Sciences, Balsgard. Thesis.
Sandskar, B. 2003. Apple scab (Venturia inaequalis) and pests in organic orchards. Diss. (Samanfatning/summary) Alnarp: Sveriges lantbruksuniv., Acta Universitatis agriculturae Sueciae. Agria, 1401-6249: 378.
Agrios, G.N. 2005. Plant Pathology- Fifth Edition. Departemen of Plant. Pathology. University of Florida. United States of America.
Burgess L.W., Knight T.E., Tesoriero L. & Phan H.T. 2008. Diagnostic manual for plant diseases in Vietnam. ACIAR Monograph No. 129, 210 pp. ACIAR: Canberra.
Rohlf, F.J. 1998. NTSYSpc:Numerical Taxonomy and Multivariate Analysis System Version 2.0 User Guide. Applied Biostatistics Inc.
White, T. J., T. Bruns., S. Lee., & J.Taylor. 1990. Amplification and direct sequencing of fungal ribosomal RNA genes for phylogenetics. dalam PCR protocols: a guide to methods and applications. (Ed). Innis , M. A., D. H. Gelfand., J. J. Sninsky., & T. J. White, Academic Press. San Diego.
Lestari, F.W. 2012. Identifikasi filogenetik kapang patogen dari tanaman apel di Kota Batu. Jurusan Biologi, Fakultas Matematika dan Ilmu Pengetahuan Alam. Universitas Brawijaya: Malang. Skripsi.
Úrbez-Torres J.R. 2006. Identification and distribution of Botryosphaeria spp. associated with grapevine cankers in California. Plant Disease 90: 1503–1490.
Úrbez-Torres J.R. 2011. The status of Botryosphaeriaceae species infecting grapevines. Phytopathologia Mediterranea 50: S5–S45.
Goffinet M.C., Burr T.J., & Heidenreich M.C. 2002. Anatomy of apple russet caused by the fungus Aurobasidium pullulans. Department of Holticultural Sxiences and Department of Plant Pathology. Agricultural Experiment Station, Cornell University, Geneva, New York.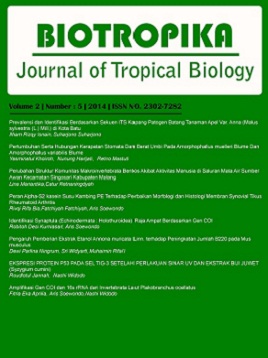 Downloads
License
Copyright and Attribution:
Articles in Biotropika: Journal of Tropical Biology are under Creative Commons Attribution (CC-BY-SA) copyright. The work has not been published before (except in the form of an abstract or part of a published lecture or thesis) and it is not under consideration for publication elsewhere. When the manuscript is accepted for publication in this journal, the authors agree to the automatic transfer of the copyright to the publisher.
Journal of Biotropika: Journal of Tropical Biology is licensed under a Creative Commons Attribution-ShareAlike 4.0 International License.
Permissions:
Authors wishing to include figures, tables, or text passages that have already been published elsewhere and by other authors are required to obtain permission from the copyright owner(s) for both the print and online format and to include evidence that such permission has been granted when submitting their papers. Any material received without such evidence will be assumed to originate from one of the authors.
Ethical matters:
Experiments with animals or involving human patients must have had prior approval from the appropriate ethics committee. A statement to this effect should be provided within the text at the appropriate place. Experiments involving plants or microorganisms taken from countries other than the author's own must have had the correct authorization for this exportation.