Perubahan Struktur Komunitas Makroinvertebrata Bentos Akibat Aktivitas Manusia di Saluran Mata Air Sumber Awan Kecamatan Singosari Kabupaten Malang
Abstract
Penelitian ini bertujuan untuk mengetahui perubahan struktur komunitas makroinvertebrata bentos dan kualitas air di saluran mata air Sumber Awan berdasarkan indeks biotik. Makroinvertebrata bentos diambil di tujuh titik pengambilan sampel masing-masing sebanyak ±100 individu, lalu diidentifikasi, dicari struktur komunitas dan nilai indeks HBI, FBI dan ASPT. Hasil penelitian menunjukkan bahwa struktur komunitas makroinvertebrata bentos pada stasiun dua hingga lima didominasi oleh jenis yang intoleran terhadap pencemaran yakni Hydropsychidae dan Lepidostomatidae, stasiun satu dan enam didominasi oleh jenis fakultatif yakni Thiaridae, dan stasiun tujuh didominasi oleh cacing Oligochaeta dan Chironomidae yang toleran terhadap pencemaran. Berdasarkan nilai FBI dan H, stasiun satu hingga enam digolongkan memiliki kualitas air sedang dan belum tercemar (nilai FBI 5,16-5,57 dan H 2,05-2,77), sedangkan stasiun tujuh digolongkan memiliki kualitas air yang sangat buruk dan tercemar (nilai FBI 7,63 dan H 1,72). Berdasarkan nilai HBI dan ASPT, stasiun satu hingga lima digolongkan memiliki kualitas air bagus/air bersih (nilai HBI 4,89-5,27 dan ASPT 7,45-6,27), stasiun enam digolongkan memiliki kualitas air sedang/tercemar sedang (nilai HBI 5,56 dan ASPT 6), dan stasiun tujuh digolongkan memiliki kualitas air buruk/tercemar berat (nilai HBI 7,60, dan ASPT 4). Berdasarkan hasil tersebut disimpulkan bahwa semakin ke hilir telah terjadi gradasi penurunan kualitas air pada saluran air hingga ±800 m dari mata air Sumber Awan karena pencemaran bahan organik dari aktivitas manusia di sekitarnya yakni MCK, residu pertanian dan peternakan.
Kata kunci: indeks biotik, kualitas air, makroinvertebrata bentos, Sumber Awan
References
Badan Lingkungan Hidup. 2010. Laporan Akhir Pemantauan Kualitas Air Badan Air (ABA) Sungai di Kota Malang. BLH. Malang.
Baron, J.S., P.L. Roy, A. Paul, D. Clifford, G. Peter, H. Nelson, J. Carol, R. Bryan & S. Alan. 2003. Sustaining Healthy Freshwater Ecosystem. National Reports. Ecological Society of America.
Cranston, P.S., P. Fairweather & G. Clark. 1996. Biological Indicators of Water Quality in Indicators of Cacthment Health: A Technical. Csiro. Melbourne.
Furaidah, Z. & C. Retnaningdyah. 2013. Perbandingan Kualitas Air Irigasi di Pertanian Organik dan Anorganik Berdasarkan Sifat Fisikokimia dan Makroinvertebrata Bentos. Biotropika. Vol 1(4): 154-159.
Kartikasari, D., C. Retnaningdyah, & E. Arisoesilaningsih. 2013. Application of Water Quality and Ecology Indices of Benthic Macroinvertebrate to Evaluate Water Quality of Tertiary Irigation in Malang District. The Journal of Tropical Life Science. Vol. 3(3): 193-201.
Krebs, C.J. 2001. Ecological Methodology. Harper Collins. New York.
Lee, C.D., S.B. Wang & C.L. Kuo. 1978. Benthic Macroinvertebrate and Fish as Biological Indicator of Water Quality. With Reference on Water Pollution Control in Developing Countries. Bull. C. Sci. Bangkok.
Mandaville, S.M. 2002. Benthic Macroinvertebrate in Freshwaters- Taxa Tolerance Values, Metrics, and Protocols. Soil and Water Conservation Society of Metro Halifax.
Maruru, S.M. 2012. Studi Kualitas Air Sungai Bone dengan Metode Biomonitoring. Skripsi. Jurusan Kesehatan Masyarakat, Fakultas Ilmu Kesehatan dan Keolahragaan. Universitas Negeri Gorontalo. Gorontalo.
Nurfatriani, F. 2011. Pengelolaan Kawasan Hutan di DAS Brantas Hulu Sebagai Pengatur Tata Air. Kementrian Kehutanan Republik Indonesia.
Rehn, A.C. 2009. Benthic Macroinvertebrates as Indicators of Biological Condition Below Hydropower Dams on West Slope Sierra Nevada Streams, California, USA. River Research and Applications. Vol. 25:208–228.
Retnaningdyah, C. 1997. The sensitivity of benthic macroinvertebrate to detergent pollution level in Mas river. Jurnal Lingkungan dan Pembangunan. Vol. 17(2): 96-108.
Retnaningdyah, C. & E. Arisoesilaningsih. 2012. Analisis Kesesuaian Indeks Ekologis untuk Studi Kelayakan Kualitas Air Irigasi di Daerah Malang Raya. Laporan Research Grant IMHERE. Jurusan Biologi Universitas Brawijaya. Malang.
Retnaningdyah, C. & E. Arisoesilaningsih. 2014. Evaluasi Kualitas Ekosistem Mata Air di Sumber Jenon, Awan, Mlaten, Umbul dan Guno Berdasarkan Parameter Fisikokimia dan Makroinvertebrata Bentos. Leaflet sosialisai Hasil Penelitian Hibah Unggulan Perguruan Tinggi kepada masyarakat. Jurusan Biologi FMIPA-UB. Malang.
Shinde, S. & S.K. Tidame. 2012. Studies on Seasonal Variations in Physico-Chemical Parameters of The Temple Pond Nashik District India. Department of Zoology, Vivekanand College, Aurangabad. India.
Wilhm, J.F. 1975. Biological Indicator of Pollution: River Ecology. Blackwell Scientific Publications. Oxford.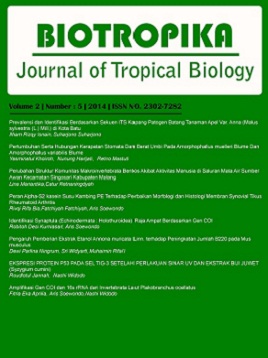 Downloads
License
Copyright and Attribution:
Articles in Biotropika: Journal of Tropical Biology are under Creative Commons Attribution (CC-BY-SA) copyright. The work has not been published before (except in the form of an abstract or part of a published lecture or thesis) and it is not under consideration for publication elsewhere. When the manuscript is accepted for publication in this journal, the authors agree to the automatic transfer of the copyright to the publisher.
Journal of Biotropika: Journal of Tropical Biology is licensed under a Creative Commons Attribution-ShareAlike 4.0 International License.
Permissions:
Authors wishing to include figures, tables, or text passages that have already been published elsewhere and by other authors are required to obtain permission from the copyright owner(s) for both the print and online format and to include evidence that such permission has been granted when submitting their papers. Any material received without such evidence will be assumed to originate from one of the authors.
Ethical matters:
Experiments with animals or involving human patients must have had prior approval from the appropriate ethics committee. A statement to this effect should be provided within the text at the appropriate place. Experiments involving plants or microorganisms taken from countries other than the author's own must have had the correct authorization for this exportation.