DETEKSI AKTIVITAS PROTEOLITIK ISOLAT BAKTERI ASAL AMPAS TAHU PADA SUBSTRAT BEKATUL
Abstract
ABSTRAK
Ampas tahu mengandung protein sebesar 23,7 % dan kemungkinan terdapat bakteri proteolitik. Bakteri proteolitik dapat meningkatkan efisiensi penggunaan pakan ternak. Penelitian ini bertujuan untuk memperoleh isolat bakteri proteolitik asal ampas tahu dan mempelajari aktivitas protease yang dihasilkan pada substrat bekatul. Penelitian ini menggunakan Rancangan Acak Kelompok (RAK) dengan tiga ulangan. Tahapan penelitian meliputi isolasi bakteri proteolitik dari ampas tahu, pengujian aktivitas bakteri proteolitik pada media calcium casseinate agar (CCA), karakterisasi bakteri, uji patogenisitas, pembuatan kurva pertumbuhan dan pengujian aktivitas proteolitik bakteri pada media bekatul 2 %. Data luas zona bening pada media CCA dianalisis ragam (Anova) dan dilanjutkan dengan uji Tukey, sedangkan aktivitas protease isolat bakteri pada media bekatul 2 % dianalisis dengan uji Independent Sample T (α = 0,05). Sepuluh isolat bakteri proteolitik diperoleh dari ampas tahu dengan isolat TP5K1 dan TP6K5 memiliki aktivitas proteolitik (zona bening) terbesar serta tidak patogen. Aktivitas protease tertinggi pada media bekatul 2 % untuk isolat TP5K1 sebesar 2,24 Unit/mL dengan jumlah sel bakteri 5,13 x 107 sel/mL, sedangkan isolat TP6K5 sebesar 2,37 Unit/mL dengan jumlah sel bakteri 5,26 x 107 sel/mL.
Kata kunci: aktivitas protease, ampas tahu, bakteri, bekatul
References
. Sutandi, C. 2003. Analisis Potensi Enzim Protease Lokal. http://repository. ipb.ac.id. Diakses tanggal 21 April 2012.
. Akhdiya, A. 2003. Isolasi Bakteri Penghasil Enzim Protease Alkalin Termostabil. Buletin Plasma Nutfah. Vol.9 No.2.
. Muchtadi, S., Nurleni & Made. 1992. Enzim dalam Industri Pangan. Institut Pertanian Bogor. Bandung.
. Huang, G., Ying, T., Huo, P. & Jiang, J. 2006. Purification and characterization of a protease from thermophilic Bacillus strain HS08. Biotechnol. 5:2433-2438.
. Kurniawati, W. 2008. Implementasi hasil penelitian Biologi. Fakultas Keguruan dan Ilmu Pendidikan Universitas Sebelas Maret. Surakarta. Skripsi.
. Gunroro, S., Yasa, I. M. D. R., Suyasa, N. & Parwati, I. A. P. 2000. Pengaruh Penggunaan Enzim Terhadap Produktivitas Telur Ayam Buras. Seminar Nasional Peternakan dan Veteriner.
. Siregar, S. 1995. Sapi Perah: Jenis, Teknik Pemeliharaan dan Analisis Usaha. Penebar Swadaya: Jakarta.
. Damayanthi, E., Tjing, L. T. & Arbianto, L. 2007. Rice Bran. Panebar Swadaya. Depok.
. Cappuccino, J. G. 1983. Microbiology: A Laboratory Manual. Addison-Wesley: USA.
. Amelia, G., Rini, H., Iwan, S., Tatik, K. & Abdul, C. 2005. Isolasi dan pengujian aktivitas enzim amilase dan protease mikroba terasi asal Kalimantan Timur. Laporan Teknik. Bidang Mikrobiologi. Pusat Penelitian Biologi-LIPI. Bogor.
. Chang, Chin-I., Wen-Yu Liu & Chung-Zen Shyu. 2000. Use of prawn blood agar hemolysis to screen for bacteria pathogenic to cultured tiger prawns Penaeus monodon. Dis Aquat Org. 43:153–157.
. Saxena, R. & Singh, R. 2011. Characterization of a metallo-protease produced in solid state fermentation by a newly isolated Bacillus strain. Acta Biologica Szegediensis. 55(1):13-18.
. Enggel, J., Meriandini, A. & Natalia, L. 2004. Karakterisasi protease ekstraseluler Clostridium bifermentans R14-1-b. Jurnal Mikrobiologi Indonesia. 9(1): 9-12.
. Widhyastuti, N. & Dewi, R. M. 2001. Isolasi bakteri proteolitik dan optimasi produksi protease. Laporan Teknik Proyek Inventarisasi dan Karakterisasi Sumberdaya Hayati. Pusat penelitian Biologi. LIPI.
. Port, T. 2008. Blood Agar (BAP) Bacterial Growth Medium Differential Medium to Identify β-hemolytic Streptococcus. http://suite-101.com/. Diakses tanggal 02 Januari 2013.
. Marlina. 2009. Identifikasi bakteri Vibrio parahaemolitycus dengan metode biolog dan deteksi gen ToxR nya secara PCR. Jurnal Sains dan Teknologi Farmasi. Vol. 13. No. 1.
. Yunita, S. P. 2012. Skrining dan Uji Aktivitas Enzim Protease Bakteri dari Limbah Rumah Pemotongan Hewan. Biologi. Fakultas Sains dan Teknologi. Universitas Airlangga. Jurnal Skripsi.
. Lidya & Djenar. 2000. Dasar Bioproses Direktorat Pembinaan dan Fenolinin dan Pengabdian Masyarakat Direktorat Jenderal Pendidikan Tinggi. Departemen Pendidikan Nasional: Jakarta.
. Maurer, K. 2004. Cur. Opin. Biotechnol. 15:330-334.
. Pakpahan, R. 2009. Isolasi Bakteri dan Uji Aktivitas Bakteri Protease Termofilik dari Sumber Air Panas Sipoholon Tapanuli Utara Sumatera Utara. Sekolah Pascasarjana Universitas Sumatera Utara. Tesis.
. Pelczar, M. J. & Chan, E. C. S. 2005. Dasar-dasar Mikrobiologi. Jakarta: UI-Press.
. Pratiwi, S. T. 2008. Mikrobiologi Farmasi. Erlangga: Jakarta.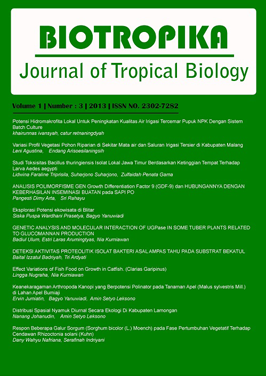 Downloads
License
Copyright and Attribution:
Articles in Biotropika: Journal of Tropical Biology are under Creative Commons Attribution-NonCommercial (CC-BY-NC) copyright. The work has not been published before (except in the form of an abstract or part of a published lecture or thesis) and it is not under consideration for publication elsewhere. When the manuscript is accepted for publication in this journal, the authors agree to the automatic transfer of the copyright to the publisher.
Journal of Biotropika: Journal of Tropical Biology is licensed under a Creative Commons Attribution-NonCommercial 4.0 International (CC BY-NC 4.0).
Permissions:
Authors wishing to include figures, tables, or text passages that have already been published elsewhere and by other authors are required to obtain permission from the copyright owner(s) for both the print and online format and to include evidence that such permission has been granted when submitting their papers. Any material received without such evidence will be assumed to originate from one of the authors.
Ethical matters:
Experiments with animals or involving human patients must have had prior approval from the appropriate ethics committee. A statement to this effect should be provided within the text at the appropriate place. Experiments involving plants or microorganisms taken from countries other than the author's own must have had the correct authorization for this exportation.