Diversity and Abundance of Insect in Conventional Apple (<i>Malus sylvestris (L.) Mill</i>) Plantation at Kota Batu, East Java
Abstract
Apple is a plant that susceptible toward pests and diseases. Application of pesticide to suppress insect pest population gave negative impact toward natural enemies and insect pollinators. The purpose of this research was to determine the diversity and dominance of insect pests, pollinators, and natural enemies of each phase of apple plant development in conventional plantations in Kota Batu, East Java. This research was conducted in February to May 2016 in each phase of apple growth namely, after defoliation, early flower, late flower, early fruit, and late fruit. Plot size was 10x10 m2 with total 5 plots and total plants in each plot were 60 trees. Collection methods were active collection (hand picking, insect net, and beating tray) and passive collection (yellow trap, pitfall trap, light trap, and stainer trap). Preservation methods used in this research were dry preservatoin and wet preservation. Identification was conducted in Laboratorium of Entomology, Faculty of Biology UGM and Laboratorium Entomology, Zoology Division, Research Centre for Biology Indonesian Institute of Sciences, Cibinong. Data analyzed by using Shannon-Wiener Diversity Index, Simpson Dominance Index and Abundance Formulation. The results showed that total insects that was caught consist of 38 species belong to 9 orders. Diversity index in each phase of apple growth were: after defoliation (0.69), early flower (1.39), late flower (1.86), early fruit (0.66), and late fruit (1.24). Domination index each phase of apple growth were after defoliation (0.50), early flower (0.34), late flower (0.21), early fruit (0.75), and late fruit (0.40). Diversity index of potential insect as pest (1.46), as pollinator (1.29), and as natural enemies (1.18). The highest abundance of insect as pollinator was Apis cerana, as natural enemy was Pantala flavescens, and as pest was Aphis gossypii.
Key words: Conventional, diversity of insects, apple plantation, pesticide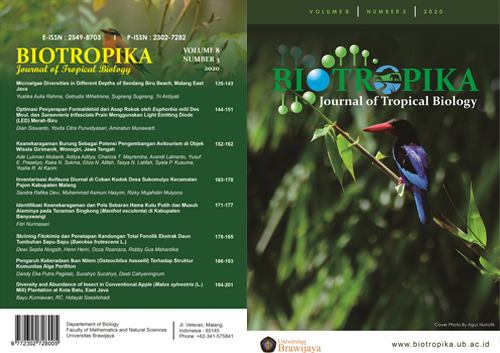 Downloads
License
Copyright and Attribution:
Articles in Biotropika: Journal of Tropical Biology are under Creative Commons Attribution (CC-BY-SA) copyright. The work has not been published before (except in the form of an abstract or part of a published lecture or thesis) and it is not under consideration for publication elsewhere. When the manuscript is accepted for publication in this journal, the authors agree to the automatic transfer of the copyright to the publisher.
Journal of Biotropika: Journal of Tropical Biology is licensed under a Creative Commons Attribution-ShareAlike 4.0 International License.
Permissions:
Authors wishing to include figures, tables, or text passages that have already been published elsewhere and by other authors are required to obtain permission from the copyright owner(s) for both the print and online format and to include evidence that such permission has been granted when submitting their papers. Any material received without such evidence will be assumed to originate from one of the authors.
Ethical matters:
Experiments with animals or involving human patients must have had prior approval from the appropriate ethics committee. A statement to this effect should be provided within the text at the appropriate place. Experiments involving plants or microorganisms taken from countries other than the author's own must have had the correct authorization for this exportation.