Skrining Fitokimia dan Penetapan Kandungan Total Fenolik Ekstrak Daun Tumbuhan Sapu-Sapu (<i>Baeckea frutescens</i> L.)
Keywords:
Baeckea frutescens L., phenolic compound, secondary metabolites
Abstract
Tumbuhan sapu-sapu (Baeckea frutescens L.) merupakan salah satu jenis keanekaragaman hayati yang tumbuh dan persebarannya cukup banyak di Indonesia. B. frutescens L diketahui memiliki senyawa metabolit sekunder aktif yang dapat dimanfaatkan sebagai obat, antibakteri, dan antioksidan. Penelitian ini dilakukan untuk menganalisis kandungan senyawa metabolit sekunder yang terdapat pada B. frutescens L. Metode yang digunakan adalah ekstraksi dilanjutkan dengan pengujian fitokimia kualitatif yang terdiri dari tujuh pengujian yakni uji fenol, tanin, flavonoid, saponin, alkaloid, steroid dan terpenoid serta pengujian kuantitatif yakni pengujian total fenolik ekstrak B. frutescens L. Hasil penelitian menunjukkan bahwa didapatkan persentase bobot rendemen ekstrak daun B. frutescens L. sebesar ekstrak n-heksan 5,39%, ekstrak etil asetat 14,54% dan ekstrak etanol yakni 19,81%. Hasil pengujian fitokimia kualitatif menujukkan senyawa fitokimia yang terkandung di dalam tumbuhan B. frutescens L. yakni pada ekstrak n-heksan hanya terdapat senyawa steroid dan pada ekstrak etil asetat terdapat senyawa fenolik, tanin, flavonoid, dan alkaloid. Selain itu, pada ekstrak etanol terdapat senyawa fenolik, tanin, flavonoid, saponin, steroid, dan alkaloid. Pengujian total fenolik ekstrak daun tumbuhan B. frutescens L. untuk pelarut etil asetat yakni 0,24% dan pelarut etanol yakni sebesar 0,14% dihitung terhadap senyawa fenol asam galat. Hasil penelitian ini diharapkan dapat menjadi informasi untuk penelitian lebih lanjut mengenai pemanfaatan kandungan metabolit sekunder B. frutescens L.
References
Dewatisari WF, Rumiyanti L, Rakhmawati I (2018) Rendemen dan skrining fitokimia pada ekstrak daun Sanseviera sp. Jurnal Penelitian Pertanian Terapan 17: 197–202.
Hassan BAR (2010) Medicinal plants (Importance and Uses). Pharmaceutica Analytica Acta 3: 4172.
Miguel MG (2010) Antioxidant and anti-inflammatory activities of essential oils: A short review. Molecules 15: 9252–9287.
Cavoski I, Caboni P, Miano T (2011) Natural pesticides and future perspectives. In Margarita Stoytcheva (Eds.), Pesticides in the Modern World - Pesticides Use and Management. Rijeka: InTech Europe, pp 169–190.
Juárez P (2014) Plant-derived anticancer agents: a promising treatment for bone metastasis. BoneKEy Reports 3: 1–8.
Supandi M, Wibowo MA, Zaharah TA (2019) Karakterisasi minyak atsiri daun Ujung Atap (Baeckea Frustescens L) dari hutan Desa Sungai Nanjung Kabupaten Ketapang Kalbar. Indonesian Journal of Pure and Applied Chemistry 2: 74–83.
Murningsih T (2009) Studi fitokimia Baeckea frutescens L: Pengaruh faktor lingkungan terhadap komposisi kimia minyak atsiri. Berita Biologi 9: 569–576.
Murningsih T (2010) Aktivitas antioksidan dan analisis kimia ekstrak daun Jungrahab (Baeckea frutescens L.). Berita Biologi 10: 129–134.
Azizah Z, Wati SW (2018) Skrining fitokimia dan penetapan kadar flavonoid total ekstrak etanol daun Pare (Momordica charantia L.). Jurnal Farmasi Higea 10: 163–172.
Marliana SD, Suryanti V, Suyono (2005) Skrining fitokimia dan analisis kromatografi lapis tipis komponen kimia buah labu siam (Sechium edule Jacq. Swartz.) dalam ekstrak etanol. Biofarmasi 3: 26–31.
Tarukbua YSF, Queljoe ED, Bodhi W (2018) Skrining fitokimia dan uji toksisitas ekstrak etanol daun Brotowali (Tinospora crispa (L.) Hook F. & T) dengan metode Brine Shrimp Lethality Test (BSLT). PHARMACON Jurnal Ilmiah Farmasi-UNSRAT 7: 330–337.
Kursia S, Lebang JS, Taebe B, Burhan A, Rahim WO, Nursamsiar (2016) Uji aktivitas antibakteri ekstrak etilasetat daun Sirih Hijau (Piper betle L.) terhadap bakteri Staphylococcus epidermidis. Indonesian Journal of Pharmaceutical Science and Technology 3: 72–77.
Ahmad AR, Juwita J, Ratulangi SAD (2015) Penetapan kadar fenolik dan flavonoid total ekstrak metanol buah dan daun Patikala (Etlingera elatior (Jack) R.M.SM). Pharmaceutical Sciences and Research 2: 1–10.
Arifianti L, Oktarina RD, Kusumawati I (2014) Pengaruh jenis pelarut pengekstraksi terhadap kadar sinensetin dalam ekstrak daun Orthosiphon stamineus Benth. E-Journal Planto Husada 2: 1–4.
Do QD, Angkawijaya AE, Tran-Nguyen PL, Huynh LH, Soetaredjo FE, Ismadji S (2014) Effect of extraction solvent on total phenol content, total flavonoid content, and antioxidant activity of Limnophila aromatica. Journal of Food and Drug Analysis 22: 296–302.
Ngo TV, Scarlett CJ, Bowyer MC, Ngo PD, Vuong QV (2017) Impact of different extraction solvents on bioactive compounds and antioxidant capacity from the root of Salacia chinensis L. Journal of Food Quality 1–8.
Romadanu R, Hanggita S, Lestari S (2014) Pengujian aktivitas antioksidan ekstrak bunga Lotus (Nelubo nucifera). Jurnal FishtecH 3: 1–7.
Razmavar S, Abdulla MA, Ismail SB, Hassandarvish P (2014) Antibacterial activity of leaf extracts of Baeckea frutescens against methicillin-resistant Staphylococcus aureus. BioMed Research International 1–5.
Habibi AI, Firmansyah RA, Setyawati SM (2018) Skrining fitokimia ekstrak n-heksan korteks batang Salam (Syzygium polyanthum). Indonesian Journal of Chemical Science 7: 1–4.
Haryati N, Saleh C, Erwin (2015) Uji toksisitas dan aktivitas antibakteri ekstrak daun merah tanaman Pucuk Merah (Syzygium myrtifolium Walp.) terhadap bakteri Staphylococcus aureus dan Escherichia coli. Jurnal Kimia Mulawarman 13: 35–40.
Ergina, Nuryanti S, Pursitasari ID (2014) Uji kualitatif senyawa metabolit sekunder pada daun Palado (Agave angustifolia) yang diekstraksi dengan pelarut air dan etanol. Jurnal Akademika Kimia 3: 165–172.
Rumagit HM, Runtuwene MRJ, Sudewi S, Kimia J, Manado FU (2015) Uji fitokimia dan uji aktivitas antioksidan dari ekstrak spons Lamellodysidea herbacea. PHARMACON: Jurnal Ilmiah Farmasi–UNSRAT 4: 183–192.
Parbuntari H, Prestica Y, Gunawan R, Nurman MN, Adella F (2018) Preliminary phytochemical screening (qualitative analysis) of cacao leaves (Theobroma cacao L.). EKSAKTA: Berkala Ilmiah Bidang MIPA 19: 40–45.
Mukhriani (2014) Esktraksi pemisahan senyawa dan identifikasi senyawa aktif. Jurnal Kesehatan 7: 361–367.
Nur A, Astawan M (2011) Kapasitas antioksidan bawang Dayak (Eleutherine palmifolia) dalam bentuk segar, simplisia dan keripik, pada pelarut nonpolar, semipolar dan polar. Skripsi. Institut Pertanian Bogor, Departemen Ilmu dan Teknologi Pangan.
Yanuarti R, Nurjanah N, Anwar E, Hidayat T (2017) Profil fenolik dan aktivitas antioksidan dari ekstrak rumput laut Turbinaria conoides dan Eucheuma cottonii. JPHPI 20: 230–237.
Badhani B, Sharma N, Kakkar R (2015) Gallic acid: A versatile antioxidant with promising therapeutic and industrial applications. RSC Advances. Royal Society of Chemistry 5: 27540–27557.
Alfian R, Susanti H (2012) Penetapan kadar fenolik total ekstrak metanol kelopak bunga Rosella Merah (Hibiscus sabdariffa Linn) dengan variasi tempat tumbuh secara spektofotometri. Jurnal Ilmiah Kefarmasian 2: 73–80.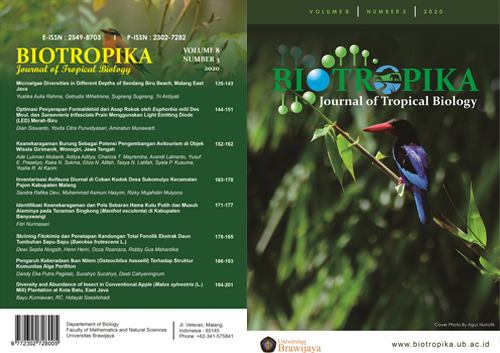 Downloads
License
Copyright and Attribution:
Articles in Biotropika: Journal of Tropical Biology are under Creative Commons Attribution-NonCommercial (CC-BY-NC) copyright. The work has not been published before (except in the form of an abstract or part of a published lecture or thesis) and it is not under consideration for publication elsewhere. When the manuscript is accepted for publication in this journal, the authors agree to the automatic transfer of the copyright to the publisher.
Journal of Biotropika: Journal of Tropical Biology is licensed under a Creative Commons Attribution-NonCommercial 4.0 International (CC BY-NC 4.0).
Permissions:
Authors wishing to include figures, tables, or text passages that have already been published elsewhere and by other authors are required to obtain permission from the copyright owner(s) for both the print and online format and to include evidence that such permission has been granted when submitting their papers. Any material received without such evidence will be assumed to originate from one of the authors.
Ethical matters:
Experiments with animals or involving human patients must have had prior approval from the appropriate ethics committee. A statement to this effect should be provided within the text at the appropriate place. Experiments involving plants or microorganisms taken from countries other than the author's own must have had the correct authorization for this exportation.