Virtual Inhibition Analysis of Bioactive Compound Brazilin (Caesalpinia sappan L.) Toward Progesterone Receptor or Lonaprisan in Breast Cancer Proliferation
Keywords:
Brazilin, breast cancer, lonaprisan, PR, progesterone
Abstract
Breast cancer is one of the leading causes of death worldwide. The pathway of breast cancer in KEGG shows that the most effective pathway is through the progesterone receptor (PR). Brazilin is a bioactive compound of secang (Caesalpinia sappan L.) used to inhibit breast cancer through survivin and Bcl-2 pathway but the interaction with PR route is unknown. This research was conducted to determine the virtual interaction between brazilin and PR and its comparison with lonaprisan, so the potential of breast cancer drugs that can overcome through three targets at once with minimal side effects is expected to be known. There are five docking interactions, including the interaction of PR-progesterone, PR-brazilin, PR-brazilin-progesterone, PR-lonaprisan, and PR-lonaprisan-progesterone. Protein and ligand preparation was performed by using Discovery Studio Client 2019 and PyRx 0.8, molecular docking was performed by using Hex 8.0.0 and visualization used Discovery Studio Client 2019. Virtual interaction results shows that lonaprisan has the most stable bond (lowest binding energy), -333.8kJ/mol but when progesterone was docked afterwards the result shows the opposite. Brazilin has a more stable bond compared to lonaprisan with a difference of 2.1kJ/mol and supported by hydrophobic bonds also capable of changing the position of progesterone in binding to PR so that it is estimated that brazilin has the potential as SPRMs, an alternative breast cancer drug to replace lonaprisan. Herbal medicine with brazilin can be estimated to fight breast cancer through 3 targets at once (survivin, Bcl-2, PR).
References
Sulung N, Rizki Y, Andriani (2018) Determinan kejadian cancer mammae di poli rawat jalan bedah RSUD Dr. Achmad Mochtar. Jurnal Endurance 3(3):575-587. doi: 10.22216/jen.v3i3.3700
Brilliana A, Hari BN (2018) Faktor yang berhubungan dengan perilaku ibu rumah tangga melakukan pemeriksaan payudara sendiri. The Indonesian Journal of Public Health 12(2): 143–153. doi: 10.20473/ijph.v12i2.2017.143-153.
KEGG (2020) Breast cancer - Homo sapiens (human). https://www.kegg.jp/kegg-bin/show_pathway?hsa05224. Accessed: March 2020.
Hoffmann J, Lichtner RB, Fuhrmann U, Hess-Stumpp H, Siemeister G, Cleve A, Neef G, Parczyk K, & Schneider MR (2004) New progesterone receptor antagonists prevent carcinogen-induce cancer in rats. Cancer Res 64 (7 Supplement):1295.
Zarezade V, Abolghasemi M, Rahim F, Veisi A, Behbahani M (2018) In silico assessment of new progesterone receptor inhibitors using molecular dynamics: a new insight into breast cancer treatment. Journal of Molecular Modeling 24(1): 337. doi: 10.1007/s00894-018-3858-6.
Wagenfeld A, Saunders PTK, Whitaker L, Critchley HOD (2016) Selective progesterone receptor modulators (SPRMs): progesterone receptor action, mode of action on the endometrium and treatment options in gynecological therapies. Expert Opinion on Therapeutic Targets, 20(9): 1045–1054. doi: 10.1080/14728222.2016.1180368.
Ramdana S, Suhartati (2016) Secang (Caesalpinia sappan L.): Tumbuhan herbal kaya antioksidan. Info Teknis EBONI 13(1): 57 - 67.
Zhong X, Wu B, Pan YJ, & Zheng S (2009) Brazilein inhibits survivin protein and mRNA expression and induces apoptosis in hepatocellular carcinoma HepG2 cells. Neoplasma. 56(5): 387–392. doi: 10.4149/neo_2009_05_387.
Naik, BA, Hadi, FN, Babu, KS, Chandramati shankar, P (2018) In vitro studies data on anticancer activity of Caesalpinia sappan L. heartwood and leaf extracts on MCF7 and A549 cell lines. Data in brief, 19, 868-877. doi: 10.1016/j.dib.2018.05.050.
SwissTargetPrediction (2020) Brazilin. http://www.swisstargetprediction.ch/result.php?job=1818010999&organism=Homo_sapiens. Accessed: July 2020.
BIOVIA DS. (2017). Discovery studio visualizer. San Diego, CA, USA.
Molinspiration (2020) Calculation of Molecular Properties and Bioactivity Score. http://www.molinspiration.com/cgi-bin/properties.
Dallakyan S, Olson, AJ (2015) Small-molecule library screening by docking with PyRx. In Chemical biology. Methods in Molecular Biology, 1263(1): 243-250. doi: 10.1007/978-1-4939-2269-7_19
Ritchie D, Orpailleur T (1996) Hex 8.0.0 User Manual. Protein Docking Using Spherical Polar Fourier Correlations Copyright c, 2013.
Agrawal P, Singh H, Srivastava HK, Singh S, Kishore G, & Raghava GPS (2019) Benchmarking of different molecular docking methods for protein-peptide docking. BMC Bioinformatics 2019, 19(Suppl 13): 426. https://doi.org/10.1186/s12859-018-2449-y
Babahedari AK, Faraji S, Soureshjani EH (2014) A comparative molecular docking study of Lavandula angustifolia Mill's compounds along diazepam and amobarbital with GABAA receptor. Int. J. Adv. Chem. Eng. Biol. Sci
Pagadala NS, Syed K, Tuszynski J (2017) Software for molecular docking: a review. Biophysical reviews 9(2): 91-102.
Mohan C, Geetha S, Gajalakshmi R, Divya SR, & Dhanarajan MS (2017) Determination of molecular property, bioactivity score and binding energy of the phytochemical compounds present in Cassia auriculata by molinspiration and DFT method. Texila International Journal of Basic Medical Science 2(2): 1-15. doi: 10.21522/TIJBMS.2016.02.02.Art002
Aamir M, Singh VK, Dubey MK, Meena M, Kashyap SP, Katari SK, Upadhyay RS, Umamaheswari A, Singh S (2018) In silico prediction, characterization, molecular docking, and dynamic studies on fungal SDRs as novel targets for searching potential fungicides against Fusarium Wilt in tomato. Front. Pharmacol J. 3(4):55-67. doi: 10.3389/fphar.2018.01038
Uniprot (2020) Progesterone receptor. https://www.uniprot.org/uniprot/Q00175. Accessed: August 2020.
Lamb CA, Fabris VT, Jacobsen BM, Molinolo A, Lanari C (2018). Biological and clinical impact of imbalanced progesterone receptor isoform ratios in breast cancer. Endocrine-related cancer 25(12): R605-R624.
Kariagina A, Aupperlee MD, Haslam SZ (2008) Progesterone receptor isoform functions in normal breast development and breast cancer.
Crit Rev Eukaryot Gene Expr 18(1): 11-33.
Pebriana, Ratna B, Ahmad FR, Ariyadi Y (2008) Docking of curcumin and its analogues on progesterone receptor: interaction studies for selective progesterone receptor modulators (SPRMs). Parmachon Journal 9(1): 14-20.
Arba M, Ruslin, Nursan, Maulidiyah, Daryono, HT (2018) Quantitative Structure-Activity Relationship (QSAR) and molecular docking studies of benzamide derivatives as allosteric inhibitor of Mitogen Enhanced Kinase (MEK). Jurnal Kimia VALENSI: Jurnal Penelitian dan Pengembangan Ilmu Kimia 4(1): 42-51.
Siswandono, Soekardjo B (2000) Kimia Medisinal, Edisi 2, Airlangga University Press, Surabaya.
Rabe T, Saenger N, Ebert AD, Roemer T, Tinneberg HR, De Wilde RL, Wallwiener M (2018) Selective progesterone receptor modulators for the medical treatment of uterine fibroids with a focus on ulipristal acetate. BioMed Research International 1(1):1–12. doi: 10.1155/2018/1374821.
PubChem (2020) Brazilin. https://pubchem.ncbi.nlm.nih.gov/compound/73384. Accessed: May 2020.
PubChem (2020) Progesterone. https://pubchem.ncbi.nlm.nih.gov/compound/5994. Accessed: May 2020.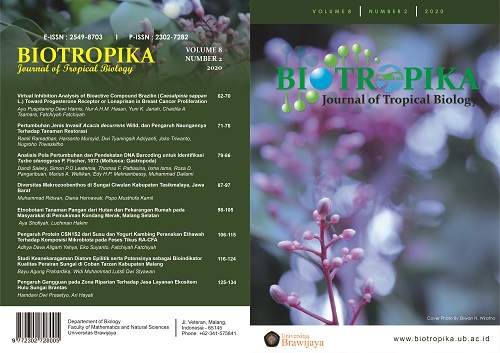 Downloads
License
Copyright and Attribution:
Articles in Biotropika: Journal of Tropical Biology are under Creative Commons Attribution (CC-BY-SA) copyright. The work has not been published before (except in the form of an abstract or part of a published lecture or thesis) and it is not under consideration for publication elsewhere. When the manuscript is accepted for publication in this journal, the authors agree to the automatic transfer of the copyright to the publisher.
Journal of Biotropika: Journal of Tropical Biology is licensed under a Creative Commons Attribution-ShareAlike 4.0 International License.
Permissions:
Authors wishing to include figures, tables, or text passages that have already been published elsewhere and by other authors are required to obtain permission from the copyright owner(s) for both the print and online format and to include evidence that such permission has been granted when submitting their papers. Any material received without such evidence will be assumed to originate from one of the authors.
Ethical matters:
Experiments with animals or involving human patients must have had prior approval from the appropriate ethics committee. A statement to this effect should be provided within the text at the appropriate place. Experiments involving plants or microorganisms taken from countries other than the author's own must have had the correct authorization for this exportation.