Inventarisasi Avifauna Diurnal di Coban Kodok Desa Sukomulyo Kecamatan Pujon Kabupaten Malang
Keywords:
Avifauna, Inventarisasi, Distribusi
Abstract
Avifauna merupakan kelompok hewan yang mempunyai posisi penting sebagai salah satu kekayaan satwa di Indonesia. Avifauna berperan besar dalam penyebaran benih dan sebagai salah satu bioindikator lingkungan. Penelitian tentang inventarisasi dan distribusi spasial avifauna diurnal di Coban Kodok Desa Sukomulyo Kecamatan Pujon Kabupaten Malang dilakukan pada tanggal 19-20 April 2020 pukul 06.00-08.00 dan 15.00-17.00 WIB. Penelitian ini bertujuan untuk mengetahui jenis dan distribusi spasial avifauna di Coban Kodok.  Penelitian ini menggunakan metode IPA (Indices Ponctuel d'Abondance) di dalam zona pengamatan. Analisis data melalui deskriptif eksploratif dan metode statistik multivariabel yang didasarkan pada Analisis Korelasi (Correspondence Analysis, CA) untuk mengetahui jenis populasi dan distribusi spatial avifauna di Coban Kodok. Hasil penelitian menunjukan bahwa pada zona 1 (agriladang barat) ditemukan Todiramphus chloris sebanyak dua individu, Apus nipalensis sebanyak dua individu,  Pycnonotus aurigaster sebanyak tiga individu dan Spilopelia chinensis sebanyak dua individu, sedangkan pada zona 2 (agriladang timur) ditemukan Todiramphus chloris sebanyak empat individu, Apus nipalensis sebanyak empat individu, dan Lonchura maja sebanyak empat individu
References
El-Arif AR, Suastika NM, Abinurizzaman R, Arisoesilaningsih E (2016) Diversitas aves diurnal di agroforestry, hutan sekunder, dan pemukiman masyarakat sekitar Rowo Bayu, Kecamatan Songgon, Banyuwangi. Biotropika: Journal of Tropical Biology 4 (2): 49-55.
Paba ROF (2017) Pengaruh struktur dan komposisi vegetasi terhadap keanekaragaman jenis burung di Hutan Lindung Batutegi, Lampung. Skripsi. Universitas Lampung, Fakultas MIPA.
Widodo W (2013) Kajian fauna burung sebagai indikator lingkungan di hutan Gunung Sawal, Kabupaten Ciamis, Jawa Barat, In Proceeding Biology Education Conference: Biology, Science, Enviromental, and Learning, Edited by Saputra A., 10(1): 5-047.
Prabowo A, Dewantara I, Prayogo H (2019). Keanekaragaman avifauna diurnal pada kawasan Mempawah Mangrove Park dan sekitarnya di Desa Pasir Kabupaten Mempawah. Jurnal Hutan Lestari. 7(1): 316 – 326.
Tim Desa Sukomulyo (2016) Demografi Dea Sukomulyo. https://Sukomulyo.Desa.Id/Demografi-Desa/. Diakses pada tanggal 29 April 2020.
Hidayah A, Hanifa BF, Devi SR, Septiadi L, Alwi MZ, & Afifudin FA (2018) Keanekaragaman herpetofauna di kawasan Wisata Alam Coban Putri Desa Tlekung Kecamatan Junrejo Kota Batu Jawa Timur. Prosiding Seminar Nasional VI Hayati 2018, ISBN : 978 – 602 – 61371 – 2 – 8.
Chettri N, Deb Dc, Sharma E, Jackson R (2005) The relationship bird communities and habitat a study along a tracking corridor in the Sikkim Himalaya. Mountain Research And Development. 25: 235-243. doi: Https://Doi.Org/10.1659/0276-4741(2005)025[0235:TRBBCA]2.0.CO;2.
Wiens Ja (1989) The Ecology of Bird Communities 1. Cambridge, Cambridge University Press
Paeman Pb (2002) The scale of community structure: habitat varition and avian guilds in the tropical forest. Ecological Monographs 72: 19-39.
Bibby CJ, Burgess ND, Hill DA, Mustoe SH (2000) Bird census techniques, 2nd Ed. Tokyo, Academic Press.
MacKinnon J, Philips K, van Balen B. 2010. Burung-burung di sumatera, Jawa, Bali, dan Kalimantan. Buku. Puslitbang Biologi-LIPI. Bogor.
Bengen DG (2000) Sinopsis teknik pengambilan contoh dan analisis data biofisik sumberdaya pesisir. Pusat Kajian Sumber Daya Pesisir dan Laut IPB. Bogor. 88 hlm.
MacKinnon J (1990) Panduan lapangan pengenalan Burung-burung di Jawa dan Bali. Yogyakarta, Gadjah Mada Univ. Press.
Winnasis S, Toha A, Sutadi. (2009) Burung-Burung Baluran. Situbondo, Balai Taman Nasional Baluran.
Djuwantono, Pudyatmoko S, Setiawan A, Purnomo DW, S.Nurvianto, FY. Laksono, YCW. Kusuma. 2013. Studi keanekaragaman jenis burung terkait dengan suksesi ekologi di Suaka Margasatwa Paliyan da Hutan Pendidikan Wanagama, Kabupaten Gunung Kidul. http://lib.ugm.ac.id/digitasi/upload/2695_MU.11100001.pdf. Diakses pada tanggal 29 April 2020.
Chambers SA (2008) Birds as environmental indicators review of literature. Parks Victoria Technical Series. No.55. Melbourne, Parks Victoria.
Wechsler D, Wheeler BK (2012) BirdCast: Why You Should Care: Birds as Bioindicators. http://www.birdsource.org. Diakses pada 29 April 2020.
Krisanti AA, Choirunnafi' A, Septiana NO, Pratama FW, Amelia F, Manjaswari A, Septiningtyas PA, Wati AS, Satria JS, Ani IL, Wibowo T, Sugiyarto (2017) The diversity of diurnal bird species on western slope of Mount Lawu, Java, Indonesia. BIODIVERSITAS 18 (3): 1077-1083.
Mackinnon J, Phillips K, van Balen B (2010) Birds of Sumatera, Java, Bali, and Kalimantan. Bogor, RCB-LIPI & BirdLife Indonesia.
Rachmaputra A, Yanuwiyadi B, Leksono AS (2018) Species diversity of birds in Clungup mangrove conservation Sendang Biru, Kabupaten Malang, East Java as Bioindicator. Journal of Environmental Enginering and Sustainable Technology. 05 (02): 47-51.
Wolf J, Baker R, Reed E (2012) An assesment of vegetation cover for grassland bird breeding habitat in Southeastern Wisconsin. Bird Popul 11: 22-29.
Mariappan N, Ahamed Kalfan BK, Krishnakumar S (2013) Assesment of bird population in different habitats of agricultural ecosystem. Intl J Sci Res Environ Sci. 1 (11): 306-316.
Hidayat O (2013) Keanekaragaman spesies avifauna di KHDTK Hambala, Nusa Tenggara Timur. Jurnal Penelitian Kehutanan Wallacea 2 (1): 12-25.
Devi SR, Septiadi L, Erfanda MP, Hanifa BF, Firizki DT, Nadhori Q (2019) Struktur komunitas ordo Anura di Lokasi Wisata Bedengan Desa Selorejo Kecamatan Dau Kabupaten Malang. Jurnal Riset Biologi dan Aplikasinya 1(2): 71-79.
Kusrini MD (2008) Pedoman penelitian dan survey Amfibi di alam. Fakultas Kehutanan, IPB Bogor.
Missana S, Majule BAE, Lyaru HV (2003) Lingkages between changes in land use, biodiversity, and land degredation on the slopes of mount Kalimanjaro, Tanzania. Lucid. 38: 1-28.
Erfanda MP, Septiadi L, Devi SR, Hanifa BF (2019) Distribution record of Leptophryne borbonica (Tschudi, 1838) (Anura: Bufonidae) from Malang, East Java: description, microhabitat, and possible threats. Journal of Tropical Biodiversity and Biotechnology 4(2): 82-89.
Indrawan M, Primack RB, Supiatna J (2007) Biologi konservasi. Jakarta, Yayasan Obor Indonesia.
Septiadi L, Hanifa BF, Khatimah A, Indawati Y, Alwi MZ, Erfanda MP (2018) Study of reptile and amphibian diversity at Ledok Amprong Poncokusumo, Malang East Java. Biotropika: Journal of Tropical Biology 6 (2): 45-53
Biamonte E, Sandoval L, Chacon E, Barrantes G (2010) Effect of urbanization on the avifauna in a tropical metropolitan area. Landscape Ecol. 26:183-194.
Mcdonnell Mj, Pickett Sta (1990) Ecosystem structure and function along urban–rural gradients. An unexploited opportunity for ecology. Ecology 71:1232–1237.
Natuhara Y, Imai C (1996) Spatial structure of avifauna along urban–rural gradients. Ecol Res. 11:1–9. doi: https://doi.org/10.1007/BF02347814.
Natuhara Y, Imai C (1996) Spatial structure of avifauna along urbanâ€rural gradients. Ecological Research 11 (1): 1-9.
Clergeau P, Jean-Pierre Ls, Gwenalle M, Gilles F (1998) Bird abundance and diversity along an urban–rural gradient: A comparative study between two cities on different continents. Condor 100(3):413–425. doi: https://doi.org/10.2307/1369707.
Krooks Kr, Suarez Av, Bolger Dt (2004) Avian assemblages along a gradient of urbanization in a highly fragmented landscape. Biol Conserv 115 (3): 451–462.
Croci S, Butet A, Clergeau P (2008) Does urbanization filter birds on the basis of their biological traits. The Condor 110 (2): 223-240.
Purwanto AA (2015) Burung Pemangsa Jawa dan Bali. Bogor, Raptor Indonesia.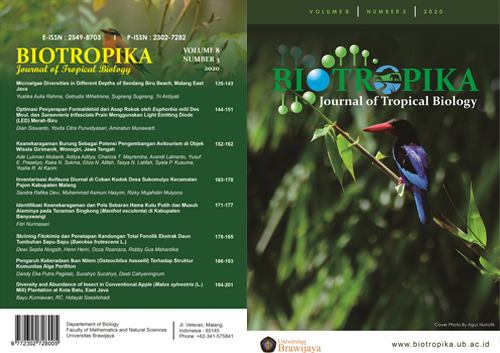 Downloads
License
Copyright and Attribution:
Articles in Biotropika: Journal of Tropical Biology are under Creative Commons Attribution (CC-BY-SA) copyright. The work has not been published before (except in the form of an abstract or part of a published lecture or thesis) and it is not under consideration for publication elsewhere. When the manuscript is accepted for publication in this journal, the authors agree to the automatic transfer of the copyright to the publisher.
Journal of Biotropika: Journal of Tropical Biology is licensed under a Creative Commons Attribution-ShareAlike 4.0 International License.
Permissions:
Authors wishing to include figures, tables, or text passages that have already been published elsewhere and by other authors are required to obtain permission from the copyright owner(s) for both the print and online format and to include evidence that such permission has been granted when submitting their papers. Any material received without such evidence will be assumed to originate from one of the authors.
Ethical matters:
Experiments with animals or involving human patients must have had prior approval from the appropriate ethics committee. A statement to this effect should be provided within the text at the appropriate place. Experiments involving plants or microorganisms taken from countries other than the author's own must have had the correct authorization for this exportation.