Macrozoobenthos Diversities in Ciwulan River, Tasikmalaya Regency, West Java
Keywords:
Diversity Macrozoobenthos, Ciwulan River, District Tasikmalaya
Abstract
Ciwulan River is one of the longest rivers in Tasikmalaya Regency with a diversity of macrozoobenthos as one of the biota contained therein. The purpose of this study was to describe the diversity of macrozoobenthos in The Ciwulan River, Tasikmalaya Regency. This research is important because macrozoobenthos is a component in determining river bioindicators. The method used in this study is exploratory with a purposive sampling technique. Sampling of macrozoobenthos is done using a surber net and measurement of environmental indicators is done in situ at the observation station. Samples of macrozoobenthos were taken from three different stations including upstream Station I (Salawu), middle part II (Sukaraja), and downstream Station III (Cikalong). Data collection was carried out in November 2019-April 2020 in the Ciwulan River, Tasikmalaya Regency. Analysis of the observed data was then calculated relative abundance, cumulative abundance, diversity index, uniformity index, and dominance index. The results showed that the macrozoobenthos were found to have 24 species with 476 individuals/m2 belonging to the gastropod class as many as 21 species with 433 individual/m2, bivalve class two species with 37 individuals/m2 and crustacean class one species with six individuals/m2. Macrozoobenthos that are commonly found are Tarebia granifera Lamarck, 1822 totaling 222 individuals/m2. The highest relative abundance was found in Station I with the Tarebia granifera Lamarck species, 1822 which was 0.65%. and the lowest relative abundance was found in Station II with the species Lymnaea (Radix) rubiginosa Michelin, 1831 and Gyraulus convexiusculus Hutton, 1849 by 0.006%. Cumulative abundance values range from 54-350 individuals/m2. Diversity index values range from 1.02-1.67 with the category of moderate diversity. Uniformity index values ranged from 0.58 to 0.73 with a high category. The dominance index value ranges from 0.33 to 0.47 with the low category. Overall based on environmental parameters and ecological index measurements, the Ciwulan River is classified as not yet polluted and the conditions are suitable for macrozoobenthos life and have a moderate diversity of categories with relatively stable environmental conditions
References
Rangkuti AM, MR Cordova, Rahmawati A, Yulma, Adimu HE (2016) Ekosistem pesisir dan laut Indonesia, Jakarta, Bumi Aksara.
Maula LH (2018) Keanekaragaman makrozoobenthos sebagai bioindikator kualitas air Sungai Cokro Malang. Skripsi. UIN Maulana Malik Ibrahim.
Putro SP (2014) Metode sampling penelitian makrobenthos dan aplikasinya: Penentuan tingkat gangguan lingkungan akuakultur. Yogyakarta, Graha Ilmu.
Juwita R (2017) Keanekaragaman makrozoobentos sebagai bioindikator kualitas perairan Sungai Sebukhas di Desa Bumi Agung Kecamatan Belalau Lampung Barat. Skripsi. UIN Raden Intan, Lampung.
Siamtupang LLO, Kardhinata EH, ZNA Mutia H (2017) Keanekaragaman jenis makrozoobentos di muara Sungai Nipah Kecamatan Perbaungan Kabupaten Serdang Begadai Sumatera Utara. BioLink 4 (1): 69-82. doi: 10.31289/biolink.v4i1.969.
Sari IK (2017) Keanekaragaman dan distribusi makrozoobentos di Sungai Progo Tengah. Skripsi. Yogyakarta, UIN Sunan Kalijaga.
Wargadinata EL (1995) Makrozoobenthos sebagai indikator ekologi di Sungai Percut. Tesis. Medan, Universitas Sumatra Utara.
Afif J, Ngabekti S, Pribadi TA (2014) Keanekaragaman makrozoobenthos sebagai indikator kualitas perairan di ekosistem mangrove wilayah Tapak Kelurahan Tugurejo Kota Semarang. Unnes Journal of Life Science 3 (1): 47-48.
Burch JB (1983) Freshwater snails (Mollusca: Gastropoda) of North America. Environmental Monitoring and Support Laboratory (Cincinnati, Ohio) University of Michigan. Museum of Zoology.
Bogan AE (2002) Workbook and key to the freshwater bivalves of North Carolina. North Carolina Freshwater Mussel Conservation Partnership, Raleigh, NC 101 pp, 10 color plates.
Peter KLNg. (2004) Freshwater invertebrates of the Malaysian region. Department of Biological Sciences, National University of Singapore, Kent Ridge, Singapore 119260, Republic of Singapore.
Word Register of Marine Species. https://www.marinespecies.org/. . Accessed: 20 Mei 2020.
Global Biodiversity Information Facility. https://www.gbif.org/. Accessed: 20 Mei 2020.
Aziz KA (1989) Teknik penarikan contoh populasi biologis (Bahan Pengajaran). Bogor: Depdikbud.
Brower J, Zar J, von Ende CN (1990) Field and laboratory methods for general ecology. Third Edition. USA, Brown Publisher.
Odum EP (1996). Dasar-dasar ekologi Edisi Ketiga. Yogyakarta, Gadjah Mada University Press.
Appleton C, Forbes AT, Demetriades NT (2009) The occurrence, bionomics and potential impacts of the invasive freshwater snail Tarebia granifera (Lamarck, 1822) (Gastropoda: Thiaridae) in South Africa. Zoologische Mededeelingen 83: 525–536.
van Benthem-Jutting WSS (1956) Systematic studies on the non-marine Mollusca of the Indo-Australian archipelago. V. Critical revision of the Javanese freshwater gastropods. Treubia 23: 259−477.
Bandel, K & Riedel F (1998) Ecological zonation of gastropods in the Matutinao River (Cebu, Phitippines), with focus on their life cycles. Annls Limnol. 34 (2): 17l-l9l
Djajasasmita M (1985) The medically important freshwater Mollusc of the Famillies Ampullariidae, Bithyniidae and Lymnaeidae from Indonesia. A Review. Presented in the Technical Meeting on Snails of Medical Importance in Southeast Asia, Bangkok, Thailand.
Zenetos A, Gofas S, Russo G, Templado J (2004) Molluscs. Monaco, CIESM Publishers.
Cohen AN (2005) Guide to the exotic species of San Francisco Bay. Oakland, CA, USA, San Francisco Estuary Institute. [Online]. Diakses dari http://www.exoticsguide.org
Rahmawaty (2011) Indeks keanekaragaman makrozoobentos sebagai bioindikator tingkat pencemaran di Muara Sungai Jeneberang. Bionature 12 (2): 103-109.
Purnama PR, Nastiti NW, Agustin ME, Affandi M (2012) Diversitas gastropoda di Sungai Sukamade, Taman Nasional Meru Betiri, Jawa Timur. Journal of Biological Researches 16 (2): 143-147.
Sukarno (1988) Terumbu karang buatan sebagai sarana meningkat produktivitas perikanan di perairan Jepara, Perairan Indonesia. Jakarta: LON-LIPI.
Setyobudiandi (1997) Makrozoobenthos. Bogor, Insitut Pertanian Bogor.
Mason, CF (1981) Biology of freshwater pollution. London and New York: Longman. xi + 250 pp.
Susanti M (2010) Kelimpahan dan distribusi plankton di perairan Waduk Kedungombo. Skripsi. UNNES. Semarang.
Sinambela M (1994) Keragaman makrozoobentos sebagai indikator kualitas Sungai Babura. Thesis. Institut Pertanian Bogor.
Mudjiman (1981) Budidaya Udang- Udangan. Jakarta, PT. Penebar Swadaya.
Ramli D (1989) Ekologi. Jakarta, Departemen Pendidikan dan Kebudayaan.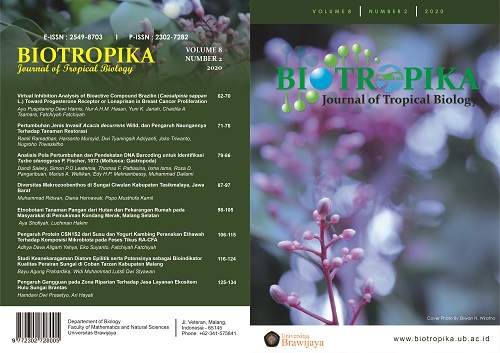 Downloads
License
Copyright and Attribution:
Articles in Biotropika: Journal of Tropical Biology are under Creative Commons Attribution (CC-BY-SA) copyright. The work has not been published before (except in the form of an abstract or part of a published lecture or thesis) and it is not under consideration for publication elsewhere. When the manuscript is accepted for publication in this journal, the authors agree to the automatic transfer of the copyright to the publisher.
Journal of Biotropika: Journal of Tropical Biology is licensed under a Creative Commons Attribution-ShareAlike 4.0 International License.
Permissions:
Authors wishing to include figures, tables, or text passages that have already been published elsewhere and by other authors are required to obtain permission from the copyright owner(s) for both the print and online format and to include evidence that such permission has been granted when submitting their papers. Any material received without such evidence will be assumed to originate from one of the authors.
Ethical matters:
Experiments with animals or involving human patients must have had prior approval from the appropriate ethics committee. A statement to this effect should be provided within the text at the appropriate place. Experiments involving plants or microorganisms taken from countries other than the author's own must have had the correct authorization for this exportation.