Etnobotani Pemanfaatan Pisang Lokal (Musa spp.) di Desa Srigonco, Kecamatan Bantur, Kabupaten Malang
Keywords:
budidaya, etnobotani, pisang lokal
Abstract
Desa Srigonco, Kecamatan Bantur, Kabupaten Malang mempunyai keanekaragam kultivar pisang yang tinggi. Lokasinya yang strategis di Jalur Lintas Selatan (JLS) memberikan peluang untuk memperkenalkan keanekaragaman pisang sebagai salah satu daya tarik wisata pantai Malang Selatan. Tujuan penelitian ini adalah untuk mengetahui kultivar pisang lokal (Musa spp.) dan menganalisis pemanfaatan pisang lokal (Musa spp.) setempat. Metode yang digunakan dalam penelitian ini yaitu observasi dan wawancara semi tersruktur. Analisis data kualitatif disajikan dalam bentuk deskriptif dan data kuantitatif dianalisis dengan perhitungan Relative Frequency of Citation (RFC). Kultivar pisang yang ditanam dan dimanfaatkan di Desa Srigonco terdiri dari 9 kultivar yaitu Pisang Kepok, Pisang Raja, Pisang Candi, Pisang Susu, Pisang Barlin, Pisang Ambon, Pisang Raja Nangka, Pisang Raja Awak, dan Pisang Raja Molo. Bagian dari tanaman pisang yang dapat dimanfaatkan yaitu buah, daun, jantung pisang dan pelepah pisang. Tanaman pisang yang dimanfaatkan oleh masyarakat dalam kehidupan sehari-hari mencakup aspek pangan, adat, perdagangan, perabot dapur, kosmetik, dan pakan ternak. Kultivar pisang yang memiliki nilai RFC tertinggi yaitu pisang kepok sebesar 0,8, sedangkan nilai RFC terendah yaitu pisang raja molo sebesar 0,1.
References
Malangkab.go.id (2018) Selayang Pandang. www.malangkab.go.id. Diakses pada tanggal 3 September 2019.
TIES (2015) TIES Announces Ecotourism Principles Revision. The International Ecotourism Society. https://ecotourism.org/news/tiesannounces-ecotourism-principles-revision/. Diakses pada tanggal 28 Oktober 2019.
Sujarwo, W., & Caneva, G (2016) Using quantitative indices to evaluate the cultural importance of food and nutraceutical plants: Comparative data from the Island of Bali (Indonesia). Journal of Cultural Heritage. Vol 18: 342–348.
Hapsari, L., Kennedy, J., Lestari, D.A., Masrum, A., Lestarini, W (2017) Ethnobotanical survey of bananas (Musaceae) in six districts of East Java, Indonesia. Biodiversitas. 18(1):160-174.
Ambarita, M. D. Y., Bayu, E. S., Setiado, H (2015) Identifikasi Karakter Morfologi Pisang (Musa spp.) di Kabupaten Deli Serdang. Jurnal Agroekoteknologi. 4 (1): 1911-1924.
Yuliasih, P. D (2016) Biosistematika Berbagai Varietas Pisang (Musa paradisiaca L.) Berdasarkan Karakter Morfologi Melalui Metode Fenetik. Skripsi. Fakultas Sains dan Teknologi, Universitas Airlangga.
Sunandar, A., Kahar, A.P (2017) Morphological and Anatomical Characteristic of Pisang Awak (Musa paradisiaca cv. Awak) in West Kalimantan. Biosaintifika. 9 (3) (2017) 579-584.
Sonia, R. R. J. A., Hamidah., Juairiah (2016) Analisis Keanekaragaman Dan Pengelompokan Varietas Pisang (Musa paradisiaca L.) Berdasarkan Metode Fenetik. http://biologi.fst.unair.ac.id/wpcontent/uploads/2016/10/Jurnal-Skripsi.pdf Diakses pada tanggal 15 April 2020.
Cahyono, B (1995) Budidaya Pisang Dan Analisis Usaha Tani. Yogyakarta, Kanisius.
Mulyono, L. A., Hamidah., Irawan, B (2016) Pengelompokan Empat Varietas Pisang (Musa acuminata Colla) Melalui Pendekatan Fenetik. http://biologi.fst.unair.ac.id/wpcontent/uploads/2016/10/ Diakses pada tanggal 15 April 2020.
Hapsari, L., Lestari, D.A., Masrum, A. (2015) Album Koleksi Pisang Kebun Raya Purwodadi seri 1: 2010-2015. Purwodadi, Unit Pelaksana Teknis Balai Konservasi Tumbuhan, Kebun Raya Purwodadi – LIPI.
Firdausi, N., Hayati, A., Rahayu, T (2015) Studi Etnobotani dan Keragaman Pisang Buah (Musaceae) Pada Masyarakat Tradisional Pandalungan Desa Krai Kecamatan Yosowilangun Kabupaten Lumajang. Biosaintropis. 1(1): 26-34.
Kwartiningsih, e., Andani, A., Budiastuti, S., Nugroho, A., Rahmawati, F (2010) Pemanfaatan Getah Berbagai Jenis Dan Bagian Dari Pohon Pisang Sebagai Zat Pewarna Alami Tekstil. Ekuilibrium. 9 (1): 5-10.
Tardío, J., & Pardo-de-Santayana, M (2008) Cultural importance indices: A comparative analysis based on the useful wild plants of Southern Cantabria (Northern Spain). Economic Botany. 62(1), 24–39.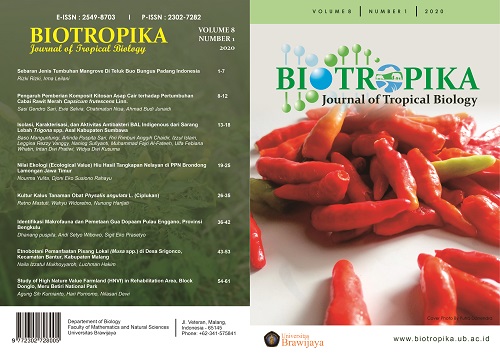 Downloads
License
Copyright and Attribution:
Articles in Biotropika: Journal of Tropical Biology are under Creative Commons Attribution (CC-BY-SA) copyright. The work has not been published before (except in the form of an abstract or part of a published lecture or thesis) and it is not under consideration for publication elsewhere. When the manuscript is accepted for publication in this journal, the authors agree to the automatic transfer of the copyright to the publisher.
Journal of Biotropika: Journal of Tropical Biology is licensed under a Creative Commons Attribution-ShareAlike 4.0 International License.
Permissions:
Authors wishing to include figures, tables, or text passages that have already been published elsewhere and by other authors are required to obtain permission from the copyright owner(s) for both the print and online format and to include evidence that such permission has been granted when submitting their papers. Any material received without such evidence will be assumed to originate from one of the authors.
Ethical matters:
Experiments with animals or involving human patients must have had prior approval from the appropriate ethics committee. A statement to this effect should be provided within the text at the appropriate place. Experiments involving plants or microorganisms taken from countries other than the author's own must have had the correct authorization for this exportation.