Isolasi, Karakterisasi, dan Aktivitas Antibakteri BAL Indigenous dari Sarang Lebah Trigona spp. Asal Kabupaten Sumbawa
Keywords:
antibakteri, bakteri asam laktat, sarang lebah, Trigona spp.
Abstract
Trigona spp. atau stingless bee merupakan jenis lebah yang banyak ditemukan di daerah tropis. Madu dan propolis yang dihasilkan oleh jenis lebah ini mengandung bakteri asam laktat (BAL) yang dapat dijadikan sebagai kandidat probiotik. Berdasarkan hal tersebut maka BAL tersebut juga diduga dapat ditemukan pada sarangnya. Tujuan penelitian ini adalah untuk melakukan isolasi dan karakterisasi BAL dari sarang lebah Trigona spp., serta melakukan pengujian aktivitas antibakteri terhadap bakteri uji Salmonella thypi dan Staphylococcus aureus. Bakteri asam laktat diisolasi dari sarang lebah Trigona spp. pada media MRSA. Seleksi BAL dilakukan dengan uji pewarnaan Gram dan uji katalase. Delapan isolat BAL telah berhasil diisolasi dari sarang lebah Trigona spp.. Kedelapan isolat tersebut kemudian dikulturkan dan dilakukan ekstraksi metabolit sekunder. Hasil ekstraksi diujikan pada bakteri S. thypi dan S. aureus menggunakan metode difusi sumur. Hasil yang diperoleh menunjukkan bahwa kedelapan isolat memiliki perbedaan efektivitas penghambatan bakteri uji. Isolat SRG 1 lebih efektif menghambat pertumbuhan bakteri S. thypi dengan ukuran zona bening terbesar 1,3± 0,471 mm. Sedangkan isolat SRG 19 efektif menghambat pertumbuhan bakteri S. aureus dengan ukuran zona bening terbesar 5,3 ± 0,471 mm.
References
Haryanto B, Hasan Z, Kuswandi, Artika IM (2012) Penggunaan propolis untuk meningkatkan produktivitas ternak sapi Peranakan Ongole (PO). Jurnal Ilmu Ternak dan Veteriner 17 (3): 202.
Azlan A, Yoza D, Mardhiansyah M (2016) Tingkat keberhasilan perpindahan koloni Trigona spp. pada sarang buatan di Hutan Larangan Adat Desa Rumbio Kabupaten Kampar. Jurnal Online Mahasiswa Faperta Universitas Riau 3(2): 1-7.
Hasan AEZ, Artika IM, Abidin S (2014) Produksi asam laktat dan pola pertumbuhan bakteri asam laktat dengan pemberian dosis rendah propolis Trigona spp. asal Pandeglang Indonesia. Current Biochemistry 1(3): 126-135.
Ruas- Madiedo P, Reyes- Gavilan CG (2005) Invited Review: Methods for the Screening, Isolation, and Characterization of Exopolysaccharides Produced by Lactic Acid Bacteria. Journal Dairu Sciences 88: 843-856.
Pato U (2003) Potensi bakteri asam laktat yang diisolasi dari dadih untuk menurunkan resiko penyakit kanker. Jurnal Natur Indonesia 5(2): 162-166.
Desniar I, Setyaningsih YI, Purnama (2016) Penapisan dan produksi antibakteri Lactobacillus plantarum NS(9) yang diisolasi dari Bekasam ikan nila atin. Jurnal Pengelolaan Hasil Perikanan Indonesia 19(2).
Nira HK, Amano K (2008) Antimicrobial activity of honey produced by Stingless Honey Bees. Journal of Apicultural Research and Bee World 47(4): 325-327.
Chanchao C (2009) Antimicrobial activity by Trigona laeviceps (stingless bee) honey from Thailand. Pakistan Journal of Medical Scieces 25(3): 364-369.
Saleng A, Syafrizal, Sari YP (2016) Uji aktivitas antibakteri ekstrak propolis lebah Trigona incisa terhadap bakteri Klebsiella pneumonia dan Staphylococcus aureus. Bioprospek 11(1): 42-48.
Tajabadi N, Mardan M, Mustafa S, Feizabadi F, Nateghi L, Rasti B, Manap MYA (2012) Weisella sp. Taj-Apis, a novel lactic acid bacterium isolatede from honey. Journal of food, agriculture, and environment 10(2): 263-267.
Hadioetomo RS (1993) Mikrobiologi Dasar Dalam Praktek Teknik dan Prosedur Dasar Laboratorium. Gramedia, Jakarta.
Purwijantiningsih E (2014) Viabilitas bakteri asam laktat dan aktivitas antibakteri produk susu fermentasi komersial terhadap beberapa bakteri patogen enterik. Biota 19(1): 15-21.
Romadon, Subagiyo S. Margino (2012) Isolasi dan karakterisasi bakteri asam laktat dari usus udang penghasil bakteriosin sebagai agen antibakteria pada produk-produk hasil perikanan. Jurnal Saintek Perikanan 8(1).
Montecillo AD, Sabino NG, Fajardo A, Cleofas RJr, Cervancia, Aborot ZA, Ferdigon KMD, Lantican NB (2014) Screening of lactic acid bacteria from Apis mellifera L. And Trigona spp. against Paenibacillus larvae (white) causing American foulbrood disease of honeybees. Phillippint Entomologist 28(1): 32-42.
Desniar, Rusmana I, Suwanto A, Mubarik NS (2012) Senyawa antimikroba yang dihasilkan oleh bakteri asam laktat asal Bekasam. Jurnal Akuatika 3(2): 136-145.
Soda ME, Ahmed N, Omran N, Osman, Morsi A (2003) Isolation, identification and selection of lactic acid bacteria cultures for cheesemaking. Emirates Journal of Agricultural Sciences 15(2): 51-71.
Mobolaji OA & Wuraola FO (2011) Assesment of the antimicrobial activity of lactic acid bacteria isolated from two fermented maize products-ogi and kunni-zaki. Malaysian Journal of Microbiology 7(3): 124-128.
Halim CN, Zubaidah E (2013) Studi kemampuan probiotik isolat bakteri asam laktat penghasil eksopolisakarida tinggi asal sawi asin (Brassica juncea). Jurnal Pangan dan Agroindustri 1 (1): 129-137.
Ammor S, Tauveron G, Dufour E, Chevallier I (2006) Antibacterial activity of lactic acid bacteria against spoilage and pathogenic bacteria isolated from the same meat small-scale facility: Screening and characterization of the antibacterial compounds. Food Control 17(6): 454-461.
Ichwan F, Yoza D, Budiani ES (2016) Prospek pengembangan budidaya lebah Trigona spp. di sekitar hutan larangan adat rumbio Kabupaten Kampar. Jurnal Online Mahasiswa Faperta Universitas Riau 3(2).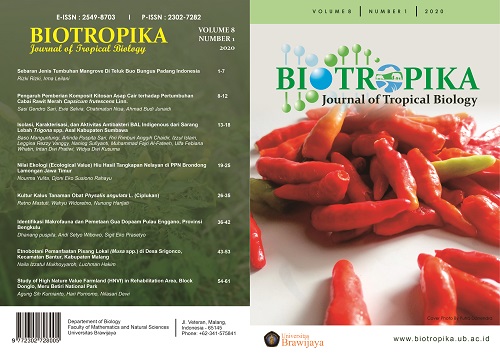 Downloads
License
Copyright and Attribution:
Articles in Biotropika: Journal of Tropical Biology are under Creative Commons Attribution (CC-BY-SA) copyright. The work has not been published before (except in the form of an abstract or part of a published lecture or thesis) and it is not under consideration for publication elsewhere. When the manuscript is accepted for publication in this journal, the authors agree to the automatic transfer of the copyright to the publisher.
Journal of Biotropika: Journal of Tropical Biology is licensed under a Creative Commons Attribution-ShareAlike 4.0 International License.
Permissions:
Authors wishing to include figures, tables, or text passages that have already been published elsewhere and by other authors are required to obtain permission from the copyright owner(s) for both the print and online format and to include evidence that such permission has been granted when submitting their papers. Any material received without such evidence will be assumed to originate from one of the authors.
Ethical matters:
Experiments with animals or involving human patients must have had prior approval from the appropriate ethics committee. A statement to this effect should be provided within the text at the appropriate place. Experiments involving plants or microorganisms taken from countries other than the author's own must have had the correct authorization for this exportation.