Analisis Pola Pertumbuhan dan Pendekatan DNA Barcoding untuk Identifikasi Turbo stenogyrus P. Fischer, 1873 (Mollusca: Gastropoda)
Keywords:
Turbo stenogyrus, Filogenetik, Jarak genetik, Gen COI
Abstract
Pengelolaan dan pelestarian keanekaragaman hayati berawal dari pengetahuan tentang ketersediaan sumberdaya, identifikasi, dan sistematika spesies. Banyaknya spesies Turbinidae dengan berbagai bentuk morfologi dan transformasi bentuk menjadikan identifikasi dengan gen COI sangat penting dalam mempercepat pengungkapan identitas spesies. Penelitian ini dilakukan dengan tujuan menganalisis pola pertumbuhan dan mengidentifikasi gastopoda Turbinidae dengan pendekatan DNA barcode. Hasil identifikasi berdasarkan karakter morfologi menunjukkan bahwa genus Turbo yang diamati adalah dari spesies Turbo stenogyrus. Analisis pola pertumbuhan menunjukkan bahwa pola pertumbuhan T. stenogyrus adalah allometrik negatif. Amplifikasi DNA dengan gen COI menghasilkan panjang sekuen DNA 650 bp dengan hasil identifikasi sesuai dengan pengamatan morfologi yaitu Turbo stenogyrus. Berdasarkan analisis filogenetik dan jarak genetik, sekuen DNA yang dianalisis membentuk clade yang sama dengan spesies Turbo stenogyrus dengan jarak genetik terdekat 4,2%. Analisis genetik melalui gen COI sangat baik dan memberi kemudahan dalam identifikasi spesies gastropoda
References
Ji Y, Ashton L, Pedley SM, Edwards DP, Tang Y, Nakamura, A, Kitching, R, Dolman PM, Woodcock P, Edwards FA, Larsen TH, Hsu WW, Benedick S, Hamer KC, Wilcove DS, Bruce C, Wang X, Levi T, Lott M, Emerson BC, Yu DW (2013) Reliable, verifiable and efficient monitoring of biodiversity via metabarcoding. Ecol. Lett. 16 (10): 1245–1257. doi: 10.1111/ele.12162.
Jala S, Haumahu S, Uneputty P (2014) Variasi morfometrik dan hubungan panjang berat siput jala. Jurnal TRITON 10: 122–130.
Saleky D, Setyobudiandi I, Toha AHA, Takdir M, Madduppa HH (2016) Length-weight relationship and population genetic of two marine gastropods species (Turbinidae: Turbo sparverius and Turbo bruneus) in the bird seascape Papua, Indonesia. Biodiversitas J. Biol. Divers. 17 (1): 208–217. doi: 10.13057/biodiv/d170 130.
Watson G, Davies J, Wood H, & Cocks A (2018) A comparison of survivorship and function (grazing and behaviour) of three gastropod species used as clean-up crew for the marine aquarium trade. PLoS One 13 (6): 1–16. doi: 10.1371/journal.pone.0199 516.
Saleky D, Leatemia SP, Yuanike Y, Rumengan I, Putra ING (2019) astropods in rocky intertidal area in North Manokwari, West Papua. Jurnal Sumberdaya Akuatik Indopasifik 3 (1): 1–10. doi: 10.46252/jsai-fpik-unipa.2019.Vol.3. No.1.58.
Ariyanto D, Bengen DG, Prartono T (2018) Length-Weight relationships and condition factors of Telescopium telescopium (Gastropoda : Potamididae) in Banggi coast of Central Java, Java Island , Indonesia. International Journal of Fisheries and Aquatic Studies 6 (2): 548–550.
Ayoade AA, Ikulala AOO (2007) Length weight relationship, condition factor and stomach contents of Hemichromis bimaculatus, Sarotherodon melanotheron and Chromidotilapia guentheri (Perciformes: Cichlidae) in Eleiyele Lake, Southwestern Nigeria. Rev. Biol. Trop. 55 (3–4): 969–977. doi: 10.1551 7/rbt.v55i3-4.5970.
Hebert PDN, Ratnasingham S, deWaard JR, Hebert PDN, Ratnasingham S, & Jeremy R (2003) Barcoding animal life: cytochrome c oxidase subunit 1 divergences among closely related species. Proc Biol Sci. 270 (Suppl 1): S96-S99. doi: 10.1098/rsbl.2003.0025
Hebert PDN, Cywinska A, Ball SL, deWaard JR (2003) Biological identifications through DNA barcodes. Proc Biol Sci. 270 (1512): 313–321. doi: 10.1098/rspb.2002.2218
Kress WJ, García-Robledo C, Uriarte M, Erickson DL (2015) DNA barcodes for ecology, evolution, and conservation, Trends Ecol. Evol. 30 (1): 25–35. doi: 10.1016/j.tree.2014.10.008.
Madduppa H, Taurusman AA, Subhan B, Anggraini NP, Fadillah R, Tarman K (2017) Short communication: DNA barcoding reveals vulnerable and not evaluated species of sea cucumbers (Holothuroidea and Stichopodidae) from Kepulauan Seribu reefs, Indonesia. Biodiversitas 18 (3): 893–898. doi: 10.13057/biodiv/d180305.
Puillandre N, Strong EE, Bouchet P, Boisselier MC, Couloux A, Samadi S (2009) Identifying gastropod spawn from DNA barcodes: possible but not yet practicable. Mol. Ecol. Resour. (9) 5: 1311–1321. doi: 10.1111/j.1755-0998.2009.02576.x
Leatemia SPO, Manumpil AW, Saleky D, Dailami M (2018) DNA Barcode dan Molekuler Filogeni Turbo sp. di Perairan Manokwari Papua Barat. Prosiding Seminar Nasional MIPA Unipa 3: 103–114.
Palanisamy SK, Kumar CP, Paramasivam P, Sundaresan U (2018) Molecular Approach to the identification and phylogenetic biogeography of snail Telescopium telescopium using mt-COI gene sequences. Regional Studies in Marine Science 35: 1–17. doi: 10.1016/j.rsma.2020.101109
Razkin O, Gómez-Moliner BJ, Vardinoyannis K, Martínez-Ortí A, Madeira MJ (2017) Species delimitation for cryptic species complexes: case study of Pyramidula (Gastropoda, Pulmonata),†Zool. Scr. 46(1): 55–72. doi: 10.1111/zsc.12192
Tindi M, Mamangkey NGF, Wullur S, (2017) DNA barcode dan analisis filogenetik molekuler beberapa jenis bivalvia asal perairan Sulawesi Utara berdasarkan gen COI. Jurnal Pesisir dan Laut Tropis. 1(2): 32–38.
Puillandre N, Cruaud C, Kantor YI (2010) Cryptic species in Gemmuloborsonia (Gastropoda: Conoidea). Journal Molluscan Study 76(1): 11–23. doi: 10.1111/j.1755-0998.2009.02576.x.
Layton KKS, Martel AL, Hebert PD (2014) Patterns of DNA barcode variation in Canadian marine molluscs. PLoS One 9 (4): e95003. doi: 10.1371/journal.pone.00950 03.
Purnamasari L, Farajallah A, Wowor D (2016) Application of DNA barcode in determination of shrimp species of fresh water from the Province of Jambi. BioCENCETTA II (1): 50–59.
Alf A, Kreipl K (2015) A new species of the family Turbinidae Rafinesque, 1815 from Saint Brandon, Western Indian Ocean (Mollusca, Gastropoda, Vetigastropoda, Turbinidae). Spixiana 38(1): 3–10.
Geller J, Meyer C, Parker M, Hawk H (2013) Redesign of PCR primers for mitochondrial cytochrome c oxidase subunit I for marine invertebrates and application in all-taxa biotic surveys. Molecular Ecolology Resources 13(5): 851–861. doi: 10.1111/1755-0998.12138.
Effendie MI (1979) Method on fish biology. IPB, Bogor, Yayasan Agromedia.
Kumar S, Stecher G, Tamura K (2016) MEGA7: Molecular evolutionary genetics analysis version 7.0 for bigger datasets. Molecular Biology Evolution 33(7) 1870–1874. doi: 10.1093/molbev/msw054.
Williams ST (2007) Origins and diversification of Indo-West Pacific marine fauna: evolutionary history and biogeography of turban shells (Gastropoda, Turbinidae). Biol. J. Linn. Soc. 92(3): 573–592. doi: 10.1111/j.1095-8312.2007.0085 4.x.
Zabarun A (2016) Hubungan panjang berat, faktor kondisi dan rasio berat daging Kerang Pasir (Modiolus modulaides) di perairan Bungkutoko Kota Kendari. Jurnal Manajemen Sumberdaya Perairan 2(1): 21–32.
Krupanidhi S (2020) Regression analysis of shell morphology of a few of endemic aquatic and terrestrial gastropods as a prelude to their conservation strategy. Acta Scientific Biotechnology 1(1): 2–7.
Vrijenhoek RC (2009) Cryptic species, phenotypic plasticity, and complex life histories: Assessing deep-sea faunal diversity with molecular markers. Deep Sea Res. Part II Top. Stud. Oceanogr. 56 (19–20): 1713–1723. doi: 10.1016/J. DSR2.2009.05.016.
Solas M, Sepúlveda R, Brante A (2013) Genetic variation of the shell morphology in Acanthina monodon (Gastropoda) in habitats with different wave exposure conditions. Aquat. Biol. 18(3): 253–260. doi: 10.3354/ab00508
Silva SE, Silva IC, Madeira C, Sallema R, Paulo OS, Paula J (2013) Genetic and morphological variation in two littorinid gastropods: evidence for recent population expansions along the East African coast. Biol. J. Linn. Soc. 108(3): 494–508 doi: 10.1111/j.1095-8312.20 12.02041.x.
Wirdateti W, Indriana E, Handayani H, (2016) Analisis sekuen DNA mitokondria cytochrome oxidase I (COI) mtDNA pada Kukang Indonesia (Nycticebus spp) sebagai penanda guna pengembangan identifikasi spesies Jurnal Biologi Indonesia 12(1): 119–128. doi: 10.14203/jbi.v12i1 .2322.
Indi DNLP (2011) Filogenetika molekuler: Metode taksonomi organisme berdasarkan sejarah evolusi. Wartazoa 30(16114): 1–10.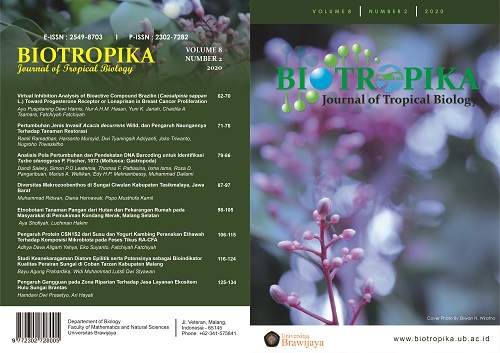 Downloads
License
Copyright and Attribution:
Articles in Biotropika: Journal of Tropical Biology are under Creative Commons Attribution (CC-BY-SA) copyright. The work has not been published before (except in the form of an abstract or part of a published lecture or thesis) and it is not under consideration for publication elsewhere. When the manuscript is accepted for publication in this journal, the authors agree to the automatic transfer of the copyright to the publisher.
Journal of Biotropika: Journal of Tropical Biology is licensed under a Creative Commons Attribution-ShareAlike 4.0 International License.
Permissions:
Authors wishing to include figures, tables, or text passages that have already been published elsewhere and by other authors are required to obtain permission from the copyright owner(s) for both the print and online format and to include evidence that such permission has been granted when submitting their papers. Any material received without such evidence will be assumed to originate from one of the authors.
Ethical matters:
Experiments with animals or involving human patients must have had prior approval from the appropriate ethics committee. A statement to this effect should be provided within the text at the appropriate place. Experiments involving plants or microorganisms taken from countries other than the author's own must have had the correct authorization for this exportation.