Kultur Kalus Tanaman Obat Physalis angulata L. (Ciplukan)
Abstract
Ciplukan (Physalis angulata L.) merupakan anggota famili Solanaceae yang telah lama dimanfaatkan sebagai tanaman obat. Penyediaan tanaman obat yang umumnya tumbuh liar dan belum banyak dibudidayakan ini telah diupayakan melalui propagasi tanaman secara in vitro. Kultur kalus banyak dilaporkan berpotensi sebagai alternatif sumber metabolit sekunder termasuk yang berkhasit obat. Penelitian ini bertujuan untuk optimasi inisiasi dan pemeliharaan kultur kalus P. angulata menggunakan eksplan kotiledon dan hipokotil kecambah in vitro. Kalus diinduksi pada medium MS ditambah Zat Pengatur Tumbuh (ZPT) BAP 0,5 dan 2 mg/l yang masing-masing dikombinasikan dengan 2,4-D 1, 2, dan 4 mg/l dan IAA 0,05 , 0,5 dan 1,0 mg/l. Secara umum kedua eksplan kotiledon maupun hipokotil menunjukkan respon proliferasi yang baik terhadap kombinasi ZPT yang diujikan. Jenis eksplan tidak berpengaruh nyata pada kemampuan pembentukan kalus pada semua (100%) bagian jaringan eksplan dan berat basah (BB) kalus primer maupun sekunder. Berat basah kalus primer maupun sekunder lebih dipengaruhi oleh kombinasi ZPT. Subkultur kalus primer pada medium pemeliharaan dengan kombinasi BAP (0,5 dan 1 mg/l) + IAA / 2,4-D 0,2 mg/l tidak hanya menghasilkan kalus sekunder tetapi juga menghasilkan tunas dan akar. Kombinasi BAP 2 mg/l + 2,4-D (1, 2 dan 4 mg/l) dapat mempertahankan pertumbuhan kalus sekunder tanpa mengalami organogenesis. Hasil penelitian ini menunjukkan bahwa kultur kalus dapat dihasilkan secara optimal baik dengan eksplan hipokotil maupun kotiledon in vitro pada medium induksi dan pemeliharaan yang sama yaitu MS + BAP 2 mg/l + 2,4-D (1, 2 dan 4 mg/l).
References
Ikeuchi M, Sugimoto K, Iwase A (2013) Plant callus: Mechanisms of induction and repression. Plant Cell 25(9): 3159–3173. doi: 10.1105/tpc.113.116053.
Yue W, Ming QL, Lin B, Rahman K, Zheng CJ, Han T, Qin LP (2016) Medicinal plant cell suspension cultures: Pharmaceutical applications and high-yielding strategies for the desired secondary metabolites. Critical Reviews in Biotechnology 36:215-232. doi: 10.3109/07388551.2014.923986.
Chandana BC, Kumari NHC, Heena MS, Shashikala S K, Lakshmana D (2018) Role of plant tissue culture in micropropagation, secondary metabolites production, and conservation of some endangered medicinal crops. Journal of Pharmacognosy and Phytochemistry SP3:246-251.
Murthy HN, Lee EJ, Paek KY (2014) Production of secondary metabolites from cell and organ cultures: Strategies and approaches for biomass improvement and metabolite accumulation. Plant Cell Tissue and Organ Culture 118:1-16. doi: 10.1007/s11240-014-0467-7.
Isah T, Umar S, Mujib A, Sharma MP, Rajasekharan PE, Zafar N, Frukh A (2018) Secondary metabolism of pharmaceuticals in the plant in vitro cultures: Strategies, approaches, and limitations to achieving higher yield. Plant Cell Tissue and Organ Culture. 2018;132:239-265. doi: 10.1007/ s11240-017-1332-2.
Cardoso JC, Oliveira MEBS, Cardoso FCI (2019) Advances and challenges on the in vitro production of secondary metabolites from medicinal plants. Horticultura Brasileira 37: 124-132. doi: 10.1590/s 0102-053620190201.
Janarthanam B, Gopalakrishnan M, Sekar T (2010) Secondary metabolite production in callus cultures of Stevia rebaudiana Bertoni. Bangladesh Journal of Scientific and Industrial Research 45(3): 243-248. doi: 10.3329/bjsir.v45i3.6532.
Goncalves S, Romano A (2018) Production of plant secondary metabolites by using biotechnological tool. doi:10.5772/intechopen.76414
Ashokhan S, Othman R, Rahim MHA, Karsani SA, Yaacob JS (2020) Effect of plant growth regulators on coloured callus formation and accumulation of azadirachtin, an essential biopesticide in Azadirachta indica. Plants 9(352): 1-17. doi: 10.3390/plants9030352.
Benjamin ED, Ishaku GA, Peingurta FA, Afolabi (2019) Callus culture for the production of therapeutic compounds. American Journal of Plant Biology 4(4): 76-84. doi: 10.11648/j.ajpb.20190404.14.
Efferth T (2019) Biotechnology applications of plant callus cultures. Engineering 5(1):50-59. doi: 10.1016/j.eng .2018.11.006
Yan MM, Kim CH, Apho BA, Xu C, Um YC, Guo DP (2009) Effects of explant type, culture media and growth regulators on callus induction and plant regeneration of Chinese jiaotou (Allium chinense). Scientia Horticulturae 123(1):124-128. doi: 10.1016/j.scienta.2009.07.021.
Adil M, Ren X, Kang DI, Thi LT, Jeong BR (2018) Effect of explant type and plant growth regulators on callus induction, growth and secondary metabolites production in Cnidium officinale Makino. Molecular Biology Reports. 45(6):1919-1927. doi: 10.1007/s11033-018-4340-3.
Agata K, Kusiak J, Stępień B, Bergier K, Kuźniak E (2010) Bioactive secondary metabolites produced by plants of the genus Physalis. Postepy Hig Med Dosw (Online), 64, 665-73.
Januário AH, Filho ER, Pietro RCLR, Kashima S, Sato DN, França SC (2000) Antimycobacterial physalins from Physalis angulata L. (Solanaceae). Phytotherapy Research, 16, 445 – 448. doi:/10.1002/ptr. 939
Patel T, Shah K, Jiwan K, Shrivastava N (2011) Study on the antibacterial potential of Physalis minima Linn. Indian Journal of Pharmaceutical Science, 73(1):111-115. doi: 10.4103/0250-474X.89770
Khan MA, Khan H, Khan S, Mahmood T, Khan PM, Jabar A (2009) Anti-inflammatory, analgesic and antipyretic activities of Physalis minima Linn. J. Enzyme Inhibition Med. Chem. 24, 632-7. doi: 10.1080/14756360802321120.
Lin YS, Chiang HC, Kan WS, Hone E, Shih SJ, Won MH (1992) Immunomodulatory activity of, various fractions derived from Physalis angulata L. extract. The American Journal of Chinese Medicine. 20(3-4):233–243. doi: 10.1142/S0192415X92000242.
Mungole AJ, Doifode VD, Kamble RB, Chaturvedi A, Zanwar P (2011) In-vitro callus induction and shoot regeneration in Physalis minima L. Annals of Biological Research, 2 (2) : 79-85.
Sheeba E, Palanivel S, Parvathi S (2013) Effect of plant growth regulators on callus induction in Physalis minima Linn. International Journal of Innovative Research in Science, Engineering and Technology, 2(9):4847 – 4851.
Ramar, K. and V. Ayyadurai (2016) In vitro callus induction studies of Physalis minima (L). An Important Medicinal Plant. International Journal of Pharmaceutical Science and Research 1(1):01-03.
Lashin II, Elhaw MH (2016) Evaluation of secondary metabolites in callus and tissues of Physalis peruviana. International Journal of Modern Botany, 6(1):10-17. doi: 10.5923/j.ijmb.20160601.03
Mastuti R, Munawarti A, Firdiana ER (2017) The combination effect of auxin and cytokinin on in vitro callus formation of Physalis angulata L. – A medicinal plant. AIP Conference Proceeding 1908, 040007. doi:10.1063/1.5012721.
Bertoncelli MC, dos Passos OAI, Ariati AC, Ortolan AO, Witt EP (2014) Establishment and content of sugars and phenols in Physalis callus obtained from different explants and concentrations of BAP and NAA. Acta Scientiarum. Biological Sciences, 36(1): 27-33. doi: 10.4025/actascibiolsci.v36i1.18074
Bhatia S (2015) Plant tissue culture. In: Bathia S (ed) Modern applications of plant biotechnology in pharmaceutical sciences. Academic Press, Oxford, pp 31-107.
Murashige T and Skoog F (1962), A revised medium for rapid growth and bioassays with tobacco tissue culture. Plant Physiology. 15, 473-497.
Makunga NP, Jager AK, van Staden J, (2005) An improved system for the in vitro regeneration of Tapsia garganica via direct organogenesis – influence of auxins and cytokinins. Plant Cell, Tissue and Organ Culture. 82: 271–280. doi: 10.1007/s11240-005-1372-x.
George EF, Hall MA, De Klerk GJ (2008) Plant growth regulators I: Introduction; auxins, their analogues and inhibitors. Dalam: George EF, Hall MA, Klerk GJ (eds) Plant Propagation by Tissue Culture 3rd ed, Springer, The Netherlands, pp 175–204.
Thangavelu RM, Gunasekaran D, Jesse MI, Mohammed Riyaz, D Sundarajan, K Krishnan (2018) Nanobiotechnology approach using plant rooting hormone synthesized silver nanoparticle as "nanobullets†for the dynamic applications in horticulture – An in vitro and ex vitro study. Arabian Journal of Chemistry. 11(1): 48-61. doi:10.1016/j.arabjc.2016.09. 022
K. Satyavani, T. Ramanathan and S. Gurudeeban (2011) Effect of plant growth regulators on callus induction and plantlet regeneration of bitter apple (Citrullus colocynthis) from stem explant. Asian Journal of Biotechnology 3(3): 246-253. doi: 10.3923/ajbkr.2011.246.253
Khanam N, Khoo C, Khan AG (2000) Effects of cytokinin/auxin combination on organogenesis, shoot regeneration and tropane alkaloid production in Duboisia myoporoides. Plant Cell, Tissue and Organ Culture. 62, 125–33. doi: 10.1023/A: 1026568712409.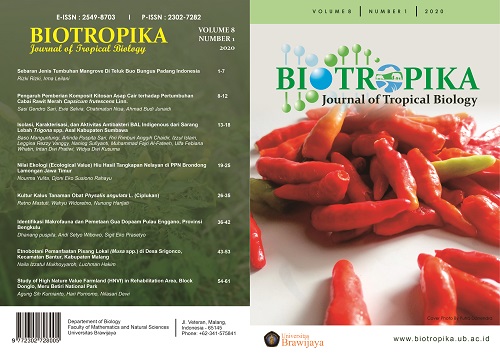 Downloads
License
Copyright and Attribution:
Articles in Biotropika: Journal of Tropical Biology are under Creative Commons Attribution (CC-BY-SA) copyright. The work has not been published before (except in the form of an abstract or part of a published lecture or thesis) and it is not under consideration for publication elsewhere. When the manuscript is accepted for publication in this journal, the authors agree to the automatic transfer of the copyright to the publisher.
Journal of Biotropika: Journal of Tropical Biology is licensed under a Creative Commons Attribution-ShareAlike 4.0 International License.
Permissions:
Authors wishing to include figures, tables, or text passages that have already been published elsewhere and by other authors are required to obtain permission from the copyright owner(s) for both the print and online format and to include evidence that such permission has been granted when submitting their papers. Any material received without such evidence will be assumed to originate from one of the authors.
Ethical matters:
Experiments with animals or involving human patients must have had prior approval from the appropriate ethics committee. A statement to this effect should be provided within the text at the appropriate place. Experiments involving plants or microorganisms taken from countries other than the author's own must have had the correct authorization for this exportation.