Optimasi Penyerapan Formaldehid dari Asap Rokok oleh <i>Euphorbia milii</i> Des Moul. dan <i>Sansevieria trifasciata</i> Prain Menggunakan Light Emitting Diode (LED) Merah-Biru
Keywords:
asap rokok, efisiensi penyerapan, formaldehid, tanaman hias, volatile organic compound
Abstract
Tanaman hias merupakan agen hayati yang mampu mengurangi polusi udara di lingkungan. Penelitian sebelumnya menyebutkan bahwa Euphorbia milii Des Moul. dan Sansevieria trifasciata Prain kurang maksimal dalam menyerap formaldehid dari asap rokok, sehingga penelitian untuk mengoptimasi penyerapan formaldehid perlu dilakukan. Tujuan penelitian ini adalah mengetahui pembukaan stomata, kandungan glukosa dan klorofil serta efisiensi penyerapan formaldehid dari asap rokok oleh E. milii dan S. trifasciata pada pemberian cahaya LED putih, LED merah-biru dan tanpa LED. Rancangan penelitian adalah rancangan acak lengkap. Tanaman dengan tinggi ± 10-15 cm dan total lebar daun 100 cm2 diberi tiga kondisi pencahayaan yang berbeda selama 15 jam sebagai upaya aklimatisasi. Tanaman dipapar dengan asap rokok hingga konsentrasi formaldehid mencapai 2,5 ppm selama 8 jam di bawah LED putih, LED merah-biru dan tanpa LED. Penyerapan formaldehid diamati dengan selang waktu satu jam. Pengamatan stomata dilakukan menggunakan metode printing, setelah tanaman diberikan paparan asap rokok dan kondisi pencahayaan yang berbeda. Kandungan klorofil ditentukan menggunakan metode spektrofotometri. Kandungan glukosa ditentukan menggunakan metode DNS (asam 3,5-dinitrosalisilat). Data dianalisis dengan uji ANOVA untuk menganalisis kandungan klorofil dan glukosa. Microsoft Excel 2016 digunakan untuk menganalisis persentase pembukaan stomata E. milii dan S. trifasciata pada kondisi perlakuan. Penyerapan formaldehid dari asap rokok selama 8 jam dengan pemberian cahaya LED putih, LED merah-biru dan tanpa LED oleh E. milii masing-masing 44,83%, 34,87%, 54,90% dan oleh S. trifasciata masing-masing 44,93%, 52,96% dan 44,0%. Efisiensi penyerapan formaldehid dan persentase pembukaan stomata E. milii paling tinggi pada kondisi merah-biru sedangkan efisiensi penyerapan formaldehid dan persentase pembukaan stomata S. trifasciata lebih tinggi pada kondisi tanpa LED. Kandungan klorofil E. milii pada pemberian cahaya LED putih, LED merah-biru dan tanpa LED masing-masing adalah 18,94; 9,07; 12,07 mg/L dan S. trifasciata masing-masing 4,09; 4,15; 4,45 mg/L. Kandungan glukosa E. milii dan pada LED putih, LED merah-biru dan tanpa LED masing-masing 553,26; 637,85; 559,10 mg/L serta S. trifasciata masing-masing 258,26; 157,01; 443,68 mg/L. Efisiensi penyerapan formaldehid sejalan dengan pembukaan stomata pada kedua tanaman. Kandungan klorofil E. milii yang diberi cahaya LED merah-biru lebih rendah sedangkan kandungan klorofil S. trifasciata tidak terpengaruh. E. milii dan S. trifasciata pada kondisi gelap memiliki glukosa yang lebih tinggi daripada pada pemberian cahaya LED. Optimasi penyerapan formaldehid dari asap rokok menggunakan pemberian cahaya LED merah-biru hanya berhasil pada E. milii
References
Kim, J. K., Mi, J. K., Jeong, S. S. & Eun, H.Y. 2010. Efficiency of Volatile Formaldehyde Removal by Indoor Plants: Contribution of Aerial Plant Parts versus the Root Zone. Journal of the American Society for Horticultural Science. 133(4) : 521-526
Chandra, R., Dubey & Vineet, K. 2017. Phytoremediation of Environmental Pollutants. CRC Press. Amerika
Mastrosova, A. 2015. New Insights into the Regulation of Stomatal Movements by Red Light, Carbon Dioxide and Circadian Rhythms. Department of Forest Genetics and Plant Physiology faculty of Forest Sciences Swedish University of agricultural Sciences. Doctoral Thesis
Joshi, P. C. & Swami, A. 2009. Air Pollution Induced Changes in the Photosynthetic Pigments of Selected Plant Species. J. Environ Biol. 2 : 295 – 8
Siswanto, D., Chhon, Y. & Thiravetyan, P. 2016. Uptake and Degradation of Thirethylamine by E. milii. Environmental Science and Pollution Research. 25
Tariq, S.R., Farah, I. & Yusra, S. 2017. An efficient of Sansevieria trifasciata plant as biosorbent for the treatment of metal contaminated industrial effluents. Baghdad Science Journal. 14(1): 189 – 201
Munawarti, A. & Dian, S. 2017. Kajian Kandungan Hormon Auksin Akibat Cekaman Volatile Organic Compound (VOC) pada Tanaman Hias. Universitas Brawijaya. Malang
Han, T., Vitaliy, V., Shixiu, C., Qiang, L., Lili, L., Xiaoyao, C., Lingling, P., Congzhi, Z., Alexey, N.Y., Yang, Z. & Mingjing, T. 2017. Improving " Color Rendering†of LED Lighting for the Growth of Lettuce. Sci.Re. 7:45944: 1-7
Samuoliene, G., Ausra, B., Akvile, U., Gintare, S. & Pavelas, D. 2010. The Effect of Red and Blue Light Component on the Growth and Development of Frigo Strawberries. Zemdirbyste-Agriculture. 97(2): 99-104
Campbell, N.A., Jane, B.R. & Lawrence, G. M. 2002. Biologi Edisi Kelima Jilid 1. Penerbit Erlangga. Jakarta
Inskeep, W.P. & Paul, R.B. 1985. Extinction Coefficients of Chlorophyll a and b in N,N-Dimethylformamide and 80 % Acetone. Plant Physiol. 77: 483-485
Krivorotova, T & Jolanta, K. 2014. Determination of Fructan Exohydrolase Activity in the Crude Extracts of Plants. Electronic Journal of Biotechnology. 17 (2014): 329 – 333
Kim, K. J., Eun, H. Y., Myeong, I. J., Jeong, S. S. & Seung, Y. L. 2011. Changes in the Phytoremediation Potential of Indoor Plants with Exposure to Toluene. HortScience. 46 (12): 1646-1649
Wei, X., Shiheng, L., Zonghua, W., Hong, L., Dongming, P. & Jianjun, C. 2017. Phylloremediation of Air Pollutants: Exploiting the Potential of Plant Leaves d Leaf-Associated Microbes. Front Plan8
Matiz, A., Paulo, T. M., Adriana, Y. M., Luciano, F. & Helenicez, M. 2013. CAM Photosynthesis in Bromeliads and Agaves: What Can We Learn from These Plants?. InTech. DOI : 10.5772 / 56219
Zabala, J.S., Carmen, G. & Daniel, M. 2015. Mild Ammonium Stress Increases Chlorophyll Content in Arabidopsis thaliana. Plant Signal Behav. 10 (3)
Zhou, J., Feifei, Q., Jie, S., Jian-Wu, L. & Hui-lian X. 2011. Purification of Formaldehyde-Polluted Air by Indoor Plants of Araceae, Agavaceae and Liliaceae. Journal of Food, Agriculture & Environment 9 (3 & 4) : 1012 – 1018
Advina, L. 2018. Dasar-Dasar Fisiologi Tumbuhan. Penerbit Deepublish. Yogyakarta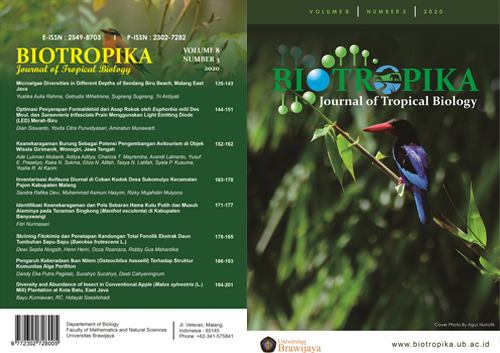 Downloads
License
Copyright and Attribution:
Articles in Biotropika: Journal of Tropical Biology are under Creative Commons Attribution (CC-BY-SA) copyright. The work has not been published before (except in the form of an abstract or part of a published lecture or thesis) and it is not under consideration for publication elsewhere. When the manuscript is accepted for publication in this journal, the authors agree to the automatic transfer of the copyright to the publisher.
Journal of Biotropika: Journal of Tropical Biology is licensed under a Creative Commons Attribution-ShareAlike 4.0 International License.
Permissions:
Authors wishing to include figures, tables, or text passages that have already been published elsewhere and by other authors are required to obtain permission from the copyright owner(s) for both the print and online format and to include evidence that such permission has been granted when submitting their papers. Any material received without such evidence will be assumed to originate from one of the authors.
Ethical matters:
Experiments with animals or involving human patients must have had prior approval from the appropriate ethics committee. A statement to this effect should be provided within the text at the appropriate place. Experiments involving plants or microorganisms taken from countries other than the author's own must have had the correct authorization for this exportation.