Pengaruh Pemberian Komposit Kitosan Asap Cair terhadap Pertumbuhan Cabai Rawit Merah Capsicum frutescens Linn.
Keywords:
aplikasi, asap cair, cabai rawit, dosis, kitosan
Abstract
Pemanfaatan kitosan asap cair dalam meningkatkan pertumbuhan cabai rawit merah Capsicum frutescens penting dipelajari karena kebutuhan cabai rawit merah meningkat setiap tahunnya namun tidak disertai dengan peningkatan produktifitas yang seimbang. Penelitian ini bertujuan untuk mengetahui dosis kitosan asap cair yang paling optimal dalam mendukung pertumbuhan cabai rawit merah. Rancangan Acak Lengkap (RAL) faktorial menggunakan empat ulangan dengan pemberian dosis kitosan asap cair sebesar 5, 7,5, 10, 12,5 dan 15% digunakan dalam penelitian. Parameter yang diamati adalah rasio C/N tanah, tinggi tanaman, jumlah daun, berat kering tanaman. Sebelum ditanam selama delapan minggu, biji cabai direndam dalam larutan akuades dan kitosan asap cair. Hasil menunjukkan bahwa penggunaan dosis kitosan asap cair sebesar 7,5% dan 10% menunjukkan pertumbuhan yang paling optimal berdasarkan tinggi tanaman, jumlah daun, berat kering tanaman dibandingkan dosis lainnya.
References
Umam K (2017) Respon kualitas cabai rawit merah Capsicum frutescens L. terhadap suhu penyimpanan. Departemen Taknik Mesin dan Biosistem Fakultas Teknologi Pertanian, IPB, Bogor.
Subagyono (2010) Budidaya dan pascapanen cabai merah Capsicum annuum L. Balai Pengkajian Teknologi Pertanian, Jawa Tengah.
Balai Pengkajian Teknologi Pertanian BPTP Jambi (2004) Hama dan penyakit pada tanaman cabai serta pengendaliannya. Balai Besar Pengkajian dan Pengembangan Teknologi Pertanian Badan Penelitian dan Pengembangan Pertanian, Kementerian Pertanian, Jambi.
Terbojevich M, Muzzarelli RAA (2000) Chitosan. University of Ancona.
Suptijah P (2006) Deskripsi Karakteristik fungsional dan aplikasi kitin dan kitosan. Prosiding Seminar Nasional Kitin dan Kitosan. Departemen Teknologi Hasil Pertanian, IPB, Bogor, pp. 14-24.
Boonlertnirun S, Boonraung C, Suvanasara R (2008) Application of chitosan in rice production. Journal of Metal, Materials, and Mineral 18 (2): 47-52.
Ohta, Morishita, Suda, Kobayashi, Hosoki T (2004) Effects of chitosan soil mixture treatment in the seedling stage on the growth and flowering of several ornament plants. Journal Hort Scie 73: 66-68.
Chandrkrachang S, Sompongchaiyakul P, Sangtain S (2005) Profitable spin-off from using chitosan in orchid farming in Thailand. Journal of Metal, Materials, and Mineral 15: 45-48.
Uthairatanakij A, Silva JAT, Obsuwan K (2007) Chitosan for improving orchid production and quality. Journal Orchid Science and Biotechnology 1: 1-5.
Pari G (2008) Proses produksi dan pemanfaatan arang, briket arang dan cuka kayu. Pusat Penelitian dan Pengembangan Hasil Hutan Bogor, Bogor.
Murbandono, HIS (1992) Membuat kompos. Penebar Swadaya, Jakarta.
Basri AB (2010) Manfaat asap cair untuk tanaman. Balai Pengkajian Teknologi Pertanian Aceh, Aceh.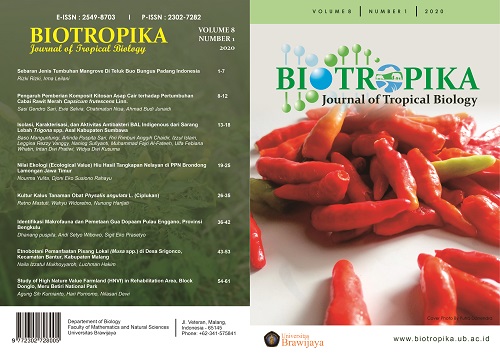 Downloads
License
Copyright and Attribution:
Articles in Biotropika: Journal of Tropical Biology are under Creative Commons Attribution (CC-BY-SA) copyright. The work has not been published before (except in the form of an abstract or part of a published lecture or thesis) and it is not under consideration for publication elsewhere. When the manuscript is accepted for publication in this journal, the authors agree to the automatic transfer of the copyright to the publisher.
Journal of Biotropika: Journal of Tropical Biology is licensed under a Creative Commons Attribution-ShareAlike 4.0 International License.
Permissions:
Authors wishing to include figures, tables, or text passages that have already been published elsewhere and by other authors are required to obtain permission from the copyright owner(s) for both the print and online format and to include evidence that such permission has been granted when submitting their papers. Any material received without such evidence will be assumed to originate from one of the authors.
Ethical matters:
Experiments with animals or involving human patients must have had prior approval from the appropriate ethics committee. A statement to this effect should be provided within the text at the appropriate place. Experiments involving plants or microorganisms taken from countries other than the author's own must have had the correct authorization for this exportation.