[Retraction Notice to] : Analisis Hubungan Kekerabatan Genetik Padi Lokal Jawa Timur Berdasarkan pada DNA Gen matK
Abstract
Artikel ini telah ditarik oleh penerbit atas permintaan dari Editor-in-Chief. Penulis telah menerbitkan naskahnya ke jurnal lainnya juga. Artikel jurnal tersebut telah diterbitkan di El-Hayah: Jurnal Biologi vol 6 (4), Maret 2018 (http://ejournal.uin-malang.ac.id/index.php/bio/article/view/5578). Artkel ini telah memenuhi prosedur manajemen pengiriman naskah. Pihak penulis telah menerima hasil review, dan juga telah merevisinya sesuai permintaan reviewer. Salah satu syarat pengiriman naskah untuk publikasi dalam jurnal ini adalah bahwa penulis menyatakan secara eksplisit bahwa karya mereka asli dan belum muncul dalam publikasi di tempat lain, dan juga tidak dipertimbangkan oleh jurnal lain. Karena itu, artikel ini termasuk dalam kategori penyalahgunaan berat terhadap sistem penerbitan ilmiah. Komunitas ilmiah mengambil pandangan yang sangat kuat tentang masalah ini, dan kami sampaikan permohonan maaf bagi para pembaca jurnal bahwasanya hal ini tidak terdeteksi selama proses pengiriman.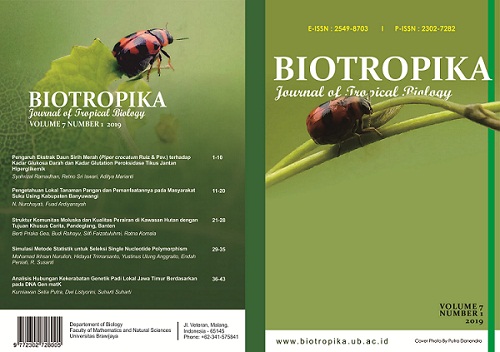 Downloads
License
Copyright and Attribution:
Articles in Biotropika: Journal of Tropical Biology are under Creative Commons Attribution (CC-BY-SA) copyright. The work has not been published before (except in the form of an abstract or part of a published lecture or thesis) and it is not under consideration for publication elsewhere. When the manuscript is accepted for publication in this journal, the authors agree to the automatic transfer of the copyright to the publisher.
Journal of Biotropika: Journal of Tropical Biology is licensed under a Creative Commons Attribution-ShareAlike 4.0 International License.
Permissions:
Authors wishing to include figures, tables, or text passages that have already been published elsewhere and by other authors are required to obtain permission from the copyright owner(s) for both the print and online format and to include evidence that such permission has been granted when submitting their papers. Any material received without such evidence will be assumed to originate from one of the authors.
Ethical matters:
Experiments with animals or involving human patients must have had prior approval from the appropriate ethics committee. A statement to this effect should be provided within the text at the appropriate place. Experiments involving plants or microorganisms taken from countries other than the author's own must have had the correct authorization for this exportation.