Simulasi Metode Statistik untuk Seleksi Single Nucleotide Polymorphism
Keywords:
data genetik, metode statistik, simulasi, SNP
Abstract
Kemajuan teknologi sekuensing menyebabkan peningkatan ketersediaan sekuen genom organisme. Ribuan strain dan isolat dari berbagai populasi organisme telah diisolasi serta diketahui sekuen genomnya. Informasi genetik populasi organisme dapat dimanfaatkan sebagai marka molekuler. Marka Single Nucleotide Polymorphism (SNP) terdapat dalam jumlah banyak namun tidak seluruhnya informatif. Metode seleksi yang telah ada belum efektif menyeleksi SNP informatif, oleh karena itu perlu dilakukan pengembangan metode seleksi SNP yang efektif. Metode seleksi SNP dikembangkan menggunakan metode statistik dengan FST sebagai filter (penyaring) utamanya dan digabungkan dengan Linkage Disequilibrium (LD). Struktur populasi dari SNP diketahui menggunakan Principal Component Analysis (PCA), Principal Coordinate Analysis (PCoA), pairwise FST, dan neighbor-joining population tree. Kriteria SNP informatif diketahui dengan menghitung FST dan Minor Allele Frequency (MAF). Metode statistik diuji efektivitasnya dalam menyeleksi SNP informatif menggunakan simulasi data genetik populasi. Hasil penelitian menunjukkan pengembangan metode statistik dengan menggunakan FST sebagai penyaring utama efektif dalam menyeleksi SNP informatif. Kriteria SNP informatif adalah SNP dengan MAF 0,2-0,4 serta FST 0,1-0,4 dan 0,8-1,0.
References
Kaiser SA, Taylor SA, Chen N et al. (2017) A Comparative Assessment of SNP and Microsatellite Markers for Assigning Parentage in a Socially Monogamous Bird. Molecular Ecology Resources 17 (2): 183–193. doi: 10.1111/1755-0998.12589.
Liu Z, Liu J, Wang J et al. (2018) A Set of 14 DIP-SNP Markers to Detect Unbalanced DNA Mixtures. Biochemical and Biophysical Research Communications 497 (2): 591–596. doi: 10.1016/j.bbrc.2018.02.109.
Linck EB, Battey CJ (2017) Minor Allele Frequency Thresholds Strongly Affect Population Structure Inference with Genomic Datasets. bioRxiv 1 (1): 1–26. doi: 10.1101/188623.
Fu W, Dekkers J, Lee WR, Abasht B (2015) Linkage Disequilibrium in Crossbred and Pure Line Chickens. Genetics Selection Evolution 47 (1): 11–23. doi: 10.1186/s12711-015-0098-4.
Willing E-M, Dreyer C, van Oosterhout C (2012) Estimates of Genetic Differentiation Measured by FST Do Not Necessarily Require Large Sample Sizes When Using Many SNP Markers. PLoS ONE 7 (8): 42649–42656. doi: 10.1371/journal.pone.0042649.
Bhatia G, Patterson N, Sankararaman S, Price AL (2013) Estimating and Interpreting FST : The Impact of Rare Variants. Genome Research 23 (9): 1514–1521. doi: 10.1101/gr.154831.113.
Alcala N, Rosenberg NA (2017) Mathematical Constraints on FST : Biallelic Markers in Arbitrarily Many Populations. Genetics 206 (3): 1581–1600. doi: 10.1534/genetics.116.199141.
Lawson DJ, van Dorp L, Falush D (2018) A Tutorial on How Not to Over-interpret Structure and Admixture Plots. Nature Communications 9 (1): 3258–3269. doi: 10.1038/s41467-018-05257-7.
Peng B, Kimmel M, Amos CI (2012) Forward-Time Population Genetics Simulations: Methods, Implementation, and Applications. doi: 10.1002/9781118180358
Peng B, Chen H-S, Mechanic LE et al. (2015) Genetic Data Simulators and Their Applications: An Overview. Genetic Epidemiology 39 (1): 2–10. doi: 10.1002/gepi.21876.
Wittenburg D, Teuscher F, Klosa J, Reinsch N (2016) Covariance Between Genotypic Effects and its Use for Genomic Inference in Half-Sib Families. G3 Genes|Genomes|Genetics 6 (9): 2761–2772. doi: 10.1534/g3.116.032409.
Aykanat T, Johnston SE, Orell P et al. (2015) Low But Significant Genetic Differentiation Underlies Biologically Meaningful Phenotypic Divergence in a Large Atlantic Salmon Population. Molecular Ecology 24 (20): 5158–5174. doi: 10.1111/mec.13383.
De la Cruz O, Raska P (2014) Population Structure at Different Minor Allele Frequency Levels. BMC Proceedings 8 (1): 55–60. doi: 10.1186/1753-6561-8-S1-S55.
Jakobsson M, Edge MD, Rosenberg NA (2013) The Relationship Between FST and the Frequency of the Most Frequent Allele. Genetics 193 (2): 515–528. doi: 10.1534/genetics.112.144758.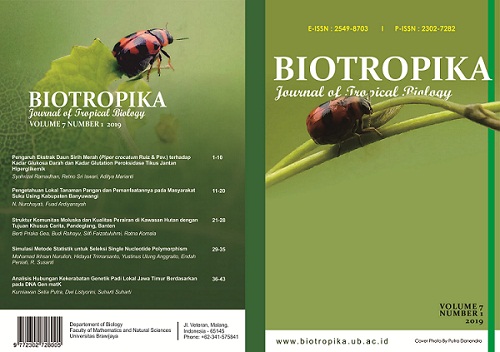 Downloads
License
Copyright and Attribution:
Articles in Biotropika: Journal of Tropical Biology are under Creative Commons Attribution (CC-BY-SA) copyright. The work has not been published before (except in the form of an abstract or part of a published lecture or thesis) and it is not under consideration for publication elsewhere. When the manuscript is accepted for publication in this journal, the authors agree to the automatic transfer of the copyright to the publisher.
Journal of Biotropika: Journal of Tropical Biology is licensed under a Creative Commons Attribution-ShareAlike 4.0 International License.
Permissions:
Authors wishing to include figures, tables, or text passages that have already been published elsewhere and by other authors are required to obtain permission from the copyright owner(s) for both the print and online format and to include evidence that such permission has been granted when submitting their papers. Any material received without such evidence will be assumed to originate from one of the authors.
Ethical matters:
Experiments with animals or involving human patients must have had prior approval from the appropriate ethics committee. A statement to this effect should be provided within the text at the appropriate place. Experiments involving plants or microorganisms taken from countries other than the author's own must have had the correct authorization for this exportation.