Struktur Komunitas Moluska dan Kualitas Perairan di Kawasan Hutan dengan Tujuan Khusus Carita, Pandeglang, Banten
Keywords:
Bivalvia, Gastropod, Abundance, Diversity, Dominance
Abstract
Moluska adalah salah satu bioindikator pencemaran lingkungan yang sebagian besar spesiesnya di Indonesia belum banyak diungkap sehingga menarik untuk dipelajari lebih dalam. Moluska dapat ditemukan di perairan laut dan tawar di Pantai Carita, Pandeglang. Tujuan dari penelitian ini adalah untuk mempelajari struktur komunitas Moluska di perairan laut dan tawar serta penentuan kualitas perairan. Penelitian dilaksanakan di Kawasan Hutan dengan Tujuan Khusus (KHDTK), Kecamatan Carita, Kabupaten Pandeglang, Banten. Metode penelitian yang digunakan adalah kuantitatif deskriptif. Sampel Moluska dikumpulkan dari tiga kuadran dengan masing-masing ukuran 1
 1 m2 berdasarkan garis transek. Identifikasi dan analisis data dilakukan berdasarkan kelimpahan, indeks keanekaragaman dan dominansi. Sampel yang teridentifikasi didominasi oleh Gastropoda dibandingkan Bivalvia. Indeks keanekaragaman Moluska di perairan laut adalah 0,37, 0,36, dan 0,32, sementara di perairan tawar adalah 0.36, 0.36, dan 0.37. Indeks dominansi Moluska di perairan tawar adalah 0.12, 0.21, dan 0.04 sedangkan di perairan tawar adalah 0.08, 0.10, dan 0.17. Spesies melimpah di perairan laut adalah Laevipilina cachuchensis, Rhinoclavis vergatus, Mactra grandis, Trachycardium subrugosum, dan Morula margariticola sedangkan spesies dominan di perairan tawar adalah Thiara Scabra. Kualitas dari perairan tawar maupun laut termasuk kategori baik untuk mendukung kehidupan Moluska.
References
Udayantha H, Munasinghe D (2009) Investigation of the factors that influence on the distribution of mollusk, Faunus sp. (Mollusca: Gastropoda: Thiaridae along the Lunuwila Ela, Galle. Ruhuna Journal of Science 4(1): 65-74.
Montesinos-Navaro A, Estrada A, Font X, Matias MG, Meirelles C, Mendoza M, Honrado JP, Prasad HD, Vicente JR, Early R (2018) Community structure informs species geographic distribution. PLoS ONE 13(5): e0197877. doi.org/10.1371/journal.pone.0197877.
Schowalter TD (1996) Insect ecology: An ecosystem approach. San Diego: Academic.
Putro SP (2017) The Roles of Macrobenthic Mollusks as Bioindicator in Response to Environmental Disturbance: Cumulative k-dominance Curves and Bubble Plots Ordination Approaches. Earth and Environmental Science, IOP Publishing.
Veras DR, Martins IX, Cascon HM (2013) Molluscs: How are they arranged in the rocky intertidal zone. Iheringia, Serie Zoologia. Porto Alegre 103(2): 97-103.
Dibyowati L (2009) Keanekaragaman Moluska (Bivalvia dan Gastropoda) di Sepanjang Pantai Carita, Pendeglang Banten. Skripsi. Bogor: Institut Pertanian Bogor.
Silvestre G (1992) The Coastal Resources of Brunei Darussalam: Status, Utilization and Management. Manila: Worldfish.
Tunnel JW (2010) Encyclopedia of Texas seashells: Identification, ecology, distribution, and history. Tecas: A&M University.
Sturm CF, Pearce TA, Valdes A (2006) The mollusks: A guide to their study, collection, and preservation. Boca Raton: Universal.
Dillon RT (2004) The ecology of Freshwater. London: Cambridge University.
Carpenter KE, Niem VH (1998) FAO Species identification guide for fishery purposes. the living marine resources of the Western Central Pasific Volume 2. Cephalopods, Crustaceans, Holothurians, and Sharks. Food and Agriculture Organization of the United Nations. Rome.
Yasman. (1998) Struktur komunitas Gastropoda (Moluska) hutan mangrove di Pantai Barat Pulau Handeulum, Taman Nasional Ujung Kulon dan Pantai Utara Pulau Penjaliran Barat, Teluk Jakarta: Studi Perbandingan dalam Prosiding Seminar VI.
Monalisha S, Edward JK (2015) Biodiversity of marine mollusk from selected locations of Andhra Pradesh Coast, South eastern India. Indian Journal of Geo-Marine Sciences 44(6): 842-855.
Anandaraj T, Balasubramanian V, Murugesan P, Muthuvelu S (2012) Biodiversity of marine Mollusc in east coastal area of Thanjavur District, Tamil Nadu, India. Pharma and Biol. Archives. 3(1): 131-133.
Datta SN, Chakraborty SK, Jaiswar AK, Ziauddin G (2010) A comparative study on intertidal fauna biodiversity of selected beaches of Mumbai coast. Journal of Environmental Biology 31(6): 981-986.
Williams GA, Morritt D (1995) Habitat partitioning and thermal tolerance in tropical limpet, Cellana grata. Marine Ecology Progress Series 124: 89-103.
Urgorri V, Alvarez OG, Luque A (2005) Laevipilina Cachuchensis, a new Neopilinid (Mollusca: Tryblida) from off North Spain. Journal of Molluscan Studies 71(1): 59-66.
Ginting ED, Susetya IE, Patana P, Desrita (2017) Identifikasi jenis-jenis Bivalvia di Perairan Tanjungbalai, Provinsi Sumatera Utara. Acta Aquatics 4(1): 13-20.
Dolorosa, Roger G, Floredel Dangan-Galon (2014) Species richness of bivalves and gastropods in Iwahig River-Estuary, Palawan, the Philippines. International Journal of Fisheries, and Aquatic Studies 2(1): 207-215.
Tarwotjo U, Rahadian R, Hadi M (2018) Community structure of macrozoobenthos as bioindicator of pepe river quality, Mojosongo, Boyolali. Journal of Physics: Conference Series 1025(2018): 012039.
Hynes HB (1987) The Biology of polluted waters. London: Liverpool University.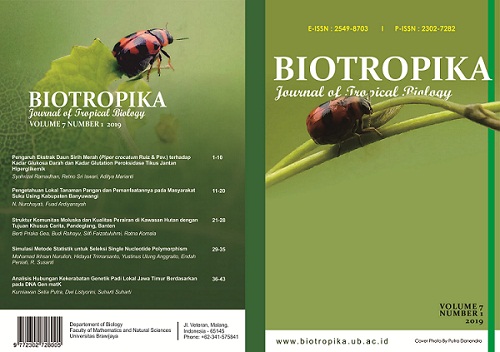 Downloads
License
Copyright and Attribution:
Articles in Biotropika: Journal of Tropical Biology are under Creative Commons Attribution (CC-BY-SA) copyright. The work has not been published before (except in the form of an abstract or part of a published lecture or thesis) and it is not under consideration for publication elsewhere. When the manuscript is accepted for publication in this journal, the authors agree to the automatic transfer of the copyright to the publisher.
Journal of Biotropika: Journal of Tropical Biology is licensed under a Creative Commons Attribution-ShareAlike 4.0 International License.
Permissions:
Authors wishing to include figures, tables, or text passages that have already been published elsewhere and by other authors are required to obtain permission from the copyright owner(s) for both the print and online format and to include evidence that such permission has been granted when submitting their papers. Any material received without such evidence will be assumed to originate from one of the authors.
Ethical matters:
Experiments with animals or involving human patients must have had prior approval from the appropriate ethics committee. A statement to this effect should be provided within the text at the appropriate place. Experiments involving plants or microorganisms taken from countries other than the author's own must have had the correct authorization for this exportation.