Hubungan antara Aktivitas Manusia dan Keberadaan Kukang Jawa (Nycticebus javanicus) di Kawasan Hutan Lindung di RPH Sumbermanjing Kulon, Jawa Timur
Keywords:
Java slow loris, protected forest, human activity, East Java
Abstract
Keberadaan hutan lindung yang tersisa di kawasan Malang Selatan sangat rentan akan kerusakan habitat satwa liar akibat tingginya aktivitas manusia. Keberadaan kukang Jawa (Nycticebus javanicus) saat ini mampu bertahan hidup pada kawasan yang dikeliling oleh aktivitas manusia yang tinggi. Oleh karena itu, pengaruh aktivitas manusia terhadap keberadaan kukang Jawa yang ada di hutan lindung RPH Sumbermanjing Kulon, Jawa Timur perlu diketahui. Pengambilan data titik keberadaan individu kukang Jawa dilakukan secara langsung dan tidak langsung. Wawancara dengan masyarakat dan pencatatan bentuk aktivitas manusia di sekitar hutan lindung RPH Sumbermanjing Kulon, Jawa Timur juga dilakukan untuk mengambil data. Analisis data dilakukan dengan mengukur jarak antara keberadaan kukang Jawa dengan keberadaan aktivitas masyarakat menggunakan program ArcGis 10.3. Berdasarkan perjumpaan langsung dan informasi dari masyarakat ditemukan enam individu kukang Jawa. Kukang Jawa cenderung ditemukan
jauh dari pemukiman dan jalan setapak, namun ditemukan dekat dengan jalan utama dan wisata pantai yang berada di sekitar hutan lindung. Oleh karena itu, keutuhan kawasan hutan lindung perlu tetap dijaga dari segala bentuk aktivitas manusia yang tinggi.


References
Mittermeier AR, Wallis J, Rylands AB, Ganzhorn JU, Others JF (2009) Primates in peril: the world's 25 most endangered primates 2008−2010. Primate Conservation 24: 1−57.
Winarti I (2011) Habitat, populasi, dan sebaran kukang Jawa (Nycticebus javanicus Geoffroy 1812) di Talun Tasikmalaya dan Ciamis, Jawa Barat. Tesis. Institut Pertanian Bogor, Bogor.
Nekaris KAI, Munds R (2010) Using facial markings to unmask diversity: the slow lorises (Primates: Lorisidae: Nycticebus spp.) of Indonesia. In: Gursky S, Supriatna J (eds) The Primates of Indonesia. Springer, New York.
Wirdateti (2012) Sebaran dan habitat kukang Jawa (Nycticebus javanicus) di area perkebunan sayur Gunung Papandayan, Kabupaten Garut. Berita Biologi 11:111-118.
Wirdateti H, Dahrudin, Sumadijaya A (2011) Sebaran dan habitat kukang (Nycticebus coucang javanicus) di lahan pertanian (Hutan Rakyat) wilayah Kabupaten Lebak (Banten) dan Gunung Salak (Jawa Barat). Zoo Indonesia 20:17-25.
Nekaris A, Shekelle M (2008) Nycticebus javanicus, In: IUCN (2010) IUCN Red List of Threatened Species. Version 2010.4.
Belianto E, Rusmiyanto PW, Winarti I (2017) Potensi tumbuhan pakan dan lokasi tidur kukang Kalimantan (Nycticebus menagensis) di Desa Tenguwe Kabupaten Landak. Jurnal Protobiont 6: 35-41.
Siregar HAF (2015) Hubungan antara aktivitas manusia terhadap distribusi kukang Jawa (Nycticebus javanicus) pada fragmen hutan di Temanggung. Skripsi. Universitas Gadjah Mada, Yogyakarta.
Supriatna J, Wahyono E (2000) Panduan Lapangan Primata Indonesia. Yayasan Obor Indonesia, Bandung.
Wiens F (2002) Behavior dan ecology of wild slow lorises (Nycticebus coucang): social organisation, infant care system dan diet. Disertasi. Bayreuth University, Bayreuth.
Rode-Margono EJ, Nekaris KA, Wirdatetti, Nijman V (2014) Ethology of the critically endangered Javan Slow Loris Nycticebus javanicus E. Geoffroy Saint-Hilaire in West Java. Asian Primates Journal 4:27-41.
Sutherland WJ (1996) Oxford Series in Ecologiy and Evolution from Individual Behaviour to Population Ecolog. Oxford University Press, United Kingdom.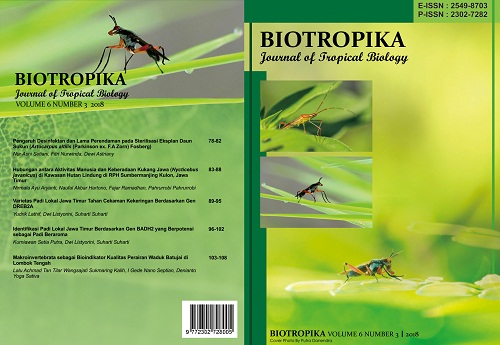 Downloads
License
Copyright and Attribution:
Articles in Biotropika: Journal of Tropical Biology are under Creative Commons Attribution (CC-BY-SA) copyright. The work has not been published before (except in the form of an abstract or part of a published lecture or thesis) and it is not under consideration for publication elsewhere. When the manuscript is accepted for publication in this journal, the authors agree to the automatic transfer of the copyright to the publisher.
Journal of Biotropika: Journal of Tropical Biology is licensed under a Creative Commons Attribution-ShareAlike 4.0 International License.
Permissions:
Authors wishing to include figures, tables, or text passages that have already been published elsewhere and by other authors are required to obtain permission from the copyright owner(s) for both the print and online format and to include evidence that such permission has been granted when submitting their papers. Any material received without such evidence will be assumed to originate from one of the authors.
Ethical matters:
Experiments with animals or involving human patients must have had prior approval from the appropriate ethics committee. A statement to this effect should be provided within the text at the appropriate place. Experiments involving plants or microorganisms taken from countries other than the author's own must have had the correct authorization for this exportation.