Makroinvertebrata sebagai Bioindikator Kualitas Perairan Waduk Batujai di Lombok Tengah
Keywords:
Makrofauna, Bioindikator, Pencemaran, Waduk Batujai
Abstract
Waduk Batujai yang terletak di Kabupaten Lombok Tengah merupakan penampung dari beberapa aliran sungai di wilayah tersebut. Hal ini menjadikan Waduk Batujai menjadi tempat akumulasi berbagai bentuk bahan pencemar yang terbawa oleh sungai-sungai inletnya. Pengambilan contoh makroinvertebrata dilakukan dengan menggunakan jala atau jaring dengan ukuran bukaan 30x30 cm2. Selain itu, beberapa parameter fisik dan kimia lingkungan juga diamati seperti suhu, kecerahan, salinitas, dan pH. Analisis data dilakukan untuk mengetahui tingkat kelimpahan, keanekaragaman, dominansi, dan indeks penting biotik. Data hasil analisis diperoleh suatu bentuk kuantifikasi kondisi perairan yang selanjutnya diuraikan secara deskriptif. Makroinvertebrata yang telah teridentifikasi dari hasil sampling dalam penelitian ini sebanyak 495 individu dari 19 spesies dalam 10 famili berbeda. Spesies yang memiliki kelimpahan tertinggi yaitu Anisops breddini. Keberadaan makroinvertebrata yang ada di Waduk Batujai memperlihatkan nilai Family Biotic Index (FBI) sebesar 4,73. Nilai tersebut berada di kisaran 4,26-5,00 dengan kategori kualitas air yang "Baikâ€. Analisis SIGNAL 2 untuk makroinvertebrata Waduk Batujai menunjukkan nilai sebesar 5,73 yang mengkategorikan Waduk Batujai sebagai habitat yang baik.
References
Raiz FJ (2013) Bendungan Batujai. Kementerian Pekerjaan Umum, Dirjen Sumber daya Air, Balai Wilayah Sungai NT 1, Indonesia.
Achmad F (2011) Dampak pencemaran lingkungan kota praya terhadap kualitas air Waduk Batujai. Buletin Geologi Tata Lingkungan 21(2): 69 – 82.
Prasasti BG, Basuni S, Sunarminto T (2016) Analisis faktor penentu keberlanjutan dan strategi pemanfaatan lahan di Lokapurna Taman Nasional Gunung Halimun Salak. Media Konservasi 21(3): 286-294.
Rahayu S, Widodo RH, van Noordwijk M, Suryadi I, Verbist B (2009) Monitoring air di daerah aliran sungai. World Agroforestry Centre-Southeast Asia Regional Office, Bogor, Indonesia, 104 hal.
Borror DJ, Triplehorn DJ, Johnson NF (1996) An Introduction of the study of insects. Saunders College Pub., New York.
Bouchard RW (2004) Guide to the aquatic macroinvertebrates of the upper midwest. University of Minessota.
Jessup BK, Markowitz A, Stribling JB, Friedman E, LaBelle K, Dziepak N (2003) Family level key to the stream invertebrates of Maryland and surrounding areas. Third edition, Maryland Department of Natural Resources. Maryland.
Subyanto, Sulhotoni A (1991) Kunci determinasi serangga. Kanisius, Yogyakarta.
Krebs CJ (1999) Ecological methodology. Second edition. Addison-Wesley Educational Publishers, Inc., Menlo Park, California.
Odum EP (1993) Dasar-dasar ekologi (penerjemah Tjahjono Samingan; penyunting B. Srigandono). Gadjah Mada University Press, Yogyakarta.
Hilsenhoff WL (1987) An improved biotic index of organic stream pollution. The Great Lakes Entomologist 20(1): 31-39.
Chessman B (2003) SIGNAL 2 – A Scoring system for macro-invertebrate ('Water Bugs') in Australian Rivers, Monitoring river heath initiative technical report no 31. Commonwealth of Australia, Canberra.
Barus TA (2002) Pengantar limnologi. Dirjen Pendidikan Tinggi, Medan.
Leksono AS (2017) Ekologi arthropoda. UB Press, Malang.
Brahmana, Simon S, Achmad F, Sumarriani Y (2010) Pencemaran nutrien (zat hara) dan kualitas air waduk kaskade Batujai dan Pengga di Pulau Lombok. Jurnal Sumber Daya Air 6(1): 75 – 86.
Leba GV, Koneria R, Papu A (2013) Keanekaragaman serangga air di Sungai Pajowa Kabupaten Minahasa, Sulawesi Utara. Jurnal MIPA Unsrat Online 2(2): 73-78.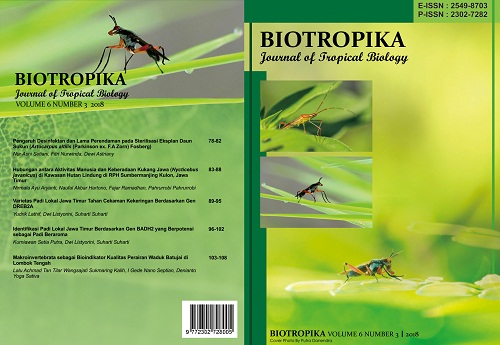 Downloads
License
Copyright and Attribution:
Articles in Biotropika: Journal of Tropical Biology are under Creative Commons Attribution (CC-BY-SA) copyright. The work has not been published before (except in the form of an abstract or part of a published lecture or thesis) and it is not under consideration for publication elsewhere. When the manuscript is accepted for publication in this journal, the authors agree to the automatic transfer of the copyright to the publisher.
Journal of Biotropika: Journal of Tropical Biology is licensed under a Creative Commons Attribution-ShareAlike 4.0 International License.
Permissions:
Authors wishing to include figures, tables, or text passages that have already been published elsewhere and by other authors are required to obtain permission from the copyright owner(s) for both the print and online format and to include evidence that such permission has been granted when submitting their papers. Any material received without such evidence will be assumed to originate from one of the authors.
Ethical matters:
Experiments with animals or involving human patients must have had prior approval from the appropriate ethics committee. A statement to this effect should be provided within the text at the appropriate place. Experiments involving plants or microorganisms taken from countries other than the author's own must have had the correct authorization for this exportation.