Pengaruh Desinfektan dan Lama Perendaman pada Sterilisasi Eksplan Daun Sukun (Artocarpus altilis (Parkinson ex. F.A Zorn) Fosberg)
Keywords:
Daun sukun (Artocarpus altillis), eksplan, sterilisasi, alkohol, natrium hipoklorit
Abstract
Daun sukun (Artocarpus altilis) merupakan herbal yang banyak dimanfaatkan untuk pengobatan. Kultur jaringan menjadi alternatif dalam meningkatkan produktivitas daun sukun dan metabolit sekunder yang dihasilkannya. Tahap pertama yang menentukan keberhasilan perbanyakan tanaman melalui kultur jaringan adalah teknik sterilisasi. Penelitian ini bertujuan mendapatkan metode sterilisasi terbaik dengan melihat pengaruh penggunaan natrium hipoklorit 5,25% dan alkohol 70% serta waktu perendaman terhadap penurunan kontaminasi. Pada penelitian ini terdapat 10 kelompok yang terdiri dari kelompok kontrol positif, kontrol negatif, perendaman dengan alkohol 70% selama 5 menit dan 10 menit, perendaman dengan natrium hipoklorit 5,25% selama 5 menit dan 10 menit, serta kombinasi natrium hipoklorit 5,25% dan alkohol 70% selama 5 menit dan 10 menit.  Parameter pengamatan meliputi waktu pertama kontaminasi, persentase kontaminasi jamur dan bakteri, dan penampilan eksplan yang diamati selama 40 hari. Hasil penelitian pada penggunaan masing-masing desinfektan, baik alkohol 70% maupun natrium hipoklorit 5,25% dengan waktu perendaman 10 menit menunjukkan tidak adanya kontaminasi jamur dan bakteri, tetapi pada perlakuan natrium hipoklorit 5,25% terjadi perubahan warna eksplan menjadi kecoklatan. Kombinasi dari kedua desinfektan menunjukkan adanya kontaminasi jamur dan bakteri serta adanya perubahan warna eksplan. Sterilisasi eksplan daun sukun yang terbaik dapat dilakukan dengan cara perendaman menggunakan alkohol 70% selama 10 menit.
References
Mardiana L (2012) Daun ajaib tumpas penyakit. Penebar Swadaya, Jakarta, Hal.172.
Suryanto E, Wehantouw F (2009) Aktivitas penangkap radikal bebas dari ekstrak fenolik daun sukun (A. altilis). Chemistry Progress 2(1): 1-7.
Bakarbessy WH, Wullur AC, Lolo WA (2016) Uji efek analgesik ekstrak etanol daun sukun (A. altilis) pada tikus putih galur wistar (Rattus norvegicus). PHARMACON Jurnal Ilmiah Farmasi 5(1): 220-227.
Zulkarnain (2009) Kultur jaringan tanaman. PT Bumi Aksara, Jakarta, Hal. 20-35.
Rismana (2002) Sanitasi dan desinfektan, langkah awal yang efektif mencegah penyakit. Infomedia, Jakarta, Hal. 169.
Purwanto AW (2008) Sansievera flora cantik penyerap racun. Kanisius, Yogyakarta.
Farooq SA, Farooq TT, Rao TV (2002) Micropropagation of Annona squamosa L. using nodal explants. Pakistan Journal of Biological Sciences 5(1): 43-46.
Rismayanti, Hamzah F (2010) Pengaruh pemberian chlorox (NaOCl) pada sterilisasi permukaan untuk perkembangan bibit Aglaonema (Donna carmen) secara in vitro. Prosiding Seminar Ilmiah dan Pertemuan Tahunan PEI dan PFI XX Komisariat Daerah Sulawesi Selatan.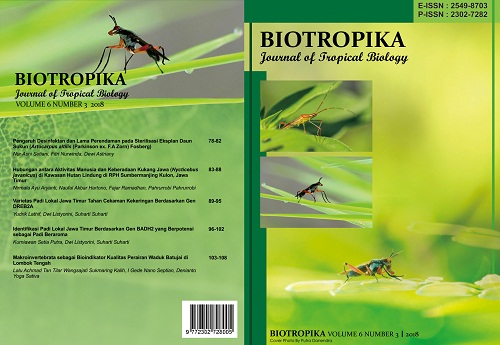 Downloads
License
Copyright and Attribution:
Articles in Biotropika: Journal of Tropical Biology are under Creative Commons Attribution (CC-BY-SA) copyright. The work has not been published before (except in the form of an abstract or part of a published lecture or thesis) and it is not under consideration for publication elsewhere. When the manuscript is accepted for publication in this journal, the authors agree to the automatic transfer of the copyright to the publisher.
Journal of Biotropika: Journal of Tropical Biology is licensed under a Creative Commons Attribution-ShareAlike 4.0 International License.
Permissions:
Authors wishing to include figures, tables, or text passages that have already been published elsewhere and by other authors are required to obtain permission from the copyright owner(s) for both the print and online format and to include evidence that such permission has been granted when submitting their papers. Any material received without such evidence will be assumed to originate from one of the authors.
Ethical matters:
Experiments with animals or involving human patients must have had prior approval from the appropriate ethics committee. A statement to this effect should be provided within the text at the appropriate place. Experiments involving plants or microorganisms taken from countries other than the author's own must have had the correct authorization for this exportation.