Potensi Penambahan Probiotik (Lactobacillus pentosus K50) untuk Meningkatkan Kualitas Pakan Ikan Air Tawar
Keywords:
fermentasi, kualitas pakan, pakan, probiotik, protein
Abstract
Pakan merupakan sumber nutrisi bagi ikan yang dapat diproses dengan penambahan probiotik. Probiotik merupakan mikroba yang berperan untuk meningkatkan kesehatan inang dan kualitas pakan. Penelitian ini bertujuan untuk mengetahui viabilitas bakteri asam laktat (BAL), jumlah bakteri Salmonella dan coliform, kapang, serta kandungan nutrisi pakan. Perlakuan fermentasi terdiri dari tanpa penambahan BAL (kontrol), penambahan BAL Sp. 1, probiotik (Lactobacillus pentosus K50), dan bakteri konsorsium (Lactobacillus pentosus K50 dan BAL Sp. 1). Jumlah BAL, Salmonella dan coliform serta kapang dideteksi dengan metode Total Plate Count. Kandungan protein diuji menggunakan metode Kjedahl, karbohidrat dengan metode total carbohydrate by difference, dan lemak, abu, serta air dengan metode gravimetri. Data dianalisis menggunakan one way ANOVA selang kepercayaan 95 %. Viabilitas BAL pada perlakuan penambahan BAL Sp.1 mengalami penurunan dari hari ke-0 sampai 20, sedangkan perlakuan dengan penambahan Lactobacillus pentosus K50 dan konsorsium meningkat dari hari ke- 0 sampai 20 berturut-turut 12,6 x 108 CFU/g menjadi 17,4 x 108 CFU/g dan 11,2 x 108 CFU/g menjadi 14,9 x 108 CFU/g. Bakteri Salmonella tidak tumbuh dalam pakan kontrol dan fermentasi. Jumlah bakteri coliform dan kapang dalam pakan terfermentasi dengan perlakuan probiotik dan bakteri konsorsium mengalami penurunan hari ke-5 sampai 20. Jumlah kapang pada perlakuan dengan penambahan BAL Sp. 1 mengalami fluktuasi disebabkan meningkatnya kadar air selama fermentasi. Kandungan protein relatif stabil, sedangkan kandungan lemak, karbohidrat, dan abu mengalami penurunan selama fermentasi. Penambahan probiotik dalam pakan dapat menghambat pertumbuhan bakteri coliform dan kapang, serta menjaga stabilitas nutrisi pakan.
References
Sarry, I. R. 2013. Produksi pakan buatan, Kementrian Pendidikan dan Kebudayaan, Jakarta.
WHO. 2001. Health and nutritional properties of probiotics in food including powder milk with live lactic acid bacteria, FAO Food and Nutrition Paper. 2-18.
Karim, A. 2016. Uji potensi bakteri asam laktat dari susu Kuda Sumbawa (Equus ferus caballus) sebagai probiotik. Jurusan Biologi, Fakultas Matematika dan Ilmu Pengetahuan Alam, Universitas Brawijaya. Malang, Skripsi.
SNI. 2009a. Pakan buatan untuk ikan gurami (Osphronemus goramy, Lac.), SNI 65.120-7548.
Magomya, A.M., D. Kubmarawa., J. A. Ndahi & G.G. Yebpella. 2014. Determination of Plant Protein Via The Kjeldahl Method and Amino Acid Analysis: A Comparative Study. International Journal of Scieentific & Technology Research. 3 (4): 2277-8616.
SNI. 2006a. Cara uji kimia penentuan kadar lemak total pada produk perikanan, SNI 01-2354.3.
SNI. 2006b. Cara uji kimia penentuan kadar air pada produk perikanan, SNI 01-2354.2.
LU-BBPBATS. 2015. Metode pengujian kadar abu, LU-BBPBATS-III,5.4.1.23.
SNI. 1992. Cara uji makanan dan minuman, SNI 01-2891.
Al-rawi, A. A. M. M & A. T. Al-mola. 2009. Antimicrobial activity of lactic acid bacteria isolated from minced beef meat against some patogenic bacteria. Iraqi Journal of Veterinary Science. 23 (1): 115-117.
Damayanti, E., A. E. Suryani., A. Sofyan, M. F. Karimy & H. Julendra. 2015. Seleksi bakteri asam laktat dengan aktivitas anti jamur yang diisolasi dari silase dan saluran cerna ternak. Journal of Agritechnology. 35 (2): 164-169.
Nisa, A. K & A. K. Wardani. 2016. Pengaruh lama pengasapan dan lama fermentasi terhadap sosis fermentasi ikan Lele (Clarias gariepinus). Jurnal Pangan dan Agroindustri. 4 (1): 367-376.
SNI. 2009b. Pakan buatan untuk ikan Patin (Pangasius sp.), SNI 65.120-7548.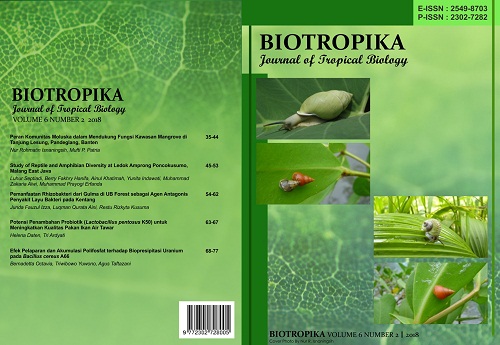 Downloads
License
Copyright and Attribution:
Articles in Biotropika: Journal of Tropical Biology are under Creative Commons Attribution (CC-BY-SA) copyright. The work has not been published before (except in the form of an abstract or part of a published lecture or thesis) and it is not under consideration for publication elsewhere. When the manuscript is accepted for publication in this journal, the authors agree to the automatic transfer of the copyright to the publisher.
Journal of Biotropika: Journal of Tropical Biology is licensed under a Creative Commons Attribution-ShareAlike 4.0 International License.
Permissions:
Authors wishing to include figures, tables, or text passages that have already been published elsewhere and by other authors are required to obtain permission from the copyright owner(s) for both the print and online format and to include evidence that such permission has been granted when submitting their papers. Any material received without such evidence will be assumed to originate from one of the authors.
Ethical matters:
Experiments with animals or involving human patients must have had prior approval from the appropriate ethics committee. A statement to this effect should be provided within the text at the appropriate place. Experiments involving plants or microorganisms taken from countries other than the author's own must have had the correct authorization for this exportation.