Pemanfaatan Rhizobakteri dari Gulma di UB Forest sebagai Agen Antagonis Penyakit Layu Bakteri pada Kentang
Keywords:
Bacterial wilt, Potato, Ralstonia, Rhizobacteria
Abstract
Penyakit layu bakteri yang diakibatkan oleh patogen Ralstonia solanacearum merupakan kendala yang sering terjadi pada budidaya tanaman kentang. Penelitian bertujuan untuk mendapatkan rhizobakteri yang efektif mengendalikan penyakit layu bakteri dan meningkatkan pertumbuhan pada tanaman kentang. Penelitian dilaksanakan di Laboratorium Penyakit Tumbuhan Fakultas Pertanian Universitas Brawijaya, UB Forest, dan Desa Tulungrejo Kecamatan Bumiaji, Kota Batu. Rhizobakteri diisolasi  dari  perakaran gulma di UB Forest kemudian dilakukan pengujian aktivitas sebagai pemicu pertumbuhan. Rhizobakteri yang terpilih dilakukan pengujian sifat antagonis terhadap R. solanacearum secara in vitro dan penekanan terhadap angka kejadian penyakit serta pertumbuhan tanaman kentang. Identifikasi isolat dilakukan secara fisiologi, biokimia dan molekuler. Hasil eksplorasi didapatkan 20 isolat rhizobakteri yang bersifat antagonis terhadap R. solanacearum. Isolat AGR 2 memiliki diameter penghambatan yang sama dengan bakterisida secara in vitro. Secara in vivo isolat bakteri AGR 1, AGR 2 dan EPT 9 dapat meningkatkan rerata jumlah daun lebih tinggi dibandingkan dengan bakterisida pada 1 dan 2 MSA (minggu setelah aplikasi). EPT 9 mampu menekan angka kejadian penyakit layu bakteri 55,6 % setelah 5 MSA dan meningkatkan berat umbi sebesar 59,3 % lebih tinggi dari perlakuan kontrol. Isolat  AGR 2 diketahui sebagai Pseudomonas aeruginosa dan EPT 9 merupakan Bacillus cereus.
References
Arifin, M., A. Nugroho, and A. Suryanto. 2014. Kajian Panjang Tunas dan Bobot Umbi Bibit terhadap Produksi Tanaman Kentang (Solanum tuberosum L.) Varietas Granola. Jurnal Produksi Tanaman. 2 (3): 221-229
Arwiyanto, T. 2013. Ralstonia solanacearum Biologi, Peyakit yang Ditimbulkan, dan Pengelolaannya. Yogyakarta: Gadjah Mada University Press
Asgar, A., S.T. Rahayu, Kusmana and Sofiari. 2011. Uji Kualitas Umbi Beberapa Klon Kentang untuk Keripik. Jurnal Hortikulura. 21 (1): 51-59
Chandrasekaran, M., D. Subramanian, E. Yoon, T. Kwon, and S. Chun. 2016. Meta-analysus Reveals that the Genus Pseudomonas Can Be a Better Choice of Biological Control Agent against Bacterial Wilt Disease Caused by Ralstonia solanacearum. Plant Pathology Journal. 32(3): 216-227
Dong, Y., J. Xu, X. Liu, and L. Zhang. 2000. An Enzyme that Inactivates the Acyhomoserine Lactone Quorum-Sensing Signal and Attenuates the Virulence of Erwinia carotovora. Proceedings National Academy Science. 97: 3526-3531
Food and Agriculture Organization. 2014. The State of Food Insecurity in the World 2014: Strengthening the Enabling Environment for Food Security and Nutrition.Rome: Food and Agriculture Organization of the United Nations; Available at: www.fao.org
Goenadi, D., I. Siswieto, and Y. Sugiarto. 2000. Bioactivation of Poorly Soluble Phosphate Rocks with a Phosporus Solubilizing Fungus. Journal of Soil Science. 4: 409-412
Holt, J.G., N. R. Krieg, P. H. Sneath, J. T. Staley and S. T. Williams. 1994. Bergey's Manual of Determinative Bacteriology 9th Edition. Williams and Wilkins Baltimore. USA
Kawaguchi, A., K. Inoue and Y. Ichinose. 2008. Biological Control of Crown Gall of Grapevine, Rose, Tomato by Nonpathogenic Agrobacterium vitis Strain VAR03-1. Journal Phytopathology. 98 (11): 1218-12250
Kiloes, A.M., A.L. Sayekti, and M.J. Anwarudin. Evaluasi Daya Saing Komoditas Kentang di Sentra Produksi Pangalengan Kabupaten Bandung (Potato Competitiveness Evaluation in Production Center of Pangalengan, Bandung Regency). Jurnal Hortikultura. 25 (1): 88-96
Lemessa, F., and W.Zeller. 2007. Screening Rhizobacteria for Biological Control of Ralstonia solanacearum in Ethiopia. Journal of Biological Control. 42: 336-344
Lugtenberg, B. J. J., L. Dekkers. and G.V. Bloemberg. 2001. Molecular Determinants of Rhizosphere Colonization by Pseudomonas. Annual Review Phytopathology. 39:461-490
Maheshwari, D. K., and M. Saraf. 2013. Bacteria in Agrobiology: Crop Productivity.
Mulyani Y., A. Purwanto, I. Nurruhwati, 2011.Perbandingan Beberapa Metode Isolasi DNA untuk Deteksi Dini Koi Herpes Virus (KHV) pada Ikan Mas (Cyprinus carpio L.). Jatinangor : Fakultas Perikanan dan Ilmu Kelautan, Universitas Padjadjaran. Jurnal Akuatika, 8(11): 1-16.
Orhan, F. 2016. Alleviation of Salt Stress by Halotolerant and Halophilic Plant Growth Promoting Bacteria In Wheat (Triticum aestivum). Brazilian
Journal of Microbiology. 47 : 621-627
Prasad, J.K., S.K. Gupta, and R. Raghuwanshi. 2017. Screening Multifunctional Plant Growth Promoting Rhizobacteria Strains for Enhancing Seed Germination in Wheat (Triticum aestivum L.). International Journal of Agricultural Research. 12 (2): 64-72
Ramamoorthy, V., and P. Samiyapn. 2001. Induction of Defense Related Genes in Pseudomonas fluorescens treated Chili Plants in Response to Infection by Colletotrichum capsici. Journal of Mycology Plant Pathology. 45: 55-63
Schaad, N., and W. Chun. 2001. Laboratory Guide for Idetification of Plant Pathogenic Bacteria. 3rd Edition. APS Press. St. Paul Minnessota
Telisa, M., J. Saah, P. Bishop. 1999. Isolation of Nitrogen-Fixing Bacteria Containing Molybdenum-Independent Nitrogenases from Natural Environments. 65(9): 4223-4226
Widawati, S., Suliasih and Saefudin. 2015. Isolasi dan Uji Efektivitas Plant Growth Promoting Rhizobacteria di Lahan Marginal pada Pertumbuhan kedelai var. Wilis. Prosiding Seminar Masyarakat Biodiversitas Indonesia, 1(1): 59-65
Yanti, Y., F.F. Astuti, T. Habazar, C.R. Nasution. 2017. Screening of Rhizobacteria From Rhizosphere of Healthy Chili to Control Bacterial Wilt Disease and to Promote Growth And Yield of Chili. Biodiversitas. 18 (1): 1-9
Yuliati, A. E. 2008. Ketahanan Klon Kentang Liar (Solanum chacoense) Terhadap Penyakit Layu Bakteri (Ralstonia solanacearum) Secara In Vitro dan di Lapangan. Tesis. Institut Pertanian Bogor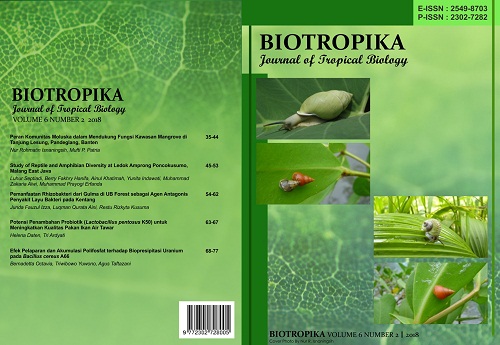 Downloads
License
Copyright and Attribution:
Articles in Biotropika: Journal of Tropical Biology are under Creative Commons Attribution (CC-BY-SA) copyright. The work has not been published before (except in the form of an abstract or part of a published lecture or thesis) and it is not under consideration for publication elsewhere. When the manuscript is accepted for publication in this journal, the authors agree to the automatic transfer of the copyright to the publisher.
Journal of Biotropika: Journal of Tropical Biology is licensed under a Creative Commons Attribution-ShareAlike 4.0 International License.
Permissions:
Authors wishing to include figures, tables, or text passages that have already been published elsewhere and by other authors are required to obtain permission from the copyright owner(s) for both the print and online format and to include evidence that such permission has been granted when submitting their papers. Any material received without such evidence will be assumed to originate from one of the authors.
Ethical matters:
Experiments with animals or involving human patients must have had prior approval from the appropriate ethics committee. A statement to this effect should be provided within the text at the appropriate place. Experiments involving plants or microorganisms taken from countries other than the author's own must have had the correct authorization for this exportation.