Peran Komunitas Moluska dalam Mendukung Fungsi Kawasan Mangrove di Tanjung Lesung, Pandeglang, Banten
Keywords:
molluscs community, mangrove, litter fall degradation, calcification
Abstract
Kemampuan ekosistem mangrove untuk memberikan jasa lingkungan tidak terlepas dari peran berbagai fauna akuatik termasuk moluska. Penelitian di hutan mangrove Tanjung Lesung bertujuan untuk mengetahui peran komunitas moluska dalam mendukung fungsi hutan mangrove melalui penghitungan data-data penyusun struktur komunitas moluska, serta memberikan gambaran awal mengenai peluang moluska sebagai agen penyimpan karbon. Pengambilan sampel moluska dilakukan pada enam stasiun yang berbeda dengan metode petak contoh. Struktur komunitas moluska diketahui dengan menghitung nilai frekuensi, kepadatan, keanekaragaman, kemerataan, serta dominansi. Kandungan karbon pada cangkang diukur dengan menggunakan alat C-N analyzer. Komunitas moluska di hutan mangrove Tanjung Lesung terdiri dari delapan spesies. Tiga spesies dengan nilai kepadatan (Ki) dan Indek Nilai Penting (INP) tertinggi adalah Cerithidea cingulata (Ki=187 ind/m2; INP=76,71%), Clithon squarrosus (Ki=99 ind/m2; INP=39,95%) dan Terebralia palustris (Ki=42 ind/m2; INP=24,75%). Spesies T. palustris dan Telescopium telescopium merupakan moluska asli hutan mangrove sehingga kedua spesies tersebut memegang peran penting terutama sebagai pengurai serasah. Kandungan karbon dalam cangkang T. palustris dan T. Telescopium terukur berturut-turut sebesar 10,92 ± 2,33 dan 10,32 ± 0,63% berat kering. Namun, potensi kedua spesies moluska sebagai penyimpanan karbon masih membutuhkan evaluasi dan penelitian lebih lanjut
References
Arbi, U.Y. 2008. Komunitas moluska di ekosistem mangrove Tambak Wedi, Selat Madura, Surabaya, Jawa Timur. Oseanologi dan Limnologi di Indonesia 34(3) : 411-425.
Benthem-jutting, W. S. S. van, 1956. Systematic studies on the non-marine mollusca of the Indo-Australian Archipelago. V. Critical revision of the Javanese freshwater gastropod. Treubia 23 (2) : 259 – 477.
Budiman, A. 1991. Penelaahan beberapa gatra ekologi moluska bakau Indonesia. Disertasi. Universitas Indonesia, Jakarta : 268 hal.
Cappenberg, H.A.W.,A. Azis,I. Aswandy. 2006. Komunitas moluska di perairan Teluk Gilimanuk, Bali Barat. Oseanologi dan Limnologi di Indonesia 40 : 53 – 64.
Gilman, E., H. Van Lavieren, J. Ellison, V. Jungblut, L. Wilson, F. Areki, G. Brighouse, J. Bungitak, E. Dus, M. Henry, I. Sauni Jr., M. Kilman, E. Matthews, N. Teariki- Ruatu, S. Tukia, K. Yuknavage. 2006. Pacific Island Mangroves in a Changing Climate and Rising Sea. UNEP Regional Seas Reports and Studies No. 179. United Nations Environment Programme, Regional Seas Programme, Nairobi, KENYA.
Heryanto; R. Marsetiowati; F. Yulianda. 2006. Metode survey dan pemantauan populasi satwa : siput dan kerang. Bidang Zoologi, Puslit Biologi - LIPI. 56 Hal.
Hickey, J.P., 2008. Carbon sequestration potential of shellfish. Technical report,
School of Natural and Built Environs, LMES, University of South Australia, Seminars in Sustainability-UniSA. http://www.oysterssa.com.au/media/files/755.pdf>.
Hotchkiss, E.R & R.O. Hall Jr. 2010. Linking calcification by exotic snails to stream inorganic carbon cycling. Oecologia 163: 235-244.
Houbrick, R.S., 1991. Systematic review and functional morphology of the
mangrove snails Terebralia and Telescopium (Potamididae: Prosobranchia). Malacologia 33: 289-338.
Li,YF., RL. Xu, CF. Wang. 2012. The community structure of molluscs in three different wetland types in the Qi'ao-Dan'gan island mangrove nature reserve at Qi'ao island, Pearl River Estuary, China. Zoological Studies 51(6): 745-754.
Liu, H., H. Ren, D. Hui, W. Wang, B. Liao, Q. Cao. 2014. Carbon stocks and potential carbon storage in the mangrove forests of China. Journal of Environmental Management 133: 86-93.
Lunstrum, A & L. Chen. 2014. Soil carbon stocks and accumulation in young mangrove forests. Soil Biology & Biochemistry 75: 223-232.
Mistri, M & C. Munari. 2012. Clam farming generates CO2: A study case in the Marinetta lagoon (Italy). Marine Pollution Bulletin 64: 2261-2264.
Mistri, M & C. Munari. 2013. The invasive bag mussel Arcuatula senhousia is a CO2 generator in near-shore coastal ecosystems. Journal of Experimental Marine Biology and Ecology 440: 164-168.
Munari, C., E. Rossetti, M. Mistri. 2013. Shell formation in cultivated bivalves cannot be part of carbon trading systems: a study case with Mytilus galloprovincialis. Marine Environmental Research 92: 264-267.
Poutiers. 1998. Gastropods. In : Carpenter, K.E & V.H. Niem (eds). FAO species identification guide for fishery purpose. The living marine resources of the Western Central Pacific. Volume 1. Seaweeds, corals, bivalves and gastropods. FAO, Rome : 363-646.
Purwaningsih, S. 2012. Aktivitas antioksidan dan komposisi kimia Keong Matah Merah (Cerithidea obtusa). Jurnal Ilmu Kelautan 17(1): 39-48.
Putri, M.K.D., D. Pringgenies, O.K. Radjasa. 2012. Uji fitokimia dan toksisitias ekstrak kasar gastropoda (Telescopium telescopium) terhadap larva Artemia salina. Journal of Marine Research 1(2): 58-66.
Nayak, B.,S. Zaman, S.D. Gadi, A.K. Raha & A. Mitra. 2014. Dominant gastropods of Indian Sundarbans: A major sink of carbon. International Journal of Advances in Pharmacy, Biology, and Chemistry 3(2): 282-289.
Noor, R.Y., M. Khazali, dan I N.N. Suryadiputra. 1999. Panduan Pengenalan Mangrove di Indonesia. PHKA/WI-IP, Bogor.
Pape, E., A. Muthumbi, C.P. Kamanu, A. Vanreusel. 2008. Size-dependent distribution and feeding habits of Terebralia palustris in mangrove habitats of Gazi Bay, Kenya. Estuarine, Coastal and Shelf Science 76: 797-808.
Slim, F.J., M.A. Hemminga, C. Ochieng, N.T. Jannink, E. Cocheret de la Morinière and G. van der Velde. 1997. Leaf litter removal by the snail
Terebralia palustris (Linneaus) and sesarmid crabs in an East African
mangrove forest (Gazi Bay, Kenya). Journal of Experimental Marine Biology and Ecology 215: 35-48.
Taglialoro, M., J. Clavier, L. Chauvaud, J. Grall. 2013. Carbon emission associated with respiration and calcification of nine gastropod species from the intertidal rocky shore of Western Europe. Mar Biol 160: 2891– 2901.
Takahashi, T., 2004. The fate of industrial carbon dioxide. Science 305: 352–353.
Tang, Q., Zhang, J., Fang, J., 2011. Shellfish and seaweed mariculture increase
atmospheric CO2 absorption by coastal ecosystems. Marine Ecology Progress 424: 97–104.
Taqwa, A. 2010. Analisis produktivitas primer fitoplankton dan struktur komunitas fauna makrobenthos berdasarkan kerapatan mangrove di kawasan konservasi mangrove dan bekantan Kota Tarakan, Kalimantan Timur.Tesis. Universitas Diponegoro Semarang. 97 Hal.
Wang, G.,D. Guan, M.R. Peart, Y. Chen, Y. Peng. 2013. Ecosystem carbon stocks of mangrove forest in Yingluo Bay, Guangdong Province of South China. Forest Ecology and Management 310: 539–546.
Wolff, J.G & A. Beaumont. 2011. Shellfish Sequestration: The augmented cultivation of molluscs, and the preservation of their shells, as a means of sequestering carbon dioxide. www.mng.org.uk/gh/private/ssr7a.pdf
Yap, C.K., A. Noorhaidah, A. Azlan, A.A. Nor Azwady, A. Ismail, A.R. Ismail, S.S. Siraj, S.G. Tan. 2009. Telescopium telescopium as potential biomonitors of Cu, Zn, and Pb for tropical intertidal area. Ecotoxicology and Environmental Safety 72: 496–506.
Yona, D. 2002. Struktur komunitas dan strategi adaptasi moluska dikaitkan dengan dinamika air pada habitat mangrove kawasan Prapat Benoa, Bali. Skripsi. Institut Pertanian Bogor. 57 Hal.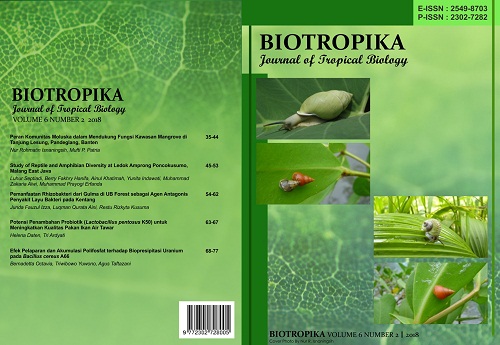 Downloads
License
Copyright and Attribution:
Articles in Biotropika: Journal of Tropical Biology are under Creative Commons Attribution (CC-BY-SA) copyright. The work has not been published before (except in the form of an abstract or part of a published lecture or thesis) and it is not under consideration for publication elsewhere. When the manuscript is accepted for publication in this journal, the authors agree to the automatic transfer of the copyright to the publisher.
Journal of Biotropika: Journal of Tropical Biology is licensed under a Creative Commons Attribution-ShareAlike 4.0 International License.
Permissions:
Authors wishing to include figures, tables, or text passages that have already been published elsewhere and by other authors are required to obtain permission from the copyright owner(s) for both the print and online format and to include evidence that such permission has been granted when submitting their papers. Any material received without such evidence will be assumed to originate from one of the authors.
Ethical matters:
Experiments with animals or involving human patients must have had prior approval from the appropriate ethics committee. A statement to this effect should be provided within the text at the appropriate place. Experiments involving plants or microorganisms taken from countries other than the author's own must have had the correct authorization for this exportation.