Komposisi Takson Tingkat Suku Serangga yang Terperangkap dalam Kantong Nepenthes spp. di Taman Nasional Sebangau Kalimantan Tengah
Abstract
Serangga merupakan ordo penting dalam kelas Arthropoda, karena serangga merupakan salah satuindikator keseimbangan dan kesehatan suatu ekosistem. Peran ekologis anggota ordo ini sangat penting, terutama dalam hal interaksi hewan-tumbuhan, termasuk hubungannya dengan manusia.Salah satu bentuk interaksi tersebut adalah tingkat tropik. Dalam konteks komunitas, tingkatan tropik juga terjadi dalam skala mikro, seperti pada Kantong Nepenthes spp.Nepenthes spp. Modifikasi daun serupa kantong pada Nepenthes spp. hanya dapat dijumpai tumbuh liar pada tanah yang miskin unsur hara, seperti pada tanah gambut di Kalimantan Tengah. Tujuan penelitian ini adalah mempelajari komposisi takson tingkat suku serangga yang terperangkap dalam kantung Nepenthes spp. Penelitian menggunakan teknik survey, dengan sistem jalur dikombinasikan dengan plot berpetak (transects with nested plot). Pengambilan data dilakukan di dua lokasi berbeda di Taman Nasional Sebangau, yakni kawasan Habaring Hurung (SPTN Wilayah I Kota Palangkaraya) pada Juli 2016, dan kawasan Eks. Kanal PT. Sanitra Sebangau Indah (SSI), yang merupakan wilayah SPTN Wilayah II Pulang Pisau, pada September 2016. Pemilihan lokasi didasarkan pada kelimpahan Nepenthes spp., perbedaan tipe habitat dan kemudahan aksesibillitasHasil pengambilan data berupa spesimen, dibawa ke laboratorium dan dilanjutkan dengan identifikasi sampai pada tingkat suku. Hasil penelitian menunjukkan takson tingkat suku serangga yang terperangkap dalam Kantong Nepenthes yang ditemukan selama penelitian di Resort Habaring Hurung, adalah sebanyak sembilan takson suku serangga. Sementara itu di area Kanal Eks PT. SSI Taman Nasional Sebangau menunjukkan delapan takson suku serangga. Takson suku yang secara konsisten dijumpai hampir di seluruh specimen kantung pada dua lokasi kajian adalah dari kelompok takson suku Formicidae (Semut), Culicidae (Nyamuk) dan Thormisidae (Laba-laba kepiting)
References
Campbell, N.A., Reece, J.B., Urry, L.A., Cain, M.L., Wasserman, S.A., Minorsky, P.V., & Jackson, R.B. 2008. Biologi. Edisi Kedelapan Jilid 3. Jakarta : Penerbit Erlangga.
Bauer, U., Grafe, T.U., Federle, W. 2011. Evidence For Alternative Trapping Strategies In Two Forms Of The Pitcher Plant, Nepenthes Rafflesiana. J. Exp. Bot 62:3683–3692.
Bauer U, Scharmann M, Skepper J, Federle W. 2013 'Insect aquaplaning' on a superhydrophilic hairy surface: how Heliamphora nutans Benth. pitcher plants capture prey. Proc R Soc B 280: 20122569. http://dx.doi.org/10.1098/rspb.2012.2569
Hua, Y. & Lee, H. 2005. Food Web and Fluid in Pitchers of Nepenthes mirabilis in Zhuhai China. Acta Botanica Gallica 152 (2): 165-175
Moran, Jonathan A., Webber E. Booth dan Joseph K. Charles. 2011. Aspects of Pitcher morphology and spectral chracteristics of six Bornean Nepenthes Pitcher plants : Implications for prey capture. Annals of Botany83: 521 – 528.
Bittleston, Leonora S., Christopher C. M. Baker, Lila B. Strominger, Anne Pringle dan Naomi E. Pierce, 2015. Metabarcoding as a tool for investigating arthropod diversity in Nepenthes pitcher plants. Austral Ecology. doi:10.1111/aec.12271.
Shepherd, P.A., Rieley, J.O., Page, S.E. 1997. The Relationship between forest vegetation and peat characteristics in the upper catchment of Sungai Sebangau, Central Kalimantan. In: Rieley JO, Page SE (eds) Tropical peatlands. Samara Publishing Limited, Cardigan.
Arifin, H. 2012. Studi Keragaman Jenis Kantong Semar di Area Eks Kanal PT. Sanitra Sebangau Indah Taman Nasional Sebangau. Skripsi. Tidak diterbitkan, Palangka Raya : Fakultas Keguruan dan Ilmu Pendidikan, Jurusan P.MIPA.
Krebs, C.J. 1978. Ecology. The Experimental Analysis of Distribution and Abundance. Second Edition. Harper and Row, New York. 678 pp.
Borror D.J., White, Richard E. 1970. Insects. Hugthon Mifflin Company, New York.
Christina, L.,S. 1991. Kunci Determinasi Serangga. Kanisius. Yogyakarta.
Mansur, M., 2007. Keragaman jenis Nepenthes (Kantong Semar) Dataran Rendah di Kalimantan. Berita Biologi 8(5), 2007 p. 335 – 341.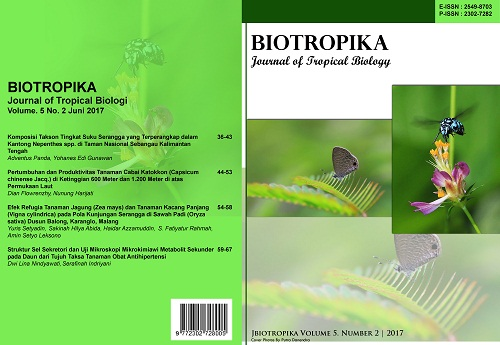 Downloads
License
Copyright and Attribution:
Articles in Biotropika: Journal of Tropical Biology are under Creative Commons Attribution (CC-BY-SA) copyright. The work has not been published before (except in the form of an abstract or part of a published lecture or thesis) and it is not under consideration for publication elsewhere. When the manuscript is accepted for publication in this journal, the authors agree to the automatic transfer of the copyright to the publisher.
Journal of Biotropika: Journal of Tropical Biology is licensed under a Creative Commons Attribution-ShareAlike 4.0 International License.
Permissions:
Authors wishing to include figures, tables, or text passages that have already been published elsewhere and by other authors are required to obtain permission from the copyright owner(s) for both the print and online format and to include evidence that such permission has been granted when submitting their papers. Any material received without such evidence will be assumed to originate from one of the authors.
Ethical matters:
Experiments with animals or involving human patients must have had prior approval from the appropriate ethics committee. A statement to this effect should be provided within the text at the appropriate place. Experiments involving plants or microorganisms taken from countries other than the author's own must have had the correct authorization for this exportation.