Pengaruh Ekstrak Ethanol Kemangi (Ocimum canum Sims.) terhadap Struktur Histologi Testis Mencit (Mus musculus) Jantan
Abstract
Penelitian ini bertujuan untuk mengetahui pengaruh ekstrak ethanol kemangi (Ocimum canum Sims.) terhadap struktur histologi testis mencit jantan (Mus musculus). Penelitian ini menggunakan 9 ekor hewan coba mencit strain Balb/c jantan berumur 3 bulan, berat badan 20 - 30 g. Hewan coba dibagi menjadi tiga (3) kelompok kontrol tanpa pemberian ekstrak kemangi (P0), kelompok yang diberi ekstrak kemangi dengan dosis 100 mg/kgBB (P1) dan 200 mg/kgBB (P2). Ekstrak kemangi diberikan setiap hari secara oral selama 35 hari. Parameter yang diamati adalah diameter tubulus seminiferus, tebal epitel germinal, jumlah lapisan germinal dan jumlah sel spermatogenik meliputi spermatogonia, spermatosit dan spermatid. Data yang diperoleh dianalisis dengan One-way ANOVA (p ≤ 0,05). Jika menunjukkan perbedaan yang bermakna, maka dilanjutkan dengan uji Least Significant Difference (LSD). Hasil penelitian menunjukkan bahwa pemberian ekstrak kemangi dosis 200 mg/kgBB meningkatkan diameter tubulus seminiferus, tebal epitel germinal, dan jumlah sel spermatid
References
Huhtaniemi, I.T. 2009. Endocrine Regulation Of Male Reproduction. University of Turku. Finland.
Droge W. 2002. Free radicals in the physiological control of cell function. Physiol Rev. 82:47-95.
Abuja, P.M., Albertini, R. 2001. Methods for monitoring oxidative stress, lipid peroxidation and oxidation resistance of lipoproteins. Clin Chim Acta. 306 : 1-17.
Hadi, R.S. 2011. Apoptosis pada Sperma Sebagai Pertanda Adanya Gangguan Kesuburan Pria. Majalah Kesehatan PharmaMedika. Vol 3 (2).
Aluko, B.T., O.I. Oleyede., A.J. Afolayan. 2012. Full Length Research Paper Phytochemical and nutrient compositions of the leaves of Ocimum canum Sims. African Journal of Biotechnology. Vol. 11 (63) hal: 12697-12701.
Shadia, S. 2007. Chemical Composition of Ocimum Americanum Essential Oil and Its Biological Effects Against, Agrotis ipsilon, (Lepidoptera: Noctuidae). Research Journal of Agriculture and Biological Sciences. Vol 3(6): 740.
Murod, Auva Marwah. 2014. Uji Aktivitas Ekstrak Air Herba Kemangi (Ocimum americanum L.) terhadap Kualitas Sperma dan Densitas Sel Spermatogenesis Tikus Sprague – Dawley Jantan secara in vivo. Program Studi Farmasi FakultasKedokteran dan Kesehatan, UIN Syarif Hidayatullah. Jakarta. Skripsi
Cheng, C. Yan. 2008. Molecular Mechanisms in Spermatogenesis. Center for Biomedical Research The Population Council New York. USA
Hayati, Alfiah., B. Yunaida., I.B.R. Pidada., W. Darmanto., D. Winarni. 2004. Efek 2-Methoxyethanol terhadap Struktur Histologi Testis Mencit (Mus musculus). Berkas Penelelitian Hayati. Vol (10): 7-12.
Chauhan, N.S and Dixit V.K. 2008. Original Article Spermatogenic Activity of Rhizomes of Curculigo orchioides Gaertn in Male Rat. International Journal of Applied Research in Natural Products. Vol. 1(2): 26-31.
Somoyani, N. Ketut. 2011. Pemberian Astaxanthin Oral Mencegah Gangguan Spermatogenesis Mencit (Mus musculus) yang Diinduksi Pelatihan Fisik Berlebih. Program Magister Program Studi Ilmu Biomedik Program Pascasarjana Universitas Udayana. Denpasar. Tesis.
Widhyari, S.D., A. Esfandiari., A, Wijaya., R. Wulandari., S. Widodo., L. Maylina. 2015. Tinjauan Penambahan Mineral Zn dalam Pakan Terhadap Kualitas Spermatozoa pada Sapi Frisian holstein Jantan. Jurnal Ilmu Pertanian Indonesia (JIPI). Vol. 20 (1): 72 77.
Cheah, Yunsang., Wanxi. Yang. 2011. Functions of essential nutrition for high quality spermatogenesis. Bioscience and Biotechnology. Vol 2 (182-197).
Conquer, J.A., Martin, J.B., Tummon, I., Watson, L., Tekpetey, F. .2000. Effect of DHA Supplementation on DHA Status and Sperm Motility in Asthenozoospermic Males. Lipids. Vol 35: 149-154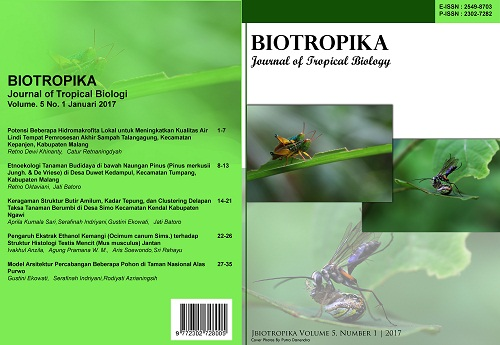 Downloads
License
Copyright and Attribution:
Articles in Biotropika: Journal of Tropical Biology are under Creative Commons Attribution (CC-BY-SA) copyright. The work has not been published before (except in the form of an abstract or part of a published lecture or thesis) and it is not under consideration for publication elsewhere. When the manuscript is accepted for publication in this journal, the authors agree to the automatic transfer of the copyright to the publisher.
Journal of Biotropika: Journal of Tropical Biology is licensed under a Creative Commons Attribution-ShareAlike 4.0 International License.
Permissions:
Authors wishing to include figures, tables, or text passages that have already been published elsewhere and by other authors are required to obtain permission from the copyright owner(s) for both the print and online format and to include evidence that such permission has been granted when submitting their papers. Any material received without such evidence will be assumed to originate from one of the authors.
Ethical matters:
Experiments with animals or involving human patients must have had prior approval from the appropriate ethics committee. A statement to this effect should be provided within the text at the appropriate place. Experiments involving plants or microorganisms taken from countries other than the author's own must have had the correct authorization for this exportation.