Potensi Beberapa Hidromakrofita Lokal untuk Meningkatkan Kualitas Air Lindi Tempat Pemrosesan Akhir Sampah Talangagung, Kecamatan Kepanjen, Kabupaten Malang
Abstract
Tujuan penelitian ini adalah menentukan potensi hidromakrofita lokal sebagai agen fitoremediasi air lindi Tempat Pemrosesan Akhir (TPA) Sampah Talangagung Kecamatan Kepanjen Kabupaten Malang. Penelitian ini merupakan eksperimen dengan Rancangan Acak Lengkap (RAL) menggunakan lima perlakuan hidromakrofita lokal, yaitu kontrol (tanpa hidromakrofita), Ludwigia adscendens, Alternanthera sessilis, Typha angustifolia, dan polikultur ketiganya pada 25% air lindi dengan lima kali
ulangan. Setiap perlakuan diinkubasi selama 30 hari di rumah kaca. Kualitas air lindi yang diamati adalah DO, turbiditas, nitrat, ortofosfat, dan BOD yang dipantau setiap enam hari sekali. Data tiap parameter dianalisis dengan uji beda antar waktu pantau pada masing-masing perlakuan. Semua hidromakrofita perlakuan mampu meningkatkan kualitas air lindi, yang ditandai dengan peningkatan nilai DO serta penurunan turbiditas, nitrat, ortofosfat, dan BOD. Hidromakrofita L. adscendens, T.
angustifolia, dan polikultur (polikultur ketiga jenis tanaman) mampu menurunkan konsentrasi nitrat, ortofosfat, dan BOD sejak hari ke-12, sedangkan hidromakrofita A. sessilis sejak hari ke-18.
Hidromakrofita A. sessilis mampu menurunkan 73,8% konsentrasi nitrat pada hari ke-30 dan 68,4%Â konsentrasi ortofosfat pada hari ke-24. Penurunan BOD (61,4%) terbesar ditemukan pada perlakuan
hidromakrofita L. adscendens dan T. angustifolia hari ke-30

References
Liermann, T.A. 2009. Fiji Islands' Naboro Landfill Leachate Quality Analysis and the Applicability of Developed versus Small Island Developing State Discharge Standards. Michigan Techology University. Michigan. Report.
Koderi. 2015. Rekayasa Sistem Pengelolaan dan Pemanfaatan Biogas di Kawasan TPA Wisata Edukasi Kepanjen. Pengelolaan Lingkungan Universitas Brawijaya. Tesis.
Renou, S., J.G. Givaudan, S. Poulain, F. Dirassouyan, & P. Moulin. 2008. Landfill Leachate treatment: Review and Opportunity. Journal of Hazardous Material. 150: 468-493.
Dhir, B. 2013. Phytoremediation: Role of Aquatic Plants in Environmental Clean-Up. Springer India. New Delhi.
Ivansyah, K. & C. Retnaningdyah. 2013. Potensi Hidromakrofita Lokal untuk Peningkatan Kualitas Air Irigasi Tercemar Residu Pupuk NPK dengan Sistem Batch Culture. Jurnal Biotropika. 1 (3): 80-84
Fajarianingtyas, D.A, C. Retnaningdyah, & E. Arisoesilaningsih. 2013. Peningkatan Kualitas Limbah Deterjen dengan Fitoremediasi Menggunakan Diversitas Hidromakrofita. Lentera Sains. 2 (2).
Prasetyo, H.D. & C. Retnaningdyah. 2013. Peningkatan Kualitas Air Irigasi Akibat Penanaman Vegetasi Riparian dari Hidromakrofita Lokal selama 50 Hari. Jurnal Biotropika. 1 (4): 149-153.
Effendi, H. 2003. Telaah Kualitas Air Bagi Pengelolaan Sumber Daya dan Lingkungan Perairan. Edisi kelima. Kanisius. Yogyakarta.
Gupta, P., S. Roy, & A. B. Mahindrakar. 2012. Treatman of Water Usimg Water Hyacinth, Water Lettuce, and Vetiver Grass – A Review. Resources and Environment. 2 (5): 202-215.
Pivetz, B.E. 2001. Ground Water Issues: Phytoremediation of Contaminated Soil and Ground Water at Hazardous Waste. Environmental Protection Agency. Washington.
Oms, M.T., A. Cerdà , & V. Cerdà . 2000. Handbook of Water Analysis: Analysis of Nitrites and Nitrates. Marcel Dekker, Inc. New York.
Spellman, F.R. 2013. Handbook of Water and Wastewater Treatment Plant Operation. Edisi ketiga. CRC Press. Washington.
Mahida, U.N. 1993. Pencemaran Air dan Pemanfaatan Limbah Industri. PT Raja Gravindo Persada. Jakarta.
Oziegbe, M. & J. O. Faluyi. 2012. Reproductive biology of Ludwigia leptocarpa and L. adscendens subsp. Diffusa in Ile Ife, Nigeria. Turkey Journal Botany. 26: 167-173.
Sinha, S., R. Saxena, & S. Singh. 2002. Comparative Studies on Accumulation of Cr from Metal Solution and Tanneru Effluent under Repeated Metal Exposure by Aquatic Plants: Its Toxic Effects. Environmental Monitoring and Assessment. 80 (1): 17-31.
Runkel, S.T. & D. M. Roosa. 2015. Wildflowers and Other Plants of Iowa Wetlands. Edisi kedua. University of Iowa Press. Iowa.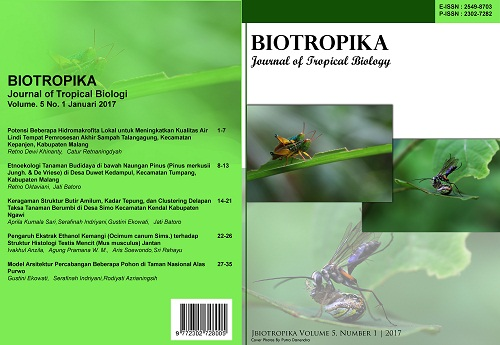 Downloads
License
Copyright and Attribution:
Articles in Biotropika: Journal of Tropical Biology are under Creative Commons Attribution (CC-BY-SA) copyright. The work has not been published before (except in the form of an abstract or part of a published lecture or thesis) and it is not under consideration for publication elsewhere. When the manuscript is accepted for publication in this journal, the authors agree to the automatic transfer of the copyright to the publisher.
Journal of Biotropika: Journal of Tropical Biology is licensed under a Creative Commons Attribution-ShareAlike 4.0 International License.
Permissions:
Authors wishing to include figures, tables, or text passages that have already been published elsewhere and by other authors are required to obtain permission from the copyright owner(s) for both the print and online format and to include evidence that such permission has been granted when submitting their papers. Any material received without such evidence will be assumed to originate from one of the authors.
Ethical matters:
Experiments with animals or involving human patients must have had prior approval from the appropriate ethics committee. A statement to this effect should be provided within the text at the appropriate place. Experiments involving plants or microorganisms taken from countries other than the author's own must have had the correct authorization for this exportation.