EKSPLORASI OBYEK DAN ATRAKSI WISATA PENDUKUNG USAHA KONSERVASI DI BANYUBIRU KABUPATEN PASURUAN
Abstract
Indonesia merupakan salah satu negara yang banyak menawarkan obyek-obyek wisata baik di darat maupun perairan. Obyek-obyek wisata ini banyak memiliki potensi yang sangat tinggi untuk dikembangkan menjadi ekowisata. Salah satu kawasan wisata alam berupa pemandian Banyubiru terdapat di Jawa Timur, khususnya di Kabupaten Pasuruan. Wisata alam Banyubiru menyuguhkan pemandian yang berasal dari sumber mata air alami dan beberapa kolam buatan. Penelitian ini bertujuan untuk mengetahui obyek dan atraksi wisata di Banyubiru serta persepsi masyarakat terhadap ekowisata. Observasi tentang obyek dan atraksi wisata dilakukan dengan cara eksplorasi langsung pada kawasan wisata Banyubiru. Persepsi masyarakat didapatkan dengan cara wawancara semi-terstruktur kepada narasumber. Ekowisata potensial yang bisa dikembangkan yakni Pemandian Banyubiru, Kupang Kraton, perkebunan di sepanjang jalan menuju wisata serta budidaya jamur tiram dan bunga krisan.
References
Hakim, Luchman. 2004. Dasar-Dasar Ekowisata. Bayumedia Publishing. Malang
Fandeli, Chafid. 2000. Pengetahuan Ekowisata. Fakultas Kehutanan Universitas Gadjah Mada. Yogyakarta
Pemerintah Kabupaten Pasuruan. 2010. http://www.pasuruankab.go.id/potensi-58-pemandian alam-banyu-biru.html. Diakses pada tanggal 6 Mei 2014
Purwandari, E. Kristi. 2001. Pendekatan Kualitatif untuk Penelitian Perilaku Manusia. Universitas Indonesia. Jakarta
Abdurahman & Mulyani. 2003. Pemetaan Lahan Berpotensi untuk Pengembangan Kelapa. Jurnal Litbang Pertanian, Vol. 22, No. 1, Halaman: 24-32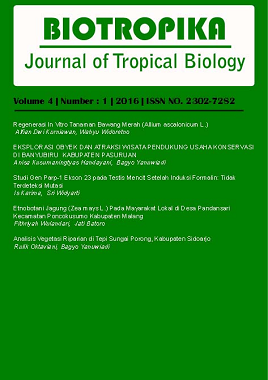 Downloads
License
Copyright and Attribution:
Articles in Biotropika: Journal of Tropical Biology are under Creative Commons Attribution (CC-BY-SA) copyright. The work has not been published before (except in the form of an abstract or part of a published lecture or thesis) and it is not under consideration for publication elsewhere. When the manuscript is accepted for publication in this journal, the authors agree to the automatic transfer of the copyright to the publisher.
Journal of Biotropika: Journal of Tropical Biology is licensed under a Creative Commons Attribution-ShareAlike 4.0 International License.
Permissions:
Authors wishing to include figures, tables, or text passages that have already been published elsewhere and by other authors are required to obtain permission from the copyright owner(s) for both the print and online format and to include evidence that such permission has been granted when submitting their papers. Any material received without such evidence will be assumed to originate from one of the authors.
Ethical matters:
Experiments with animals or involving human patients must have had prior approval from the appropriate ethics committee. A statement to this effect should be provided within the text at the appropriate place. Experiments involving plants or microorganisms taken from countries other than the author's own must have had the correct authorization for this exportation.