Uji Kualitatif dan Kuantitatif Isolat Bakteri Lipolitik dari Limbah Cair Pabrik Pengolahan Ikan Kecamatan Muncar, Banyuwangi
Abstract
Banyaknya industri pengolahan ikan di Muncar, Banyuwangi, menghasilkan limbah cair yang mengandung minyak ikan. Bakteri lipolitik yang hidup dalam limbah cair tersebut dapat menghidrolisis lipid menjadi asam lemak dan gliserol dengan memproduksi lipase. Tujuan penelitian ini adalah untuk mendapatkan isolat bakteri lipolitik yang unggul dari limbah cair pabrik ikan. Isolasi bakteri menggunakan media mineral sederhana, uji kualitatif enzim berdasarkan diameter zona bening menggunakan substrat minyak zaitun 5 % ditambah metil merah 0,01 %. Data diameter zona bening pada hari ke-7 inkubasi dianalisis menggunakan One-Way ANOVA dengan taraf signifikansi 95%. Aktivitas lipase dari 4 isolat dengan diameter zona bening tertinggi diuji secara kuantitatif dengan metode titrimetri menggunakan NaOH 0,03 N. Diameter zona bening isolat 1me, 3ma, 3mb, dan 3mc secara berurutan adalah 4,08±0,21 mm; 3,94±0,03 mm; 3,99±3,15 mm; dan 4,02±0,15 mm. Aktivitas lipase optimum isolat 1me,  3ma, 3mb, dan 3mc secara berurutan sebesar 3,52 U/ml (jam ke-24); 3,98 U/ml (jam ke-30);  3,74 U/ml (jam ke-34), dan 4,05 U/ml (jam ke-34).
References
Cooper, P.F., D.A. Hobson & Susan Jones. 1990. Sewage treatment by reed bed system. J. IWEM 3:11-14.
Esakkiraj, P., M. Rajkumarbharathi, A. Palavesam, G.Immanuel. 2009. Lipase production by Staphylococcus epidermidis CMST-Pi 1 isolated from the gut of shrimp Penaeus indicus. J. Ann Microbiol.; 60:37–42.
Eugene, W.S. 1974. Industrial application of microbial lipases : a review. J. Am. Oil Chem. Soc.;51(2): 12-16.
Falch, A. & E. Falch. 1991. Industrial Enzymes Developments In Production And Application. J. Biotechnol Adv.;9: 643-658.
Fuji, T., T. Tatara and M. Minagawa, 1986. Studies on Propionibacterium acnes lipase in seborrheic application of lipolytic enzyme in detergent dermatitis and other skin diseases and unsei-in. J. Am. Oil Chem. Soc.; 63: 796-799.
Haba, E., O. Bresco, C. Ferrer, A. Marques, M. Busquets, A. Manresa. 2000. Isolation of lipase secreting bacteria by deploying used frying oil as selective substrate. J. Enzyme Microbial. Techno;.26:40-44.
Hasan, F., A. S. Aamer, Hameed A. 2006. Industrial applications of microbial lipases. J. Enzyme Microbial. Tech.; 39;2: 235-251.
Higaki, S., M. Morohashi, 2003. Studies on Propionibacterium acnes lipase in seborrheic application of lipolytic enzyme in detergent dermatitis and other skin diseases and Unsei-in. industries. J. Am. Oil Chem. Soc., 63: 796-799.
Jaeger, K.E., Ransac S., Dijkstra B.W., Colson C., van Heuvel M., Misset O. 1994. Bacterial lipases. FEMS Microbiol. Rev. 15 (1994)29–63.
Joseph, B., P. Ramteke, G. Thomas. 2008. Cold active microbial lipases: Some hot issues and recent developments. J. Biotechnol. Ad.; 26:457–470.
Kurnia, D.R.D. 2010. Studi Aktivitas Enzim Lipase dari Aspergillus niger sebagai biokatalis pada proses gliserolisis untuk menghasilkan monoasilgliserol. Tesis Program Pascasarjana Jurusan Teknik Kimia Universitas Diponegoro. Semarang.
Linko, Y.Y., M. Lamsa, X. Wu, E. Uosukainen. 1998. Detection and determination of products by lipase biocatalyse. J. Biotechnol.; 66(1): 41-50.
Noureddini, H., X. Gao & R.S. Philkana. 2005. Immobilized Pseudomonas cepacia lipase for biodiesel fuel production from soybean oil. J. Bioresour. 269:5771-5779.
Rizqon, M. 2013. Pengaruh Pencemaran Limbah Cair Industri Pengolahan Ikan Terhadap Kualitas Air Tanah di Kecamatan Muncar Kabupaten Banyuwangi. Skripsi Sarjana Pendidikan. Program Pendidikan Geografi UM. Malang.
Setiyono & Satmoko Yudo. 2008. Dampak pencemaran lingkungan akibat limbah industri pengolahan ikan di Muncar (studi kasus kawasan industri pengolahan ikan di Muncar, Banyuwangi). JAI (4),1: 23-27..
Sharma, R., Y. Christi and U.C. Banerjee. 2001. Production, purification, characterization and production application of lipases. J. Biotech. Ad.;19:627-662.
Shu, Zhengyu, Lin R., Jiang H., Zhang Y., Wang M., Huang J. 2009. A rapid and efficient method for directed screening of lipase-producing Burkholderia cepacia complex strains with organic solvent tolerance from rhizosphere. J. Bioscience Bioengineering (107) 6; 658-661.
Snellman, E.A., E.R. Sullivan and R.R. Colwell, 2002. Purification and properties of the extracellular immobilized Pseudomonas cepacia lipase for lipase, LipA, of acinetobacter sp. RAG-1. J. Bioresour 269: 5771-5779.
Bajpai, P. 1999. Application of enzymes in the pulp and paper industry. J. Biotechnol. Progr; 15: 147-157.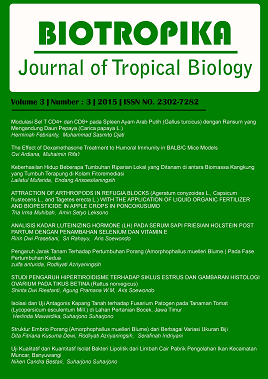 Downloads
License
Copyright and Attribution:
Articles in Biotropika: Journal of Tropical Biology are under Creative Commons Attribution (CC-BY-SA) copyright. The work has not been published before (except in the form of an abstract or part of a published lecture or thesis) and it is not under consideration for publication elsewhere. When the manuscript is accepted for publication in this journal, the authors agree to the automatic transfer of the copyright to the publisher.
Journal of Biotropika: Journal of Tropical Biology is licensed under a Creative Commons Attribution-ShareAlike 4.0 International License.
Permissions:
Authors wishing to include figures, tables, or text passages that have already been published elsewhere and by other authors are required to obtain permission from the copyright owner(s) for both the print and online format and to include evidence that such permission has been granted when submitting their papers. Any material received without such evidence will be assumed to originate from one of the authors.
Ethical matters:
Experiments with animals or involving human patients must have had prior approval from the appropriate ethics committee. A statement to this effect should be provided within the text at the appropriate place. Experiments involving plants or microorganisms taken from countries other than the author's own must have had the correct authorization for this exportation.