Pengaruh Pemberian Ekstrak Etanol Annona muricata Linn. terhadap Peningkatan Jumlah B220 pada Mus musculus
Abstract
Imunomodulator merupakan bahan yang dapat mengembalikan ketidakseimbangan sistem imun. Daun sirsak (Annona muricata) mempunyai senyawa-senyawa aktif yang berperan sebagai agen imunomodulator, salah satunya flavonoid. Penelitian ini bertujuan untuk mengetahui pengaruh ekstrak etanol daun sirsak terhadap peningkatan jumlah sel B220 pada mencit. Daun sirsak diekstrak menggunakan metode maserasi dan mesin rotatori evaporator. Selanjutnya ekstrak daun sirsak diberikan pada 4 kelompok mencit secara oral dengan dosis 0, 25, 50, dan 100 mg/kg BB setiap hari selama 2 minggu. Setelah perlakuan, dilakukan dislokasi pada mencit, kemudian sel-sel limfositnya diisolasi dari bone marrow dan dilakukan perhitungan jumlah sel dengan flowcytometry dan haemocytometer. Hasil penelitian menunjukkan bahwa pemberian ekstrak etanol daun sirsak (A. muricata) menunjukkan pengaruh signifikan terhadap peningkatan jumlah sel B220 sebesar 123 % dari 32.56 x 106 menjadi 72.7 x 106 pada dosis 50 mg/kg BB.
Kata kunci: ekstrak etanol, daun sirsak, sel B220
References
Widianto, M. 2011. Imunomodulator. www.scribd.com /doc/92831441/ft-immunomodulator. Diakses tanggal 15 Juni, 2012.
Saifulhaq, M. 2009. Pengaruh pemberian Ekstrak Buah Mahkota Dewa Dosis Bertingkat Terhadap Proliferasi Limfosit Lien pada Mencit BALB/C. Biomedika 1.2.33
Cell Science. 2012. B220. http://www. copewithcytokines.de/. Diakses tanggal 27 Juni, 2012.
Biotec, M. 2012. CD45R (B220) Antibodies Mouse. wwwmilterylbiotec.
com. Diakses tanggal 20 Juni, 2012
Middleton, E., Kandaswami C., dan Theoharides T.C. 2000. The Effect of Plant Flavonoids on Mammalian Cells: Implications for Inflamation, Heart Disease and Cancer. Pharmacological Reviews, 52 (4):673-751
Abbas A.K. 2005. Immunity to tumours In Celluler and Moleculer Immunology. WB Saunders Co. ed. 5th edition. Philadelphia.
Azizah, N.F. 2011. Efek Pemberian Tappak Liman terhadap Hematopoeisis Mencit model Anemia. Thesis. Universitas Brawijaya. Malang.
Lyu, S.Y. dan Park, W.B. 2005. Production of Cytokine and NO by RAW 264.7 Macropaghes and PBMC in vitro incubation with flavonoids. Arch. Pharm. Res. 28: 573-581
Peters, B., Schneider-Stock R, Boltze C, Jäger V, Epplen J, Landt O, Rys J, dan Roessner A. 2003. Elevated telomerase activity, c-MYC-, and hTERT mRNA expression: association with tumour progression in malignant lipomatous tumours. J Pathol, 199:517-525.
Dewi. L.K. 2013. Pengaruh Pemberian Ekstrak Etanol Daun Sirsak (Annona muricata Linn.) terhadap Peningkatan Jumlah Sel T CD4 dan CD8 pada Mencit (Mus musculus). Biotropica. Vol 1. No.1.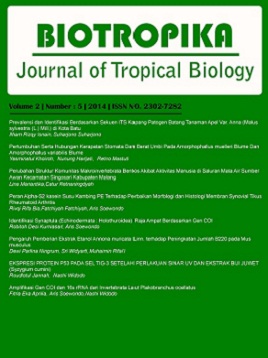 Downloads
License
Copyright and Attribution:
Articles in Biotropika: Journal of Tropical Biology are under Creative Commons Attribution (CC-BY-SA) copyright. The work has not been published before (except in the form of an abstract or part of a published lecture or thesis) and it is not under consideration for publication elsewhere. When the manuscript is accepted for publication in this journal, the authors agree to the automatic transfer of the copyright to the publisher.
Journal of Biotropika: Journal of Tropical Biology is licensed under a Creative Commons Attribution-ShareAlike 4.0 International License.
Permissions:
Authors wishing to include figures, tables, or text passages that have already been published elsewhere and by other authors are required to obtain permission from the copyright owner(s) for both the print and online format and to include evidence that such permission has been granted when submitting their papers. Any material received without such evidence will be assumed to originate from one of the authors.
Ethical matters:
Experiments with animals or involving human patients must have had prior approval from the appropriate ethics committee. A statement to this effect should be provided within the text at the appropriate place. Experiments involving plants or microorganisms taken from countries other than the author's own must have had the correct authorization for this exportation.