Comparison of Lysis Buffers for Saliva DNA Extraction using Modified Magnetic-Silica Nanoparticle Beads
Keywords:
beads, DNA concentration, DNA extraction, lysis buffer, nanoparticles
Abstract
Our previous study revealed that modified MAGSi (magnetic-silica nanopartivel beads) had various sizes and shapes that affected the DNA extraction process. In this study, we combined our MAGSi with several kinds of lysis buffer for DNA extraction to analyze the result. Human saliva DNA was extracted using three kinds of MAGSi. Each of them was made differently. We used ATL buffer, Triton Buffer, and without buffer for cell lysis. The concentration and purity of the extracted DNA were analyzed using spectrophotometry. Extracted DNA also was used as template DNA for DNA amplification using beta globin gene. This study revealed that our MAGSi-1 provided the best result for DNA concentration and purity. This study also revealed that DNA extraction using lysis buffer produced less concentration yield and purity value but it was more consistent. The concentration and purity value were different but consistent. All the extraction can be used as DNA template for amplification of human beta globin gene. Further studies are still needed to determine the effectiveness and consistency of the lysis buffer and our MAGSi.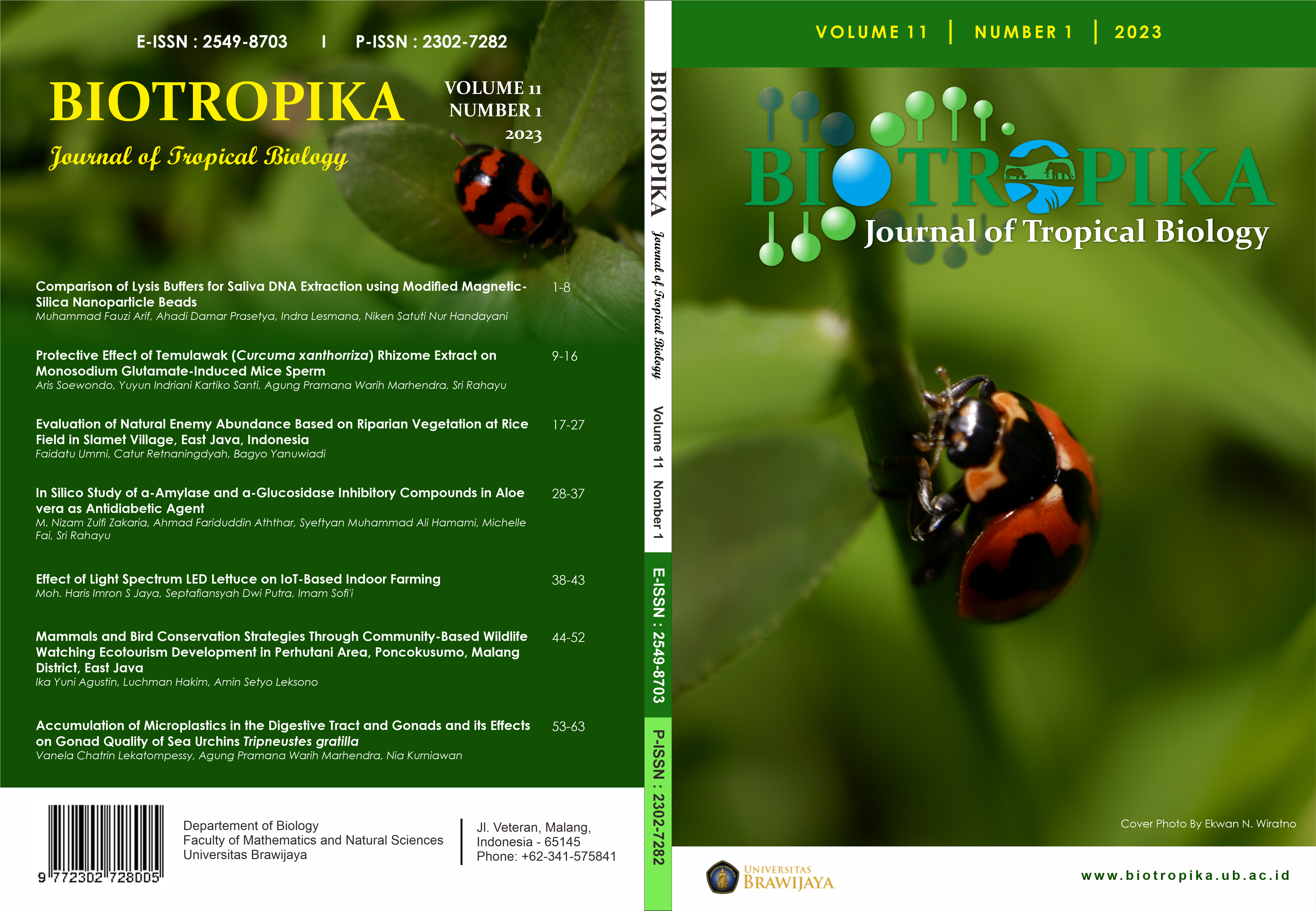 Downloads
License
Copyright (c) 2023 Biotropika: Journal of Tropical Biology
This work is licensed under a Creative Commons Attribution-NonCommercial 4.0 International License.
Copyright and Attribution:
Articles in Biotropika: Journal of Tropical Biology are under Creative Commons Attribution-NonCommercial (CC-BY-NC) copyright. The work has not been published before (except in the form of an abstract or part of a published lecture or thesis) and it is not under consideration for publication elsewhere. When the manuscript is accepted for publication in this journal, the authors agree to the automatic transfer of the copyright to the publisher.
Journal of Biotropika: Journal of Tropical Biology is licensed under a Creative Commons Attribution-NonCommercial 4.0 International (CC BY-NC 4.0).
Permissions:
Authors wishing to include figures, tables, or text passages that have already been published elsewhere and by other authors are required to obtain permission from the copyright owner(s) for both the print and online format and to include evidence that such permission has been granted when submitting their papers. Any material received without such evidence will be assumed to originate from one of the authors.
Ethical matters:
Experiments with animals or involving human patients must have had prior approval from the appropriate ethics committee. A statement to this effect should be provided within the text at the appropriate place. Experiments involving plants or microorganisms taken from countries other than the author's own must have had the correct authorization for this exportation.