Genomic Profile of OsCOMT in Indonesian Purple Rice
Keywords:
ferulic acid, genomic, Indonesian purple rice, OsCOMT
Abstract
The Indonesian purple rice (IPR), a crossbreeding of black and white rice, is a potential source of ferulic acid. Up to this point, the genomic similarity between the crossbreeding and its parentals has not been determined, particularly in genes involved in ferulic acid biosynthesis. In this present work, we analysed the profile of Oryza sativa caffeic acid-O-methyltransferase (OsCOMT) gene in IPR. The genomic DNA was extracted by CTAB method, then amplified with a specific primer of OsCOMT gene. The amplicon was sequenced by Sanger method and confirmed by geneID NC_029259.1. The IPR showed an amplicon of 708 bp sequence of the OsCOMT gene, indicating the gene involved in ferulic acid biosynthesis. The IPR gene profile is similar to the parentals, but there are variations in point mutations that distinguish it from the parentals. Aspartic acid was changed to Glutamine by mutations at positions 52, 69, and 79. We suggest that IPR has a novel OsCOMT gene variant that is unique as it is the crossbreed.
References
Saha S (2016) Black Rice : The New Age Super Food (An Extensive Review). Am. Int. J. A Res. Formal, Appl. Nat. Sci. 16 (1): pp. 51–55.
Fatchiyah F, Sari DRT, Safitri A, Cairns JRK (2020) Phytochemical compound and nutritional value in black rice from Java Island, Indonesia. Syst. Rev. Pharm. 11 (7): pp. 414–421, 2020, doi: 10.31838/srp.2020.7.61.
Seechamnanturakit V, Karrila TT, Sontimuang C, Sukhoom A (2018) The natural pigments in pigmented rice bran and their relation to human health: A literature review. KMUTNB Int. J. Appl. Sci. Technol. 11 (1): 3–13. doi: 10.14416/j.ijast.2018.01.004.
Sivamaruthi BS, Kesika P, Chaiyasut C (2018) Anthocyanins in Thai rice varieties: Distribution and pharmacological significance. Int. Food Res. J. 25 (5): 2024–2032.
Wijayanti ED, Safitri A, Siswanto D, Triprisila LF, Fatchiyah F (2021) Antimicrobial activity of ferulic acid in Indonesian purple rice through toll-like receptor signaling. Makara J. Sci. 25 (4): 247–257. doi: 10.7454/mss.v25i4.1266.
Kristamtini, Taryono, Basunanda P, Murti RH (2019) Inheritance of pericarp pigment on crossing between black rice and white rice. Songklanakarin J. Sci. Technol. 41 (2): 383–388. doi: 10.14456/sjst-psu.2019.48.
Wongwichai T, Teeyakasem P, Pruksakorn D, Kongtawelert P, Pothacharoen P (2019) Anthocyanins and metabolites from purple rice inhibit IL-1β-induced matrix metalloproteinases expression in human articular chondrocytes through the NF-κB and ERK/MAPK pathway. Biomed. Pharmacother. 112: 108610. doi: 10.1016/j.biopha.2019.108610.
Lourith N, Kanlayavattanakul M (2012) Antioxidant color of purple glutinous rice (Oryza sativa) color and its stability for cosmetic application. Adv. Sci. Lett. 17 (1): 302–305. doi: 10.1166/asl.2012.4263.
Shimoda H, Aitani M, Tanaka J, Hitoe S (2015) Purple rice extract exhibits preventive activities on experimental diabetes models and human subjects. Rice Res. Open Access. 03 (02): 2–5. doi: 10.4172/2375-4338.1000137.
Zhang H, Shao Y, Bao J, Beta T (2015) Phenolic compounds and antioxidant properties of breeding lines between the white and black rice. Food Chem. 172: 630–639. doi: 10.1016/j.foodchem.2014.09.118.
Huang YP, Lai HM (2016) Bioactive compounds and antioxidative activity of colored rice bran. J. Food Drug Anal. 24 (3): 564–574. doi: 10.1016/j.jfda.2016.01.004.
Mbanjo EGN et al (2020) The genetic basis and nutritional benefits of pigmented rice grain. Front. Genet. 11: 1–18. doi: 10.3389/fgene.2020.00229.
de Paiva LB, Goldbeck R, dos Santos WD, Squina FM (2013) Ferulic acid and derivatives: Molecules with potential application in the pharmaceutical field. Brazilian J. Pharm. Sci. 49 (3): 395–411. doi: 10.1590/S1984-82502013000300002.
Tang Y et al. (2019) Correlation analysis of lignin accumulation and expression of key genes involved in lignin biosynthesis of ramie (Boehmeria nivea). Genes (Basel). 10 (5): 1–13. doi: 10.3390/genes10050389.
de Oliveira DM et al. (2015) Ferulic acid: A key component in grass lignocellulose recalcitrance to hydrolysis. Plant Biotechnol. J. 13 (9): 1224–1232. doi: 10.1111/pbi.12292.
Guo D, Chen F, Inoue K, Blount JW, Dixon RA (2001) Downregulation of caffeic acid 3-O-methyltransferase and caffeoyl CoA 3-O-methyltransferase in transgenic alfalfa: Impacts on lignin structure and implications for the biosynthesis of G and S lignin. Plant Cell. 13 (1): 73–88. doi: 10.1105/tpc.13.1.73.
Fatchiyah, Arumingtyas EL, Widyarti S, Rahayu S (2011) Biologi molekuler: Prinsip dasar analisis. Erlangga. Jakarta.
Sari DRT, Paemanee A, Roytrakul S, Cairns JRK, Safitri A, Fatchiyah F (2021) Black rice cultivar from Java Island of Indonesia revealed genomic, proteomic, and anthocyanin nutritional value. Acta Biochim. Pol. 68 (5386): 1–9.
Hermawan I, Amin M, Suhadi (2022) Genetic diversity of springtails (Collembola subclass) based o n cytochrome oxidase subunit I (COI) genes in Malang. BIOTROPIKA J. Trop. Biol. 10 (1): 67–77. doi: 10.21776/ub.biotropika.2022.010.01.09.
Tambunan SH, Meidinna HN, Rohmah RN, Fatchiyah F (2019) Genomic profile of rIR and rIRR in type 2 diabetes mellitus rat model toward effect of goat milk CSN1S2 protein. J. Phys. Conf. Ser. 1374 (1): 1–6. doi: 10.1088/1742-6596/1374/1/012046.
Silva E de O, Batista R (2017) Ferulic acid and naturally occurring compounds bearing a feruloyl moiety: A review on their structures, occurrence, and potential health benefits. Compr. Rev. Food Sci. Food Saf. 16 (4): 580–616. doi: 10.1111/1541-4337.12266.
Trabucco G et al. (2013) Functional characterization of cinnamyl alcohol dehydrogenase and caffeic acid O-methyltransferase in Brachypodium distachyon. BMC Biotechnol. 13 (61): 1–18.
Fukumoto K et al. (2022) Excess S-adenosylmethionine inhibits methylation via catabolism to adenine. Commun. Biol. 5 (313): 1–15. doi: 10.1038/s42003-022-03280-5.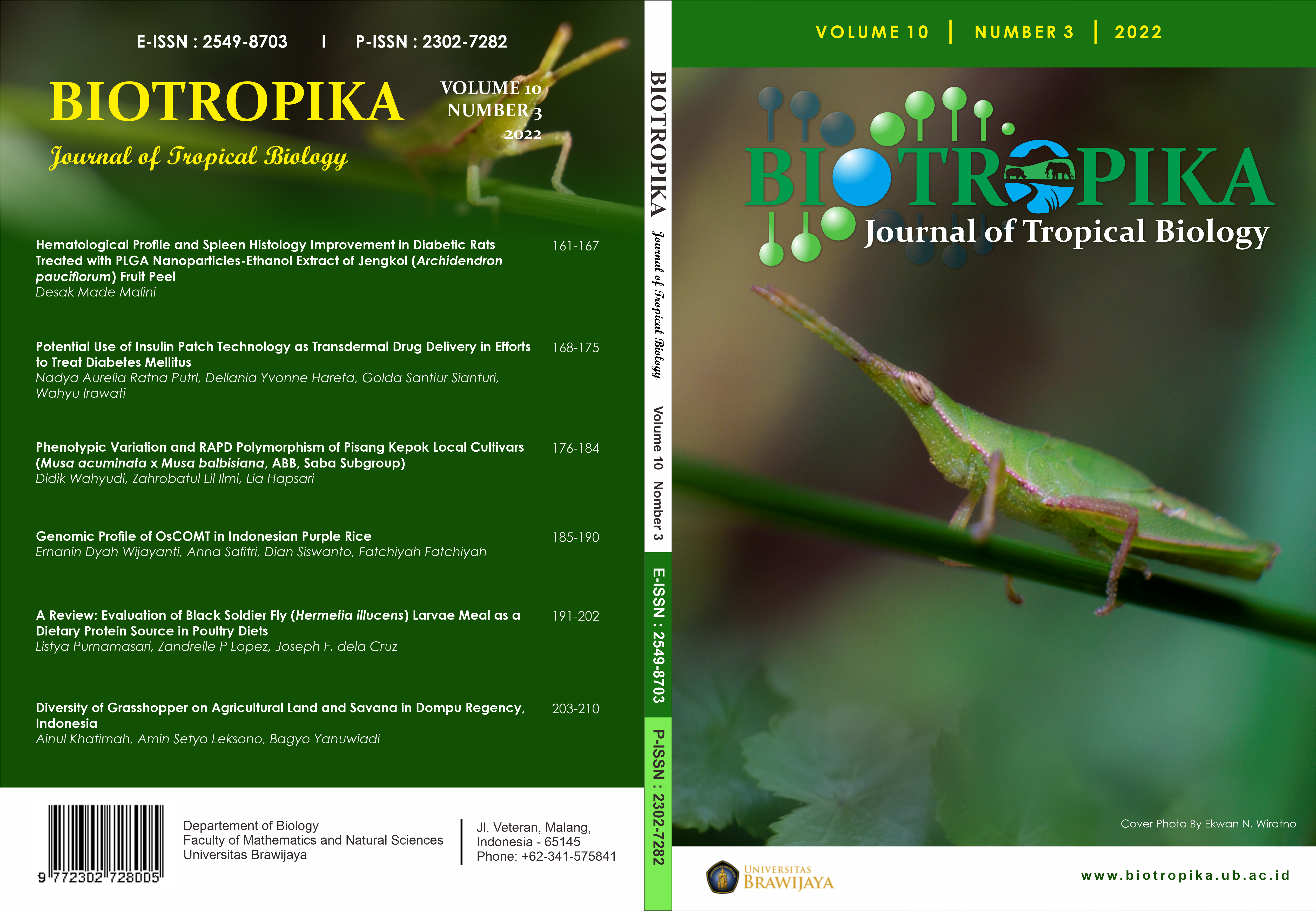 Downloads
License
Copyright and Attribution:
Articles in Biotropika: Journal of Tropical Biology are under Creative Commons Attribution-NonCommercial (CC-BY-NC) copyright. The work has not been published before (except in the form of an abstract or part of a published lecture or thesis) and it is not under consideration for publication elsewhere. When the manuscript is accepted for publication in this journal, the authors agree to the automatic transfer of the copyright to the publisher.
Journal of Biotropika: Journal of Tropical Biology is licensed under a Creative Commons Attribution-NonCommercial 4.0 International (CC BY-NC 4.0).
Permissions:
Authors wishing to include figures, tables, or text passages that have already been published elsewhere and by other authors are required to obtain permission from the copyright owner(s) for both the print and online format and to include evidence that such permission has been granted when submitting their papers. Any material received without such evidence will be assumed to originate from one of the authors.
Ethical matters:
Experiments with animals or involving human patients must have had prior approval from the appropriate ethics committee. A statement to this effect should be provided within the text at the appropriate place. Experiments involving plants or microorganisms taken from countries other than the author's own must have had the correct authorization for this exportation.