Inhibitory Test of Gentamicin Antibiotics Against Escherichia coli and Staphylococcus aureus Bacteria Using Disc Method
Keywords:
antibiotics, gentamicin, Escherichia coli, Staphylococcus aureus, disc method
Abstract
Escherichia coli and Staphylococcus aureus are bacteria that often cause health problems and diseases in humans, such as digestive disorders (diarrhea), or skin disorders (boils). Gentamicin is one of the most widely used antibiotics from the aminoglycoside group. Gentamicin is widely used as an antibiotic for both minor infections due to bacteria or moderate infections due to fungal or viral infections. The purpose of this study was to determine the inhibition and effectiveness of gentamicin in inhibiting the growth of E. coli and S. aureus and to determine the pattern of sensitivity of these bacteria to gentamicin. This research method was a completely randomized design with one way ANOVA, and further test using Duncan's test, with a total of 10 experimental units for each bacterium with 2 replications, then the data were analyzed using SPSS v.25.0 software. The results showed that the antibiotic gentamicin could inhibit the growth of E. coli and S. aureus. Gentamicin inhibited the growth of E. coli bacteria with the smallest inhibition zone value was 17 mm, the highest was 22.5 mm, and against S. aureus the lowest was 15.5 mm and the highest was 18.5 mm with the percentage of inhibition ability (inhibition) sensitive category for E. coli was 90%, S. aureus 60%, while the intermediate category for E. coli was 10% and S. aureus was 40%.
References
R. H. Kusriani, A. Nawawi, and T. Turahman, "Uji Aktivitas Antibakteri Ekstrak Dan Fraksi Kulit Batang Dan Daun Sungkai (Peronema Canescens Jack) Terhadap Staphylococcus Aureus Atcc 25923 Dan Escherichia Coli ATCC 25922,†J. Farm. Galen., vol. 2, no. 1, pp. 8–14, 2015.
S. M. Mates, E. S. Eisenberg, L. J. Mandel, L. Patel, H. R. Kaback, and M. H. Miller, "Membrane potential and gentamicin uptake in Staphylococcus aureus,†Proc. Natl. Acad. Sci. U. S. A., vol. 79, no. 21 I, pp. 6693–6697, 1982, doi: 10.1073/pnas.79.21.6693.
A. Mukti, A. Harris, and D. Masyitha, "Resistensi Escherichia coli terhadap AnRtibiotik dari Daging Ayam Broiler di Pasar Rukoh,†Jimvet, vol. 01, no. 3, pp. 492–498, 2017.
P. Ramadheni, H. Mukhtar, and D. Prahmono, "Uji aktivitas antibakteri ekstrak etanol daun katuk (Sauropus androgynus (L.) Merr) terhadap bakteri Staphylococcus aureus dan Eschericia coli dengan metode difusi agar,†Indones. Nat. Res. Pharm. J., vol. 3, no. 2, pp. 34–45, 2018.
N. O. Rachman, M. D. Prenggono, and L. Y. Budiarti, "Uji Sensitivitas Bakteri Penyebab Infeksi Saluran Kemih Pada Pasien Diabetes Melitus Terhadap Seftriakson, Levofloksasin, Dan Gentamisin,†Berk. Kedokt., vol. 12, no. 2, p. 205, 2016, doi: 10.20527/jbk.v12i2.1871.
L. A'lana, R. Sari, and P. Apridamayanti, "Penentuan Nilai FICI Kombinasi Ekstrak Etanol Kulit Daun Lidah Buaya (Aloe vera (L) Burm.f) dan Gentamisin Sulfat Terhadap Bakteri Escherichia coli FICI value determination of combination of Aloe vera (L) Burm.f ethanol extract with gentamycin sulphate ag,†Pharm Sci Res, vol. Vol.4 No.3, pp. 132–142, 2017.
A. Basit, R. Sari, and S. Luliana, "Optimasi aktivitas antibakteri rutin daun singkong (Manihot esculenta Crantz.)-gentamisin sulfatT terhadap bakteri Staphylococcus aureus,†J. Mhs. Farm. Fak. Kedokt. UNTAN, vol. 4, no. 1, pp. 1–10, 2019.
A. Tiwari, P. Sharma, B. Vishwamitra, and G. Singh, "Review on surface treatment for implant infection via gentamicin and antibiotic releasing coatings,†Coatings, vol. 11, no. 8, pp. 1–21, 2021, doi: 10.3390/coatings11081006.
F. Husen, N. I. Ratnaningtyas, S. Samiyarsih, and J. S. Muljowati, "Soybean Selection Against Cercospora Leaf Blight Disease Caused By Cercospora kikuchii Based on Anatomical Resistance,†Biosaintifika J. Biol. Biol. Educ., vol. 14, no. 1, pp. 90–102, 2022.
Z. Yalinca, E. Yilmaz, B. Taneri, and F. T. Bullici, "A comparative study on antibacterial activities of chitosan based products and their combinations with gentamicin against S. epidermidis and E. coli,†Polym. Bull., vol. 70, no. 12, pp. 3407–3423, 2013, doi: 10.1007/s00289-013-1030-0.
M. Simoes, S. Rocha, M. Coimbra, and M. Vieira, "Enhancement of Escherichia coli and Staphylococcus aureus Antibiotic Susceptibility Using Sesquiterpenoids,†Med. Chem. (Los. Angeles)., vol. 4, no. 6, pp. 616–623, 2008, doi: 10.2174/157340608786242016.
D. Astrini, W. Singgih, and I. lma Nugrahani, "Aktivitas Antibakteri Madu Pahit Terhadap Bakteri Gram Negatif dan Gram Positif Serta Potensinya Dibandingkan Terhadap Antibiotik Kloramfenikol, Oksitetrasiklin dan Gentamisin,†Acta Pharm. Indones., vol. 39, no. 3 & 4, pp. 75–83, 2014.
S. Hamid, P. H. Widjajanto, and I. S. Laksono, "Evaluasi Sensitivitas Antibiotik dengan Demam Neutropenia,†Sari Pediatr., vol. 15, no. 4, p. 220, 2016, doi: 10.14238/sp15.4.2013.220-4.
D. O. Barus, K. T. P. Gelgel, and I. G. K. Suarjana, "Uji Kepekaan Bakteri Esherichia coli Asal Ayam Pedaging terhadap,†Indones. Med. Vaterinus, vol. 2, no. 5, pp. 538–545, 2013.
N. A. Mazlan et al., "Synergistic antibacterial activity of mangiferin with antibiotics against Staphylococcus aureus,†Drug Invent. Today, vol. 12, no. December, pp. 14–17, 2019.
B. Chudlori, M. Kuswandi, and P. Indrayudha, "Pola kuman dan resistensinya terhadap antibiotika dari spesimen pus di RSUD Dr. Moerwadi tahun 2012,†Pharmacon Pharm. J. Indones., vol. 13, no. 2, pp. 70–76, 2012.
H. R. Bakhsheshi-Rad et al., "In vitro and in vivo evaluation of chitosan-alginate/gentamicin wound dressing nanofibrous with high antibacterial performance,†Polym. Test., vol. 82, no. December 2019, p. 106298, 2020, doi: 10.1016/j.polymertesting.2019.106298.
J. L. Kadurugamuwa and T. J. Beveridge, "Bacteriolytic effect of membrane vesicles from Pseudomonas aeruginosa on other bacteria including pathogens: Conceptually new antibiotics,†J. Bacteriol., vol. 178, no. 10, pp. 2767–2774, 1996, doi: 10.1128/jb.178.10.2767-2774.1996.
Z. Khaira Ummah, N. Sari, J. Fortuna, and E. Boy, "Perbandingan Efektifitas Chitosan Sisik Ikan Bandeng Dengan Gentamisin Terhadap Perkembangan Escherichia Coli,†Yars. Med. J., vol. 25, no. 2, p. 108, 2017, doi: 10.33476/jky.v25i2.358.
[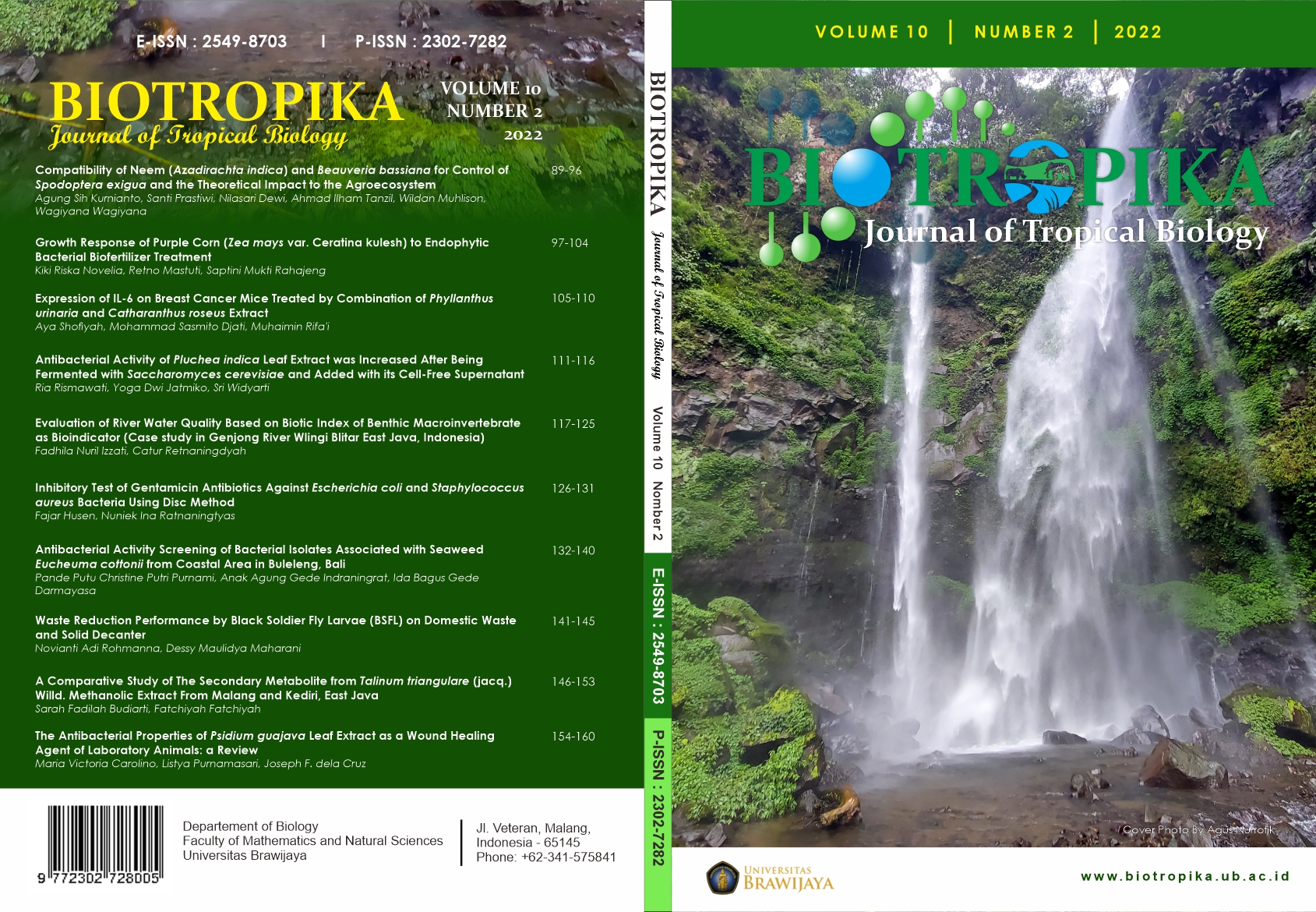 Downloads
License
Copyright and Attribution:
Articles in Biotropika: Journal of Tropical Biology are under Creative Commons Attribution (CC-BY-SA) copyright. The work has not been published before (except in the form of an abstract or part of a published lecture or thesis) and it is not under consideration for publication elsewhere. When the manuscript is accepted for publication in this journal, the authors agree to the automatic transfer of the copyright to the publisher.
Journal of Biotropika: Journal of Tropical Biology is licensed under a Creative Commons Attribution-ShareAlike 4.0 International License.
Permissions:
Authors wishing to include figures, tables, or text passages that have already been published elsewhere and by other authors are required to obtain permission from the copyright owner(s) for both the print and online format and to include evidence that such permission has been granted when submitting their papers. Any material received without such evidence will be assumed to originate from one of the authors.
Ethical matters:
Experiments with animals or involving human patients must have had prior approval from the appropriate ethics committee. A statement to this effect should be provided within the text at the appropriate place. Experiments involving plants or microorganisms taken from countries other than the author's own must have had the correct authorization for this exportation.