Antibacterial Activity Screening Of Bacterial Isolates Associated With Seaweed <i>Eucheuma cottonii</i> From Coastal Area In Buleleng, Bali
Keywords:
antibacterial, Eucheuma cottonii, isolation, seaweed
Abstract
Seaweeds like other marine organisms develop a strong association with prokaryotic communities, especially bacteria. Many of these associated bacteria play an important role in synthesizing secondary metabolites which are beneficial for their host, especially against predation or infection. In Indonesia, Eucheuma cottonii is one of the seaweed species that has been cultivated widely.  However, only limited study has been reported on bacterial isolates and their antibacterial activity from E. cottonii.  Bacterial isolates from E. cottonii were cultivated in six agar media namely Zobell Marine Agar, Nutrient Agar, Plate Count Agar, ISP-1, ISP-2, and Starch-M protein agar. Cultivation of bacterial isolates yielded 23 isolates with nine bacterial isolates were classified as Gram-positive bacteria and 14 isolates were grouped among Gram-negative bacteria. All the bacterial isolates were screened for their antibacterial activity against six bacterial indicator strains namely Staphylococcus aureus ATCC 25923, Streptococcus mutans FNCC 0405, Escherichia coli ATCC 25922, and Klebsiella pneumoniae ATCC 700603 using perpendicular streak and agar block method. Six out of 23 bacterial isolates displayed antibacterial activity against at least one of the bacterial indicator strains. The bacterial isolate ISP1RL4 showed the highest antibacterial activity with average inhibition of  > 20 mm against all bacterial indicators. Overall, our result indicated the potential of bacterial isolates associated with E. cottonii as an antibacterial producer.
References
Sarmah, P., Dan, M. M., Adapa, D., & TK, S. (2018). A review on common pathogenic microorganisms and their impact on human health. Electronic Journal of Biology, 14(1), 50–58.
Khan, A. H., Baig, F. K., & Mehbob, R. (2018). Nosocomial infections: Epidemiology, prevention, control, and surveillance. Asian Pacific Journal of Tropical Biomedicine, 7(5), 478-482. https://doi.org/10.1016/j.apjtb.2017.01.019
Nagel, T. E., Chan, B. K., De Vos, D., El-Shibiny, A., Kang'ethe, E. K., Makumi, A., & Pirnay, J-P. (2016) The Developing World Urgently Needs Phages to Combat Pathogenic Bacteria. Front. Microbiol. 7:882. https://doi.org/10.3389/fmicb.2016.00882.
WHO (2020) Antimicrobial resistance. https://www.who.int/news-room/fact-sheets/detail/antimicrobial-resistance.
Ali, S. M., Siddiqui, R., & Khan, N. A. (2018) Antimicrobial discovery from natural and unusual sources. Journal of Pharmacy and Pharmacology, 70(10):, 1287–1300.
Cox, G., Sieron, A., King, A. M., De Pascale, G., Pawlowski, A. C., Koteva, K., & Wright, G. D. (2017). A Common Platform for Antibiotic Dereplication and Adjuvant Discovery. Cell Chemical Biology, 24(1), 98–109. https://doi.org/10.1016/j.chembiol.2016.11.011.
Hai, Y., Wei, M. Y., Wang, C. Y., Gu, Y. C., & Shao, C. L (2021) The intriguing chemistry and biology of sulfur-containing natural products from marine microorganisms (1987–2020). Marine Life Science and Technology, 3(4), 488–518. https://doi.org/10.1007/s42995-021-00101-2
Indraningrat, A. A. G., Smidt, H., & Sipkema, D. (2016). Bioprospecting Sponge-Associated Microbes for Antimicrobials Compounds. Mar. Drugs, 14(5), 87. https://doi.org/10.3390/md14050087.
Schneemann, I., Kajahn, I., Ohlendorf, B.; Zinecker, H., Erhard, A., Nagel, K., Wiese, J., Imhoff, J.F. Mayamycin, a cytotoxic polyketide from a Streptomyces strain isolated from the marine sponge Halichondria panicea. J. Natl. Prod., 73, 1309–1312. https://doi.org/10.1021/np100135.
Macedo, M. W. F. S., Cunha, N. B., Carneiro, J. A., Costa, R. A., Alencar, S. A., Cardoso, M. H., Franco, O. L., & Dias, S. C. (2021). Marine Organisms as a Rich Source of Biologically Active Peptides. Front. Mar. Sci., 8, 667764. https://doi.org/10.3389/fmars.2021.667764.
Liao, Z., Wang, X., Liu, H., Fan, M., Sun, J., and Shen, W. (2013). Molecular characterization of a novel antimicrobial peptide from Mytilus coruscus. Fish Shellfish Immunol. 34, 610–616. https://doi.org/10.1016/j.fsi.2012.11.030.
Salehi, B., Sharifi-Rad, J., Seca, A. M. L., Pinto, D. C. G. A., Michalak, I., Trincone, A., Mishra, A. P., Nigam, M., Zam, W., & Martins, N (2019) Current trends on seaweeds: Looking at chemical composition, phytopharmacology, and cosmetic applications. Molecules, 24(22).
Karpinksi, T. M., & Adamczak, A. (2019). Fucoxanthin—An Antibacterial Carotenoid. Antioxidants (Basel), 8(8), 239. https://doi.org/ 10.3390/antiox8080239
Shannon, E., & Abu-Ghannam, N. (2016). Antibacterial Derivatives of Marine Algae: An Overview of Pharmacological Mechanisms and Applications. Mar. Drugs, 14(40: 81. https://doi.org/10.3390%2Fmd14040081.
Singh, R. P., & Reddy, C. R. K (2014) Seaweed-microbial interactions: Key functions of seaweed-associated bacteria. FEMS Microbiology Ecology, 88(2):, 213–230.
Egan, S., Harder, T., Burke, C., Steinberg, P., Kjelleberg, S., & Thomas, T (2013) The seaweed holobiont: Understanding seaweed-bacteria interactions. FEMS Microbiology Reviews, 37(3):, 462–476.
Anandan, R., Dharumadurai, D., & Manogaran, G. P. (2016). An Introduction to Actinobacteria. Actinobacteria - Basics and Biotechnological Apllications. IntechOpen.
Ulfah, M., Kasanah, N., & Handayani, N. S. N (2018) Bioactivity and genetic screening of marine actinobacteria associated with red algae Gelidiella acerosa. Indonesian Journal of Biotechnology, 22(1), 13–21. https://doi.org/10.22146/ijbiotech.25920
Braña, A. F., Fiedler, H. P., Nava, H., González, V., Sarmiento-Vizcaíno, A., Molina, A., Acuña, J. L., García, L. A., & Blanco, G (2015) Two Streptomyces Species Producing Antibiotic, Antitumor, and Anti-Inflammatory Compounds Are Widespread Among Intertidal Macroalgae and Deep-Sea Coral Reef Invertebrates from the Central Cantabrian Sea. Microbial Ecology, 69(3), 512–524. https://doi.org/10.1007/s00248-014-0508-0
Uzair, B., Menaa, F., Khan, B. A., Mohammad, F. V., Ahmad, V. U., Djeribi, R., & Menaa, B (2018) Isolation, purification, structural elucidation and antimicrobial activities of kocumarin, a novel antibiotic isolated from actinobacterium Kocuria marina CMG S2 associated with the brown seaweed Pelvetia canaliculata. Microbiological
Research, 206, 186–197.https://doi.org/10.1016/j.micres.2017.10.007
Negara, B. F. S. P., Riyanti, ., Marhaeni, B., & Kusuma, A. B (2016) Antibacterial activity of Actinomycetes symbiont with seaweeds: a prosperous agent of animal antibacterial. Aceh Journal of Animal Science, 1(2), 45–49. https://doi.org/10.13170/ajas.1.2.4475
Girão, M., Ribeiro, I., Ribeiro, T., Azevedo, I. C., Pereira, F., Urbatzka, R., Leão, P. N., & Carvalho, M. F (2019) Actinobacteria isolated from laminaria ochroleuca: A source of new bioactive compounds. Frontiers in Microbiology, 10(APR), 1–13. https://doi.org/10.3389/fmicb.2019.00683
Wiese, J., Thiel, V., Nagel, K., Staufenberger, T., & Imhoff, J. F. (2009) Diversity of antibiotic active bacteria associated with the brown alga Laminaria saccharina from the Baltic Sea. Mar Biotechnol, 11: 287–300. https://doi.org/10.1007/s10126-008-9143-4.
Hendrawati, T. Y (2016) Pengolahan Rumput Laut dan Kelayakan Industrinya. UMJ Press.
Hafsan, H., Aziz, I., Sukmawaty, E., S, S., Hasyimuddin, H., Zulkarnain, Z., & Hajrah, H (2019) Antibiotic Activity of Endophytic Bacteria isolated from Euchema cottonii of North Galesong Sea, Takalar. June. https://doi.org/10.4108/eai.2-5-2019.2284688
Sulistyani, N., & Akbar, A. N (2014) Aktivitas Isolat Actinomycetes dari Rumput Laut (Eucheuma cottonii) sebagai Penghasil Antibiotik terhadap Staphylococcus aureus dan Escherichia coli (Activity of Actinomycetes Isolate from Seeweed (Eucheuma cottonii) as Antibiotic Producer against St. Jurnal Ilmu Kefarmasian Indonesia, 12(1), 1–9.
Nur, F., Masri, M., Muthiadin, C., Masriany, M., Latif, U., Rukmana, R., Mustami, M., & Reskianti, R (2019) Isolation and Identification of Endophytic Microbes from Eucheuma cottonii of North Galesong Sea, Takalar District. International Conference on Science and Technology, January. https://doi.org/10.4108/eai.2-5-2019.2284687.
Togatorop, A. P., Dirgayusa, I. G. N. P., & Puspitha, N. L. P. R (2017) Studi Pertumbuhan Rumput Laut Jenis Kotoni (Eucheuma cottonii) dengan Menggunakan Metode Kurung Dasar dan Lepas Dasar di Perairan Geger, Bali. Journal of Marine and Aquatic Sciences, 3(1), 47–58. https://doi.org/10.24843/jmas.2017.v3.i01.47-58.
Wiryana, I. W. S. A., Edi, D. G. S., & Kawana, I. M (2018) Potensi Pengembangan Budidaya Rumput Laut Eucheuma Cottonii Di Kawasan Perairan Kelurahan Serangan Kota Denpasar Berbasis Sistem Informasi Geografis. Gema Agro, 23(1), 92–103. https://doi.org/10.22225/ga.23.1.663.92-103.
Indraningrat, A. A. G., Micheller, S., Runderkamp, M., Sauerland, I., Becking, L. E., Smidt, H., & Sipkema, D (2019) Cultivation of Sponge-Associated Bacteria from Agelas sventres and Xestospongia muta Collected from Different Depths. Marine Drugs, 17(10). https://doi.org/10.3390/md17100578.
Smith, A. C., & Hussey, M. A (2005) Gram stain protocols. American Society for Microbiology.https://www.asmscience.org/content/education/protocol/protocol.2886.
Reiner, K (2013) Catalase Test. https://asm.org/getattachment/72a871fc-ba92-4128-a194-6f1bab5c3ab7/Catalase-Test-Protocol.pdf.
Boontanom, P., & Chantarasiri, A (2020) Short communication: Diversity of culturable epiphytic bacteria isolated from seagrass (Halodule uninervis) in Thailand and their preliminary antibacterial activity. Biodiversitas, 21(7):, 2907–2913.
Nedialkova, D., & Naidenova, M (2005) Screening The Antimicrobial Activity Of Actinomycetes Strains Isolated From Antartica. Journal Of Culture Collections, 4, 29–35.
Retnowati, Y (2017) Isolasi dan Uji Aktivitas Antibakteri Actinomycetes dari Rhizosfer Bakau di Hutan Bakau Torosiaje Gorontalo. Seminar Nasional Pendidikan Biologi Dan Saintek II, 1–10.
Wilson, W., Purwestri, Y. A., & Sembiring, L (2017) Isolasi, Karakterisasi dan Skrining Antimikrobia Bakteri Endofit Tanaman Purwoceng (Pimpinella pruatjan Molk.). Jurnal Labora Medika, 1(1), 01–06.
Wang, F., Li, M., Huang, L., & Zhang, X. H (2021) Cultivation of uncultured marine microorganisms. Marine Life Science and Technology, 3(2), 117–120. https://doi.org/10.1007/s42995-021-00093-z.
Reguera, G (2016) The Great Plate Count Anomaly. In In the Company of Microbe (pp. 288–291).
Goecke, F., Labes, A., Wiese, J., & Imhoff, J. F (2010) Review chemical interactions between Marine macroalgae and bacteria. Marine Ecology Progress Series, 409, 267–300. https://doi.org/10.3354/meps08607.
Hettiarachchi, S. A., Lee, S. J., Lee, Y., Kwon, Y. K., De Zoysa, M., Moon, S., Jo, E., Kim, T., Kang, D. H., Heo, S. J., & Oh, C (2017) A rapid and efficient screening method for antibacterial compound-producing bacteria. Journal of Microbiology and Biotechnology, 27(8), 1441–1448. https://doi.org/10.4014/jmb.1703.03012.
Velho-Pereira, S., & Kamat, N. M (2011) Antimicrobial Screening of Actinobacteria using a Modified Cross-Streak Method.
Indryani, V., Chiuman, L., Wijaya, L. L., Lister, G., & Grandis, L (2020) Antibacterial Effect of Curcuma zedoaria Extract on Bacillus cereus and Staphylococcus epidermidis. 7(March), 6–10.
Awad, H. M., El-Shahed, K. Y. I., Aziz, R., Sarmidi, M. R., & El-Enshasy, H. A. (2012). Antibiotics as Microbial Secondary Metabolites: Production and Application. Jurnal Teknologi (Sciences & Engineering), 59(1), 101-111.
Epand, R. M., Walker, C., Epand, R. F., & Magarvey, N. A (2016) Molecular mechanisms of membrane targeting antibiotics. Biochimica et Biophysica Acta - Biomembranes, 1858(5), 980–987.https://doi.org/10.1016/j.bbamem.2015.10.018.
Ouchari, L., Boukeskasse, A., Bouizgarne, B., & Ouhdouch, Y(2019) Antimicrobial potential of actinomycetes isolated from the unexplored hot Merzouga desert and their taxonomic diversity. Biology Open, 8(2). https://doi.org/10.1242/bio.035410.
Barka, E. A., Vatsa, P., Sanchez, L., Gaveau-vaillant, N., Jacquard, C., Klenk, H., Clément, C., Ouhdouch, Y., & Wezel, P. Van (2016) Taxonomy , Physiology , and Natural Products of Actinobacteria. 80(1), 1–43. https://doi.org/10.1128/MMBR.00019-15.
Li, Q., Chen, X., Jiang, Y., & Jiang, C (2016) Morphological Identification of Actinobacteria. Actinobacteria - Basics and Biotechnological Applications, https://doi.org/10.5772/61461.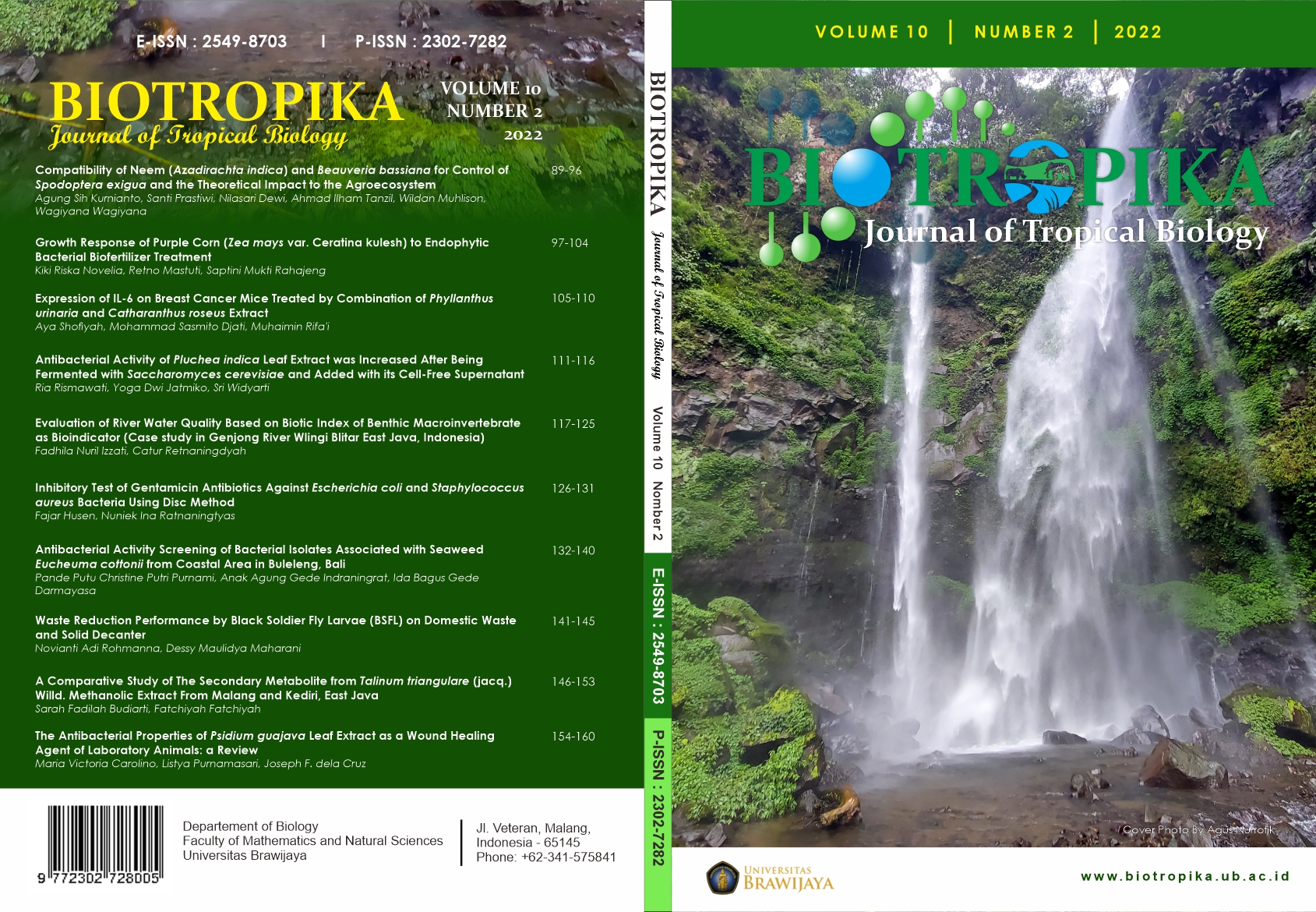 Downloads
License
Copyright and Attribution:
Articles in Biotropika: Journal of Tropical Biology are under Creative Commons Attribution (CC-BY-SA) copyright. The work has not been published before (except in the form of an abstract or part of a published lecture or thesis) and it is not under consideration for publication elsewhere. When the manuscript is accepted for publication in this journal, the authors agree to the automatic transfer of the copyright to the publisher.
Journal of Biotropika: Journal of Tropical Biology is licensed under a Creative Commons Attribution-ShareAlike 4.0 International License.
Permissions:
Authors wishing to include figures, tables, or text passages that have already been published elsewhere and by other authors are required to obtain permission from the copyright owner(s) for both the print and online format and to include evidence that such permission has been granted when submitting their papers. Any material received without such evidence will be assumed to originate from one of the authors.
Ethical matters:
Experiments with animals or involving human patients must have had prior approval from the appropriate ethics committee. A statement to this effect should be provided within the text at the appropriate place. Experiments involving plants or microorganisms taken from countries other than the author's own must have had the correct authorization for this exportation.