The Antibacterial Properties of <i>Psidium guajava</i> Leaf Extract as a Wound Healing Agent of Laboratory Animals: a Review
Keywords:
antibacterial, guava leaves extract, laboratory animals, leaf extract, Psidium guajava
Abstract
The importance of Psidium guajava has long been reported in ethnomedicine. Traditional medicine is practiced all over the world and is significant most especially in indigenous groups due to the poor accessibility to conventional medicine in the area. Furthermore, this type of medical approach is costly, and antibiotic resistance has been a serious issue ever since. The scientific community, therefore, studies good alternatives such as plant-derived extracts to treat various illnesses and diseases, which are known to be less expensive in terms of preparation, have fewer side effects, and be the less potential promoters of antibiotic resistance. One of the most encountered conditions in veterinary medicine is a wound. The review collated and presented studies, research, experiments, and other published materials that proved the antibacterial properties of P. guajava leaf extract, which causes the wound healing activities of the extract. P. guajava leaf extract is an effective alternative to commercially available drugs in treating wounds of laboratory animals and could potentially be effective in the larger scope of animals in the future.
References
Abubakar EMM (2009) The use of Psidium guajava Linn. in treating wound, skin, and soft tissue infections. Scientific Research and Essay 4 (6): 605-611
Akinpelu DA, Onakoya TM (2006) Antimicrobial activities of medicinal plants used in folkloric remedies in south-western Nigeria. Africa Journal of Biotechnology 5(11): 1078-1081.
Araùjo A, Soares LAL, Ferreira MRA, Neto MADS (2014) Quantification of polyphenols and evaluation of antimicrobial, analgesic, and anti-inflammatory activities of aqueous and acetone-water extracts of Libidibia ferrea, Parapipradenia rigida and Psidium guajava. Journal of Ethnopharmacology. doi: 10.1016/j.jep.2014.07.031.
Arima H, Danno G (2002) Isolation of antimicrobial compounds from guava (Psidium guajava L.). Bioscience, Biotechnology and Biochemistry 66: 727–1730.
Banu MS, Sujatha K (2012) Antimicrobial screening of leaf extract of Psidium guajava and its isolated fraction against some pathogenic microorganisms. Drug Invent Today 4(3):348–50.
Barbalho SM, Farinazzi-Machado FMV, Goulart RDA, Brunnati ACS, Machado AM, Ottoboni B and Nicolau CCT (2012) Psidium Guajava (Guava): A plant of multipurpose medicinal applications. Medicinal and aromatic plants. doi: 10.4172/2167-0412.1000104.
Bigliardi PL, Alsagoff SAL, El-Kafrawi HY, Pyon JK, Wa CTC, Villa MA (2017) Povidone-iodine in wound healing: A review of current concepts and practices. International Journal of Surgery. 44:260-268. doi: 10.1016/j.ijsu.2017.06.073.
Biswas B, Rogers K, McLaughlin F, Daniels D, Yadav A (2013) Antimicrobial activities of leaf extracts of guava (Psidium guajava l.) on two gram-negative and gram-positive bacteria. Hindawi Publishing Corporation International Journal of Microbiology doi: 10.1155/2013/746165.
Bui HT, Chung OH, Dela Cruz J, Park JS. (2014) Fabrication and characterization of electrospun curcumin-loaded polycaprolactone-polyethylene glycol nanofibers for enhanced wound healing. Macromolecular Research doi: 10.1007/s13233014-2179-6.
Chah KF, Eze CA, Emuelosi CE, Esimone CO (2005) Antibacterial and wound healing properties of methanolic extracts of some Nigerian medicinal plants. Journal of Ethnopharmacology 104(2006): 164–167.
Coutiño-Rodriguez R, Hernández-Cruz P and Giles-Ríos H (2001) Lectins in fruits having gastrointestinal activity: their participation in the agglutinating property of Escherichia coli O157:H7. Archives of Medical Research 32(4):251-257 doi: 10.1016/s0188-4409(01)00287-9.
Cruz IRL, Acorda JA (2006) Clinicopathologic evaluation of open wound healing in sheep (Ovis aries L) treated with guava (Psidium guajava L) poultice with or without aquapuncture using coconut water in comparison with antibiotic-antiseptic. Philippine Journal of Veterinary Animal Science. 32(1): 53-70.
Delorino SB, Ogalesco ML, Rebadulla KR, Rongcales MTA, Salubre JIA, Talacay MKS, Tuballas ZB (2020) Wound healing efficacy of guava leaf extract. Journal of Pharmaceutical Research International. 32(41): 27-35, doi: 10.9734/JPRI/2020/v32i4131041.
Díaz-de-Cerio E, Verardo V, Gómez-Caravaca AM, Fernández-Gutiérrez A, Segura-Carretero A (2017) Health effects of Psidium guajava L. leaves: An overview of the last decade. International Journal of Molecular Sciences.
Edwards R, Harding KG (2004) Bacteria and wound healing. Current Opinion in Infectious Diseases 17:91–96 doi: 10.1097/01.qco.0000124361.27345.d4.
Ekom SE, Tamokou JDD (2018) Methanol leaves extract of Psidium guajava Linn. exhibited antibacterial and wound healing activities. International Journal of Current Microbiology and Applied Sciences 7(7): 4008- 4023. doi: 10.20546/ijcmas.2018.707.467.
Fernandes KPS, Bussadori SK, Marques MM, Sumie N, Wadt Y, Bach E, Martins MD (2010) Healing and cytotoxic effects of Psidium guajava (Myrtaceae) leaf extracts. Braz J Oral Sci. Volume 9, Number 4 449-454.
Gandu AK, Gollapally VG, Kandikattla V, Thigulla T, Yajjala PK (2017) Wound healing effect of Psidium guajava (Guava Leaf) extract ointment in comparison to Fucidin and Topiderm on incisional wounds in ICR mice. Department of Pharmacology and Therapeutics – Gullas College of Medicine – University of the Visayas. Retrieved from https://www.herdin.ph/index.php/herdin-home?view=research&cid=63362 on May 18, 2022.
Geidam YA, Ambali AG, Onyeyili PA, Tijjani MB. Gambo HI, Gulani IA (2015) Antibacterial efficacy of ethyl acetate fraction of Psidium guajava leaf aqueous extract on experimental Escherichia coli (O78) infection in chickens. Veterinary World 8(3):358-62. doi: 10.14202/vetworld.2015.358-362.
Gonzales ACDO, Costa TF, Andrade ZDA, Medrado ARAP (2016) Wound healing – A literature review. Anais Brasileiros de Dermatologia. 2016;91(5):614-20 doi: 10.1590/abd1806-4841.20164741.
Guardabassi L, Schwarz S, Lloyd DH (2004) Pet animals as reservoirs of antimicrobial-resistant bacteria. Journal of Antimicrobial Chemotherapy 54: 321–332.
Guo S, DiPietro LA (2009) Factors affecting wound healing. J Dent Res 89(3):219-229,2010 DOI: 10.1177/0022034509359125.
Gupta P, Birdi T (2015) Psidium guajava leaf extract prevents intestinal colonization of Citrobacter rodentium in the mouse model. Journal of Ayuverda and Integrative Medicine. 6(1): 50-52. DOI: 10.4103/0975-9476.146557.
Gutierrez RMP, Mitchell S, Solis RV (2008) Psidium guajava: A review of its traditional uses, phytochemistry and pharmacology. Journal of Ethnopharmacology 117: 1–27.
Jang M, Jeong SW, Cho SK, Ahn KS, Lee JH, Yang DC, Kim JC (2014) Anti-Inflammatory Effects of an Ethanolic Extract of Guava (Psidium guajava L.) leaves in vitro and in vivo. Journal of Medicinal Food. 17 (6): 678-685. DOI: 10.1089/jmf.2013.2936.
Joosten P, Ceccarelli D, Odent E, Sarrazin S, Graveland H, Gompel LV, Battisti A, Caprioli A, Franco A, Wagenaar JA, Mevius D, Dewulf J (2020). Antimicrobial usage and resistance in companion animals: A cross-sectional study in three european countries. Antibiotics 9(87) doi: 10.3390/antibiotics9020087.
Joseph B, Priya RM (2011) Phytochemical and biopharmaceutical aspects of Psidium guajava (L.) essential oil: A review. Research Journal of Medicinal Plants. 2011;5(4):432–42.
Kavimani S, Ilango R, Vetrichelvan T (1997) Anti-inflammatory Activity of Volatile Oil of Psidium Guajava. Ancience Science of Life. 17(4): 300-304.
Khameneh B, Iranshahy M, Soheili V, Bazzaz BSF (2019) Review on plant antimicrobials: a mechanistic viewpoint. Antimicrobial Resistance & Infection Control 8(118)
Limsong J, Benjavongkulchai E, Kuvatanasuchati J (2004) Inhibitory effect of some herbal extracts on adherence of Streptococcus mutans. Journal of Ethnopharmacology. 92:281–289.
Lin J, Puckree T, Mvelase TP (2001) Anti-diarrheal evaluation of some medicinal plants used by Zulu traditional healers. Journal of Ethnopharmacology. 79(1), 53-56.
Maigoda TC, Siregar A, Podojoyo, Ridhowati S, Krisnasary A (2019) Wound Healing and Blood Sugar Effect of Psidium guajava L. Leaves and Melastoma malabathricum L. Leaves on Rats with Diabetic Foot Ulcer. Journal of Applied Sciences doi: 10.3923/jas.2019.287.294.
Mbuh FA, Asika U, Doughari JH (2008) Studies on antibacterial activities of leaf extract of Psidium guajava. Best Journal 5(1): 44-47.
Murphy C, Reid-Smith RJ, Boerlin P, Weese JS, Prescott JF, Janecko N, McEwen SA (2012) Out-patient antimicrobial drug use in dogs and cats for new disease events from community companion animal practices in Ontario. The Canadian Veterinary Journal 53(3): 291–298.
Naseer S, Hussain S, Naeem N, Pervaiz M and Rahman M (2018) The phytochemistry and medicinal value of Psidium guajava (guava). Clinical Phytoscience 4:32 doi: 10.1186/s40816-018-0093-8.
Ogbonnia SO, Enwuru NV, Onyemenem EU, Oydele GA, Enwuru CA. (2008) Phytochemical evaluation and antibacterial profile of Treculia africana Decne bark extract on gastrointestinal pathogens. African Journal of Biotechnology 7(10): 1385-1389.
Palma E, Tilocca B, Roncada P (2020) Antimicrobial resistance in veterinary medicine: An overview. International Journal of Molecular Sciences.
Prabu GR, Gnanamani A, Sadulla S (2006) Guaijaverin a plant flavonoid as potential antiplaque agent against Streptococcus mutans. Journal of Applied Microbiology 101, 487–495.
Rahim N, Gomes DJ, Watanabe H, Rahman SR, Chomvarin C, Endtz HP, Alam M (2010) Antibacterial activity of Psidium guajava leaf and bark against multidrug-resistant Vibrio cholerae: implication for cholera control. Japanese Journal of Infectious Disease 63: 271-274.
Shabana S, Kawai A, Kai K, Akiyama K and Hayashi H (2010) Inhibitory activity against urease of quercetin glycosides isolated from Allium cepa and Psidium guajava. Bioscience, Biotechnology, and Biochemistry 74: 878-880.
Shruthi SD, Roshan A, Timilsina SS, Sunita S. (2011). A review on the medicinal plant Psidium guajava Linn. (myrtaceae). Journal of Drug Delivery & Therapeutics 3(2): 162-168.
Srivastava J, Chandra H, Nautiyal AR, Kalra SJS (2014) Antimicrobial resistance (AMR) and plant-derived antimicrobials (PDAms) as an alternative drug line to control infections. 3 Biotech 4(5): 451–460 doi: 10.1007/s13205-013-0180-y.
Subramani R, Narayanasamy M, Feussner KD (2017) Plant-derived antimicrobials to fight against multi-drug-resistant human pathogens. 3 Biotech 7(3): 172 doi:10.1007/s13205-017-0848-9.
Vargas AD, Soto HM, Gonzalez HVA, Engleman EM, Martinez GA. (2006). Kinetics of accumulation and distribution of flavonoids in guava (Psidium guajava). Agrociencia 40, 109–115.
Velnari T, Bailey T, Smrkolj V (2009) The Wound Healing Process: an Overview of the Cellular and Molecular Mechanisms. The Journal of International Medical Research 37: 1528 – 1542.
Wei L, Li Z, Chen B (2000) Clinical study on treatment of infantile rotaviral enteritis with Psidium guajava L. Zhongguo Zhong Xi Yi Jie He Za Zhi 20(12): 893-895.
Yin XL, Li ZJ, Yang K, Lin HZ, Guo ZX (2014) Effect of guava leaves on growth and the non-specific immune response of Penaeus monodon. Fish & Shellfish Immunology. 40(1): 190-196. doi: 10.1016/j.fsi.2014.07.001.
Zhou L, Li D, Wang J, Liu Y, Wu J (2007) Antibacterial phenolic compounds from the spines of Gleditsia sinensis Lam. Natural Products Research 21: 283–291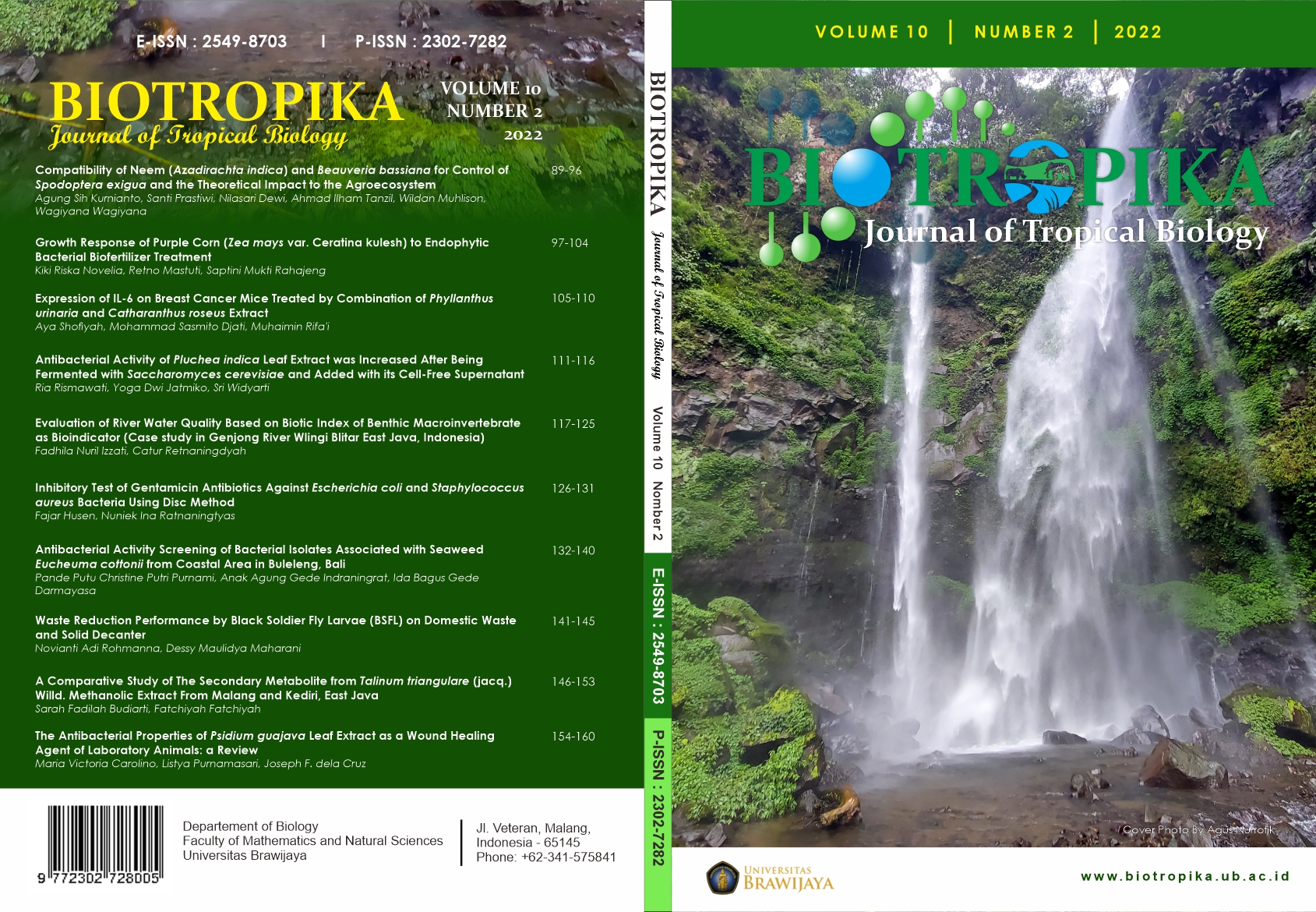 Downloads
License
Copyright and Attribution:
Articles in Biotropika: Journal of Tropical Biology are under Creative Commons Attribution (CC-BY-SA) copyright. The work has not been published before (except in the form of an abstract or part of a published lecture or thesis) and it is not under consideration for publication elsewhere. When the manuscript is accepted for publication in this journal, the authors agree to the automatic transfer of the copyright to the publisher.
Journal of Biotropika: Journal of Tropical Biology is licensed under a Creative Commons Attribution-ShareAlike 4.0 International License.
Permissions:
Authors wishing to include figures, tables, or text passages that have already been published elsewhere and by other authors are required to obtain permission from the copyright owner(s) for both the print and online format and to include evidence that such permission has been granted when submitting their papers. Any material received without such evidence will be assumed to originate from one of the authors.
Ethical matters:
Experiments with animals or involving human patients must have had prior approval from the appropriate ethics committee. A statement to this effect should be provided within the text at the appropriate place. Experiments involving plants or microorganisms taken from countries other than the author's own must have had the correct authorization for this exportation.