Hematological Profile and Spleen Histology Improvement in Diabetic Rats Treated with PLGA Nanoparticles-Ethanol Extract of Jengkol (Archidendron pauciflorum) Fruit Peel
Keywords:
diabetes mellitus, jengkol fruit peel, spleen, PLGA nanoparticle, hematological profile
Abstract
Jengkol (Archidendron pauciflorum) fruit peel-ethanol extract (JFP) contains several chemical compounds that act as antioxidant agents and are considered to have the potential to treat chronic disorders such as diabetes mellitus. Plant extract is generally applied in polylactic-co-glycolic acid (PLGA) nanoparticles due to its efficiency in entering the target organs. This study aims to investigate the effect of PLGA nanoparticles-ethanol extract of jengkol fruit peel (PLGA nanoparticle-JFP) on improving the hematological profile and the spleen histology of streptozotocin-induced diabetic rats. The treatment group was divided into six groups: (1) control group, (2) streptozotocin control (STZ); (3) 10 mg/kg BW of glibenclamide (GLB); (4) 770 mg/kg BW of jengkol fruit peel-ethanol extract (JFP1); (5) 110 mg/kg BW of JFP (JFP2); and (6) 770 mg/kg BW PLGA nanoparticle-JFP (PLGA-JFP). PLGA-JFP group showed a significant increase in erythrocytes and leukocytes counts (7.73x106 ± 0.02 cell/mm3 and 9.68x103 ± 3.0 cell/mm3 respectively), a decrease in lymphocytes and neutrophils percentage (66.5%±0.5% and 28±1.4% respectively) compared to the STZ group, and no significant difference in monocyte, eosinophils, and basophils percentage within groups. On the spleen histology, the white pulp diameter and the red pulp area showed significantly smaller (168.31±10.69μm and 8,01.28± 480.33 μm2 respectively) compared to the STZ group. Almost all parameters showed no significant difference compared to the GLB group but are significantly different from the control group. The administration of PLGA nanoparticle-JFP was proven to reverse hematological parameters and improve the spleen histology but has not yet reversed the diabetic rats' condition back to normal.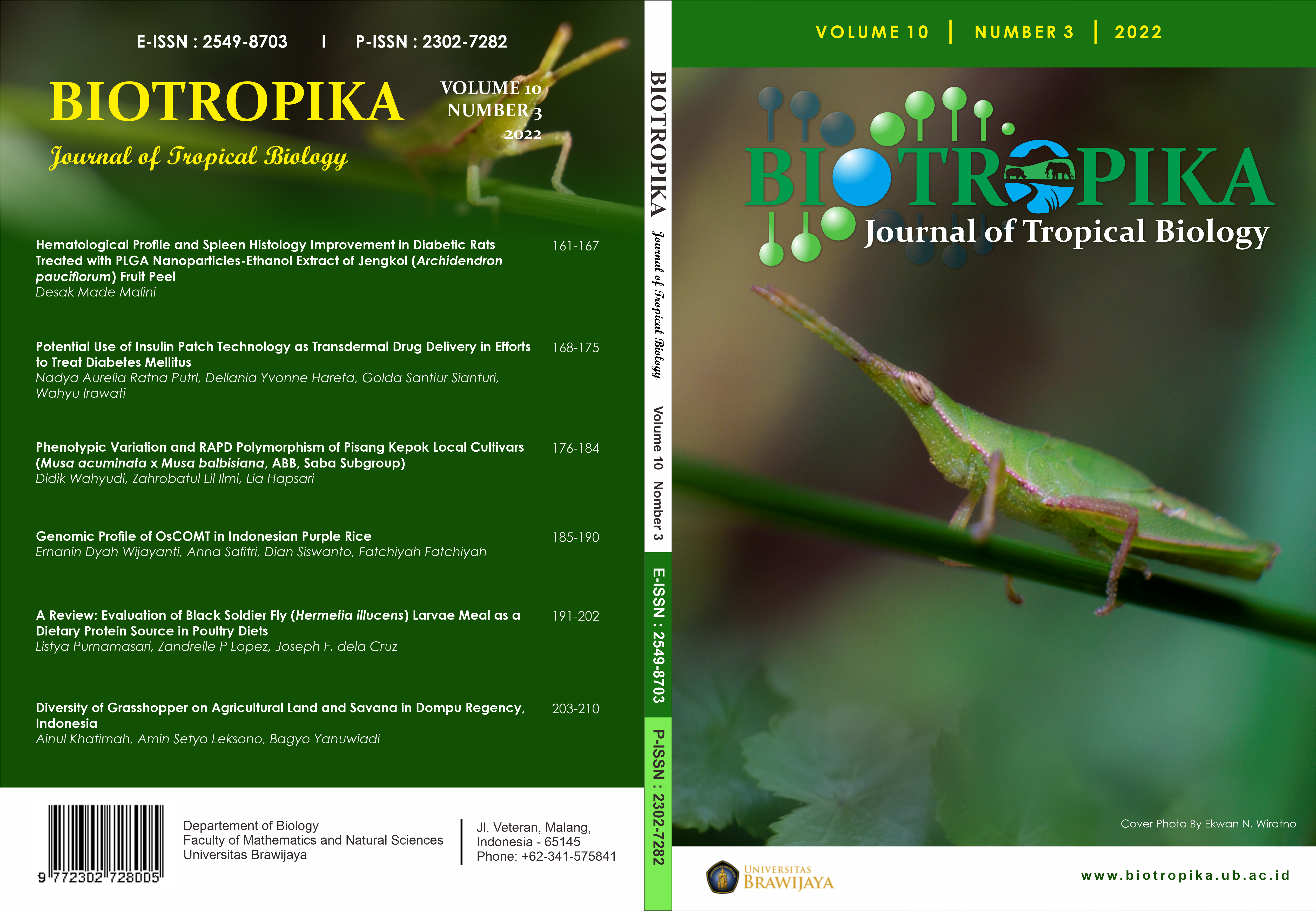 Downloads
License
Copyright and Attribution:
Articles in Biotropika: Journal of Tropical Biology are under Creative Commons Attribution-NonCommercial (CC-BY-NC) copyright. The work has not been published before (except in the form of an abstract or part of a published lecture or thesis) and it is not under consideration for publication elsewhere. When the manuscript is accepted for publication in this journal, the authors agree to the automatic transfer of the copyright to the publisher.
Journal of Biotropika: Journal of Tropical Biology is licensed under a Creative Commons Attribution-NonCommercial 4.0 International (CC BY-NC 4.0).
Permissions:
Authors wishing to include figures, tables, or text passages that have already been published elsewhere and by other authors are required to obtain permission from the copyright owner(s) for both the print and online format and to include evidence that such permission has been granted when submitting their papers. Any material received without such evidence will be assumed to originate from one of the authors.
Ethical matters:
Experiments with animals or involving human patients must have had prior approval from the appropriate ethics committee. A statement to this effect should be provided within the text at the appropriate place. Experiments involving plants or microorganisms taken from countries other than the author's own must have had the correct authorization for this exportation.