Compatibility of Neem (Azadirachta indica) and Beauveria bassiana for Control of Spodoptera exigua and the Theoretical Impact to the Agroecosystem
Keywords:
Agroecosystem, Azadirachta indica, Beauveria bassiana, Compability, Spodoptera exigua
Abstract
Spodoptera exigua (Hubner) (Lepidoptera: Noctuidae) is the biggest threat to onion farming, especially in the vegetative phase. In severe attacks, this pest can cause yield losses of up to 100%. Compatibility is one way to increase the efficiency and effectiveness of pest control by using plant-based pesticides or biological agents. Neem Leaf Extract (Azadirachta indica, acronym=NLE) has an azadirachtin compound that can inhibit insect growth, reduce appetite, reproduction, and hatch eggs. The fungus Beauveria bassiana (acronym=Bb) can secrete chitinase, lipase, proteinase enzymes that are able to decompose insect cuticles. NLE was obtained through the extraction method of plant-based pesticides and stored at 4oC until the experiment time. The Bb used was a commercial B. bassiana inoculum in the flour form with a density of 4.5 x 1010 spores/gram (trade name = Natural BVR). To determine the advantages of compatibility, this study is held by a single toxicity test of Bb and NLE, and the combined toxicity test of both. This study used a completely randomized design (CRD) consisting of 6 treatments with 4 replications, each replication used 12 larvae (a total of 48 larvae). Combination toxicity has a higher toxicity than the single use of NLE and Bb. At the LC 95 level, the combination treatment of Bb and NLE was 1.06-1.15 times more toxic than the single treatment of Bb, and 6.87-7.79 times more toxic than the single treatment of NLE. NLE and Bb are considered to have high compatibility (strong synergistic with GI value <0.5). Theoretically, the compatibility of NLE plant-based pesticides and Bb is very promising to replace chemical pesticides that have long-term adverse effects on agroecosystems.
References
.Puspitasari, Kiloes AM, Hardiyanto, and Sulistyaningrum A (2019) Farmer's behavior in using pesticides on shallots cultivation in Solok Highlands, West Sumatera. IOP Conf. Series: Earth and Environmental Science 399 (2019) 012116
.Supyani, Noviayani P., and Wijayanti R (2014) Insecticidal properties of Spodoptera exigua nuclear polihedarosis virus local isolate against Spodoptera exigua on shallot. J. entomol. Res 02(03) : 80-175
.Ameriana M (2008) Perilaku petani sayuran dalam menggunakan pestisida kimia J. Hort. 18(1) : 95–106
.Puspitasari and Kiloes AM (2017) Perilaku Petani dalam menggunakan pestisida di sentra produksi bawang merah Kabupaten Brebes in Prosiding Seminar Nasional Agroinovasi Spesifik Lokasi untuk Ketahanan Pangan Pada Era Masyarakat Ekonomi ASEAN pp. 605-612
. Arif A (2015) Pengaruh bahan kimia terhadap penggunaan pestisida lingkungan. JF FIK UINAM. 3(4) : 134–143
. Aoun M (2020) Pesticides' Impact on Pollinators. Zero Hunger, Encyclopedia of the UN Sustainable Development Goals, https://doi.org/10.1007/978-3-319-69626-3_38-1
. Tudi M, Ruan HDl, Wang L, Lyu J, Sadler R, Connell D, and Phung CCDT (2021) Agriculture Development, Pesticide Application and Its Impact on the Environment. Agriculture Development, Pesticide Application and Its Impact on the Environment. Int. J. Environ. Res. Public Health 2021 (18) 1112. https://doi.org/10.3390/ ijerph18031112
. Trisyono, YA (2019) Insektisida Pengganggu Pertumbuhan dan Perkembangan Serangga, Yogyakarta, Gadjah Mada University Press.
. Kawuki RS, Agona A, Nampala P., and Adipala E (2005) A comparison of effectiveness of plant-based and synthetic insecticides in the field management of pod and storage pests of cowpea. Crop Protection 24 (2005) : 473–478
. Vacante V and Bonsignore CP (2017) Natural Enemies and Pest Control. Handbook of Pest Management in Organic Farming 60 (eds V. Vacante and S. Kreiter). CAB International.
. Prijono D (2018) Teori Probit dan Pengujian Insektisida Majemuk, Bogor, IPBPress
. Murali M, Challa, and Sanivada SK (2014). Compatibility Of Beauveria Bassiana (Bals.) Vuill Isolates With Selected Insecticides And Fungicides At Agriculture Spray Tank Dose. Indian Journal Of Agricultural Sciences. 2(2):7-10
.Farrar JJ, Ellsworth PC, Sisco R, Baur ME, Crump A, Fournier AJ, Murray MK, Jepson PC, Tarutani CM, and Dorschner KW (2018) Assessing Compatibility of a Pesticide in an IPM Program. Journal of Integrated Pest Management. 9(1):3
. Sidauruk EJh, Fauzana H, and Salbiah D. (2017) Keefektifan Ekstrak Tepung Daun Mimba (Azadirachta Indica A. Juss) dengan Penambahan Beberapa Jenis Surfaktan Terhadap Ulat Grayak (Spodoptera litura Fab.) pada Tanaman Kedelai (Glycine max L. Merrill). Dinamika Pertanian. 33(3):223–230
. Masyitah I, Sitepu SF, and Safni I (2017) Potensi Jamur Entomopatogen untuk Mengendalikan Ulat Grayak Spodoptera litura F. pada Tanaman Tembakau. In Vivo. Jurnal Agroekoteknologi FP USU. 5(3):484- 493
. Afandhi A, Pratiwi VR, Hadi MS, Setiawan Y, and Puspitarini RD (2020) Suitable Combination Between Beauveria bassiana (Balsamo) Vuillemin and Four Plant Leaf Extracts to Control Spodoptera litura (Fabricius). Journal of Agricultural Science. 42(2) : 341-349
. Prijono D (2006) Pengembangan dan Pemanfaatan Insektisida Botani. Bogor : Departemen Proteksi Tanaman, Institut Pertanian Bogor
. Russianzi W and Prijono D (2019) Aktivitas Sinergistik Campuran Ekstrak Buah Piper aduncum dan Tiga Jenis Insektisida Turunan Metabolit Mikrob terhadap Ulat Plutella xylostella. Cropsaver. 2 (1):7-14
. Abizar M and Prijono D (2010) Aktivitas Insektisida Ekstrak Daun Dan Biji Tephrosia Vogelii J. D. Hooker (Leguminosae) dan Ekstrak Buah Piper Cubeba L. (Piperaceae) Terhadap Larva Crocidolomia Pavonana (F.) (Lepidoptera: Crambidae). HPT Tropika. 10(1):1-12
. Busvine JAR (1971) Critical Technique for Testing Insecticides. London, Commonwealth Agric. Bureaux
. Chou TC and Talalay P (1984) Quantitative Analysis of Dose-Effect Relationships: The Combined Effect of Multiple Drugs or Enzyme Inhibitors. Adv. Enz. Regl. 22:27-55
. Susanti D, Widyastuti R and Sulistyo A (2015) Aktivitas Antifeedant dan Antioviposisi Ekstrak Daun Tithonia diversifolia terhadap kutu kebul. Agrosains. 17(2):33-38
. Saenong MS (2016) Tumbuhan Indonesia Potensial Sebagai Insektisida Nabati untuk Mengendalikan Hama Kumbang Bubuk Jagung (Sitophilus spp.). Jurnal Litbang Pertanian. 35(3): 131-142.
.Fernández-Grandon GM, Harte SJ, Ewany J, Bray D, and Stevenson PC (2020) Additive effect of botanical insecticide and entomopathogenic fungi on pest mortality and the behavioral response of its natural enemy. Plants. 9(2):173
. Sain SK, Monga D, Kumar R, Nagrale D. T, Hiremani NS, and Kranthi S (2019) Compatibility of entomopathogenic fungi with insecticides and their efficacy for IPM of Bemisia tabaci in cotton. Journal of Pesticide Science. 44(2):97–105
.Wenchao G, Du G, Zhang L, Li Z, Xiao G, and Chen B (2020) The Time-Concentration-Mortality Responses of Western Flower Thrips, Frankliniella occidentalis, to the Synergistic Interaction of Entomopathogenic Fungus Metarhizium flavoviride, Insecticides, and Diatomaceous Earth. Insects.11(2):93
. Dadang and Prijono D (2008) Insektisida Nabati: Prinsip, Pemanfaatan, dan Pengembangan. Departemen Proteksi Tanaman, Bogor, Institut Pertanian Bogor
. Purwar JP and Sachan GC (2006) Synergistic effect of entomogenous fungi on some insecticides against Bihar hairy caterpillar Spilarctia oblique (Lepidoptera: Arctiidae). Microbiol. Res. 161(1): 38-42
. Purwar JP and Sachan GC (2006) Synergistic effect of entomogenous fungi on some insecticides against Bihar hairy caterpillar Spilarctia oblique (Lepidoptera: Arctiidae). Microbiol. Res. 161(1): 38-42
. Chimwanza B, Mumba PP, Moyo BHZ, and Kadewa W (2006) The impact of farming on river banks on water quality of the rivers. International Journal of Environmental Science and Technology. 2(4):353–358. doi: 10.1007/BF03325896.
. Wu L, Xu Y, Yan J, Xu Y, Wang Q, Xu X, and Wen H (2018) Impacts of land use change on river systems for a river network plain. Water (Switzerland) 10(5). doi: 10.3390/w10050609
.Stoyanova Z and Harizanova H (2019) Impact of Agriculture on Water Pollution. Agrofor. 4(1):111–118. doi: 10.7251/agreng1901111s.
. Pelizzaa SA, Schalamukc S, Simónd MR, Stengleine SA, Pacheco-Marinof SG, and Scorsettiba AC (2017) Compatibility of chemical insecticides and entomopathogenic fungi for control of soybean defoliating pest. Revista Argentina de microbiología. 50(2):189-201
. da Silva RA, Quintela ED, Mascarin GM, Barrigossi JAF, and Lião LM (2012) Compatibility of conventional agrochemicals used in rice crops with the entomopathogenic fungus Metarhizium anisopliae. Sci. Agric. 70(3):152-160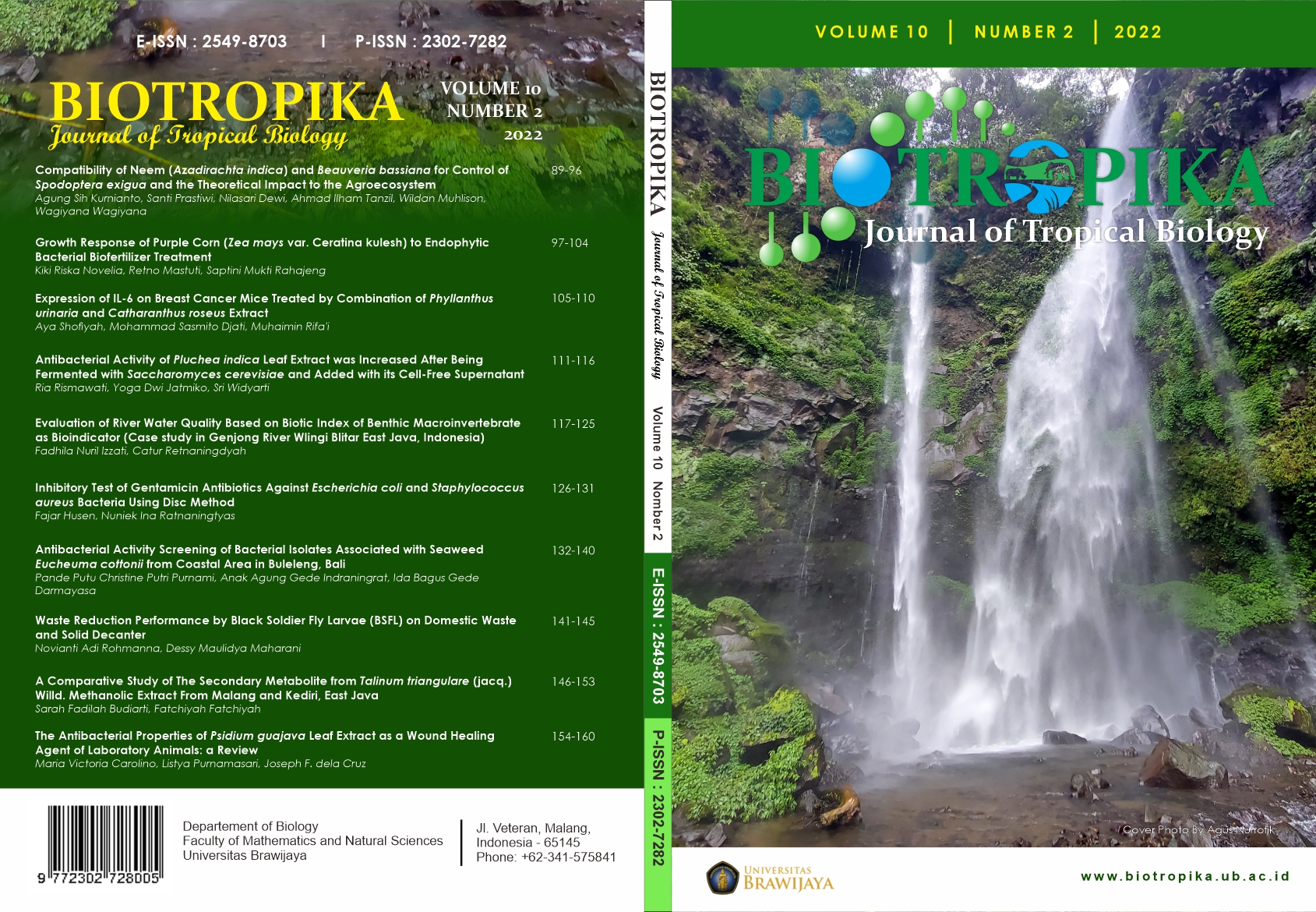 Downloads
License
Copyright and Attribution:
Articles in Biotropika: Journal of Tropical Biology are under Creative Commons Attribution (CC-BY-SA) copyright. The work has not been published before (except in the form of an abstract or part of a published lecture or thesis) and it is not under consideration for publication elsewhere. When the manuscript is accepted for publication in this journal, the authors agree to the automatic transfer of the copyright to the publisher.
Journal of Biotropika: Journal of Tropical Biology is licensed under a Creative Commons Attribution-ShareAlike 4.0 International License.
Permissions:
Authors wishing to include figures, tables, or text passages that have already been published elsewhere and by other authors are required to obtain permission from the copyright owner(s) for both the print and online format and to include evidence that such permission has been granted when submitting their papers. Any material received without such evidence will be assumed to originate from one of the authors.
Ethical matters:
Experiments with animals or involving human patients must have had prior approval from the appropriate ethics committee. A statement to this effect should be provided within the text at the appropriate place. Experiments involving plants or microorganisms taken from countries other than the author's own must have had the correct authorization for this exportation.