GENETIC ANALYSIS AND MOLECULAR INTERACTION OF UGPase IN SOME TUBER PLANTS RELATED TO GLUCOMANNAN PRODUCTION
Abstract
UGPase is an enzyme that affect the conformation of polysaccharide with β 1-4 bond. There are some differences interaction of UGPase enzyme with UDP-Glucose substrate in some tuber plants. So, the aim of this research are to observe the interaction of UGPase and UDP-G in some tuber plants and to observe the relationship among tuber plant based on UGPase sequence. Result of molecular docking shows the catalytic domain interaction of UGPase and UDP-G in substrate binding loop, lower energy free obtain from A. konjac is -5.06 kcal/mol, following by I. batatas and S. tuberosum is -4,60 dan -3,73 kcal/mol respectively. Interaction was stabilize by some interaction type, there are electrostatic and hydrogen in A. konjac and I. batatas, and hydrophobic in S. tuberosum. Sequence alignment of UGPase shows I. batatas and S. tuberosum relatively close than to A. konjac.
 
Key words: interaction, UDP-Glucose, UGPase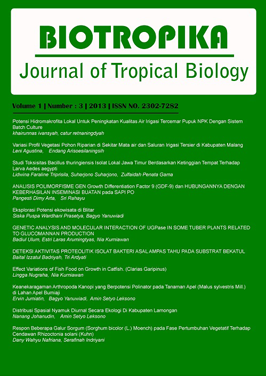 Downloads
License
Copyright and Attribution:
Articles in Biotropika: Journal of Tropical Biology are under Creative Commons Attribution-NonCommercial (CC-BY-NC) copyright. The work has not been published before (except in the form of an abstract or part of a published lecture or thesis) and it is not under consideration for publication elsewhere. When the manuscript is accepted for publication in this journal, the authors agree to the automatic transfer of the copyright to the publisher.
Journal of Biotropika: Journal of Tropical Biology is licensed under a Creative Commons Attribution-NonCommercial 4.0 International (CC BY-NC 4.0).
Permissions:
Authors wishing to include figures, tables, or text passages that have already been published elsewhere and by other authors are required to obtain permission from the copyright owner(s) for both the print and online format and to include evidence that such permission has been granted when submitting their papers. Any material received without such evidence will be assumed to originate from one of the authors.
Ethical matters:
Experiments with animals or involving human patients must have had prior approval from the appropriate ethics committee. A statement to this effect should be provided within the text at the appropriate place. Experiments involving plants or microorganisms taken from countries other than the author's own must have had the correct authorization for this exportation.