Identifikasi Padi Lokal Jawa Timur Berdasarkan Gen BADH2 yang Berpotensi sebagai Padi Beraroma
Keywords:
Padi Lokal, Jawa Timur, BADH2
Abstract
Padi lokal merupakan padi liar yang telah dibudidayakan oleh petani Indonesia. Potensi padi lokal dapat digunakan sebagai plasma nutfah yang memiliki berbagai gen dalam mengendalikan sifat tertentu. Beberapa beras di Indonesia memiliki potensi sebagai beras aromatik. Berbagai varietas padi aromatik berpotensi meningkatkan kualitas beras di Indonesia. Aroma beras dikendalikan oleh gen betain aldehid dehidrogenase (BADH). Gen ini terdiri dari dua alel yaitu BADH1 dan BADH2, mengkodekan enzim yang bertanggung jawab untuk mengkatalisis sintesis senyawa 2-acetyl-1-pyrroline (2-AP). Penelitian ini bertujuan untuk mengidentifikasi potensi aroma varietas Berlian. Gen BADH2 diisolasi dari daun pada ketiga varietas tersebut dan diamplifikasi menggunakan primer forward 5'-TTGTTTGGCTCTTGCTGATG -3' dan primer reverse 5'CATAGGAGCAGCTGAAATATATACC-3'. Fragmen gen BADH2 berhasil diamplifikasi dengan ukuran 258 bp (varietas Berlian). Sekuen BADH2 varietas Berlian menunjukkan kemiripan 100% dengan sekuen BADH2 padi tidak beraroma dan tidak memiliki kemiripan dengan sekuen BADH2 varietas padi beraroma. Analisis potensi padi beraroma menunjukkan bahwa varietas Berlian tidak berpotensi sebagai padi beraroma.
References
Ahn, S. N., Bollich, C. N., Tanksley, S. D., Breeding, P., & Hall, E. 1992. RFLP tagging of a gene for aroma in rice. Theor Appl Genet. 84: 825-828.
Altschul, S.F., Gish, W., Miller, W., Myers, E.W., & Lipman, D.J. 1990. Basic Local Alignment Search Tool. Mol. Biol. 215:403-410.
Bradbury L.M.T., Fitzgerald T.L., Henry R.J., Jin Q. and
Waters D.L.E. 2005. The gene for fragrance in rice. Plant Biotech. J. 3: 363–370.
Bradbury L.M.T., Henry R.J., Jin Q., Reinke R.F., Waters D.L.E., 2005b, A perfect marker for fragrance genotyping in rice. Mol. Breeding, 16:279-283.
Chakraborty, D., Deb, D., & Ray, A. 2016. An analysis of variation of the aroma gene in rice ( Oryza sativa L . subsp . indica Kato ) landraces. Genetic Resources and Crop Evolution. DOI 10.1007/s10722-016-0414-z.
Claverie, J.-M., & Notredame, C. 2007. Bioinformatics for Dummies. 2nd edition. Wiley Publishing, Inc. Indiana, 417 pp.
Fitzgerald, T. L., Waters, D. L. E., Brooks, L. O., and Henry, R. J. 2010. Fragrance in rice (Oryza sativa) is associated with reduced yield under salt treatment. Environ. Exp. Bot. 68: 292-300
Ge, H., Sun, L., & Yu, J. 2017. Fast batch searching for protein homology based on compression and clustering. BMC Bioinformatics, 18(1): 1–12.
Hendra, M., Guhardja, E. D. I., Setiadi, D., Walujo, E. K. O. B., & Purwanto, Y. (2009). Cultivation Practices and Knowledge of Local Rice Varieties among Benuaq Farmers in Muara Lawa District West Kutai East. BIODIVERSITAS. 10(2): 98 -103.
Kabar Banyuwangi., 2013. Genjah Arum Varietas Yang Nyaris Punah. https://www.kabarbanyuwangi.info/genjah-arum-varietas-padi-lokal-yang-nyaris-punah.html. Diakses tanggal 27 September 2018
Masniawati, A., Baharudin., Joko, T., & Abdullah, A. 2015. Pemuliaan Tanaman Padi Aromatik Lokal Kabupaten Enrekang Sulawesi Selatan Local Aromatic Rice Breeding of Enrekang Regency South Sulawesi, Jurnal Sainsmat. 4(2): 205-213.
Nakamura, T., Yokota, S., Muramato, Y., Tsutsui, K., Oguri, Y., Fukui, K., & Takabe, T. 1997. Expression of a betaine aldehyde dehydrogenase gene in rice, a glycinebetaine nonaccumulator, and possible localization of its protein in peroxisomes. The Plant Journal. 11(5): 1115-1120.
Seno, D.S.H., Hasan, A.E.Z., Santoso, T.J., Kusbiantoro, B., & Mas'ud, Z.A. 2011. Identifikasi Gen Aroma Pada Progeni-Progeni Backcross Antara Varietas Ciherang Dengan Pandan Wangi ( Identification Of Fragrant Gene Within Backcross Progenies Between. Jurnal Ilmu Pertanian Indonesia. 16(2): 136-141.
Singh A, Singh PK, Singh R, Pandit A, Mahato AK, Gupta DK, et al. 2010. SNP haplotypes of the BADH1 gene and their association with aroma in rice (Oryza sativa L.). Mol Breed 26: 325–338.
Sobrizal. 2016. Potensi Pemuliaan Mutasi untuk Perbaikan Varietas Padi Lokal Indonesia Potential of Mutation Breeding in Improving Indonesian Local Rice Varieties. Jurnal Ilmiah Aplikasi Isotop dan Radiasi. 12(1): 23-36.
Roy, S.C. 2015. DNA Barcoding for Wild Rice (Oryza rufipogon Griff) of NBU Campus Based on matK gene and Assessment of Genetic Variation Using DREB and BADH2 Gene Sequences. Plant Gene and Trait. 6(5): 1-10.
Vanavichit, A., Tragoonrung, S., Toojinda, T., Wanchana, S., & Kamolsukyunyong, W. 2008. Transgenic rice plants with reduced expression of Os2AP and elevated levels of 2-acetyl-1 pyrroline. USA patent 7,319,181
Wijaya, C.H., Kusumaningrum, H., Kusbiantoro, B., & Handoko, D.D. 2011. Karakteristik Sensori Nasi dari Beberapa Varietas Padi Aromatik Lokal Indonesia. PANGAN. 20(1): 63-80.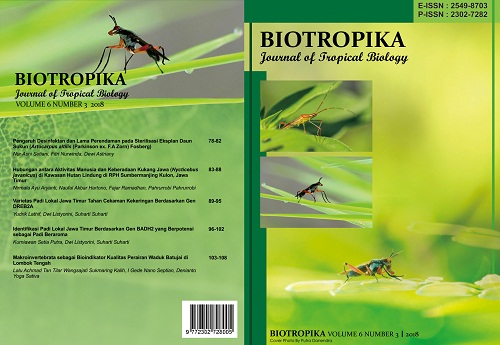 Downloads
License
Copyright and Attribution:
Articles in Biotropika: Journal of Tropical Biology are under Creative Commons Attribution (CC-BY-SA) copyright. The work has not been published before (except in the form of an abstract or part of a published lecture or thesis) and it is not under consideration for publication elsewhere. When the manuscript is accepted for publication in this journal, the authors agree to the automatic transfer of the copyright to the publisher.
Journal of Biotropika: Journal of Tropical Biology is licensed under a Creative Commons Attribution-ShareAlike 4.0 International License.
Permissions:
Authors wishing to include figures, tables, or text passages that have already been published elsewhere and by other authors are required to obtain permission from the copyright owner(s) for both the print and online format and to include evidence that such permission has been granted when submitting their papers. Any material received without such evidence will be assumed to originate from one of the authors.
Ethical matters:
Experiments with animals or involving human patients must have had prior approval from the appropriate ethics committee. A statement to this effect should be provided within the text at the appropriate place. Experiments involving plants or microorganisms taken from countries other than the author's own must have had the correct authorization for this exportation.