Varietas Padi Lokal Jawa Timur Tahan Cekaman Kekeringan Berdasarkan Gen DREB2A
Keywords:
Cekaman Kekeringan, Varietas Padi Lokal, Gen DREB2A, Domain ERF
Abstract
Padi (Oryza sativa L.) adalah tanaman pangan utama masyarakat Indonesia. Masalah kekeringan dalam upaya penanaman padi adalah hal yang biasa di kalangan petani. Penelitian tahan cekaman kekeringan pada padi perlu dilakukan untuk mengatasi masalah ketersediaan pangan. Sifat tahan cekaman kekeringan pada tanaman salah satunya dikendalikan oleh gen DREB2A. Varietas padi lokal Indonesia untuk tahan cekaman kekeringan belum banyak diteliti. Penelitian ini bertujuan untuk mempelajari varietas padi lokal Jawa Timur yang tahan terhadap cekaman kekeringan menggunakan gen DREB2A, yang diisolasi menggunakan primer forward 5'-CCT CAT TGG GTC AGG AAG AA-3' dan primer reverse 5'-GGA TCT CAG CCA CCC ACT TA-3'. Penelitian ini menggunakan tiga varietas padi lokal, yaitu Berlian dan SOJ A3, keduanya dari Banyuwangi, dan varietas Jawa dari Malang. Isolasi DNA total dilakukan mengikuti protokol Kit Macherey-Nagel. Amplifikasi gen DREB2A dilakukan menggunakan metode Polymerase Chain Reaction (PCR). Fragmen gen DREB2A berhasil diamplifikasi sepanjang 239 bp (varietas Berlian), 239 bp (varietas SOJ A3), dan 240 bp (varietas Jawa). Analisis sampel gen DREB2A varietas padi lokal Jawa Timur menunjukkan hilangnya kemampuan gen DREB2A dari varietas Jawa untuk mengikat cis-regulator elemen promotor gen target.
References
Noviasari S, Kusnandar F, Setiyono A, Budijan. 2017. Physical, Chemical, and Sensory Characteristics of Rice Analogue from Non Rice Ingredients. J Pangan 26: 1–11.
Badan Pusat Statistik Indonesia, Badan Pusat Statistik Indonesia., Proyeksi Penduduk Indonesia Indonesia Population Projection 2010-2035 2013. Proyeksi Penduduk Indonesia Indonesia Population Projection 2010-2035. 2013. Badan Pusat Statistik Indonesia 978-979 p.
Suciantini S. 2017. Analisis risiko kekeringan dengan menggunakan decision network di sentra produksi padi di Jawa Barat. Pros Sem Nas Masy Biodiv Indon 3: 62–8. Available from: http:// biodiversitas.mipa.uns.ac.id/M/ M0301/M030111.pdf
Hafif B. 2016. Optimasi Potensi Lahan Kering Untuk Pencapaian Target Peningkatan Produksi Padi Satu Juta Ton Di Provinsi Lampung. J Penelit dan Pengemb Pertan [Internet] 35(2): 81. Available from: http://ejurnal. litbang.pertanian.go.id/index.php/jppp/article/view/5249
Sitaresmi T, Wening RH, Rakhmi AT, Yunani N, Susanto U. 2013. Pemanfaatan Plasma Nutfah Padi Varietas Lokal dalam Perakitan Varietas Unggul. Iptek Tan Pangan 8(1): 22–30.
Akhtar M, Jaiswal A, Taj G, Jaiswal JP, Qureshi MI, Singh NK. 2012. DREB1/CBF transcription factors: their structure, function and role in abiotic stress tolerance in plants. J Genet 91(3): 385–95.
Kumar S. 2016. Identification of DREB and SSR linked drought sequences in finger millet (Eleusine coracana (L.) Gaertn.) genotypes. College Of Biotechnology Birsa Agricultural University.
Samal KC JK. 2014. Studies on Molecular Characterization of DREB Gene in Indica Rice (Oryza sativa L.). Hered Genet [Internet] 03(03): 1–12. Available from: http://omicsonline. org/open-access/studies-on-molecular-characterization-of-dreb-gene-in-indica-rice-oryza-sativa-2161-1041-3-1000133.php?aid=30384
Oh S-J, Kim YS, Kwon C-W, Park HK, Jeong JS, Kim J-K. 2009. Overexpression of the Transcription Factor AP37 in Rice Improves Grain Yield under Drought Conditions. Plant Physiol [Internet] 150(3): 1368–79. Available from: http://www. plantphysiol.org/cgi/doi/10.1104/pp.109.137554
de Silva WSI, Perera MMN, Perera KLNS, Wickramasuriya AM, Jayasekera GAU. 2017. In silico Analysis of osr40c1 Promoter Sequence Isolated from Indica Variety Pokkali. Rice Sci 24(4): 228–34.
Porceddu A, Camiolo S. 2017. Patterns of spontaneous nucleotide substitutions in grape processed pseudogenes. Diversity 9(4): 1-14.
Capella-Gutiérrez S, Gabaldón T. 2013. Measuring guide-tree dependency of inferred gaps in progressive aligners. Bioinformatics 29(8): 1011–7.
Wang X, Hou C, Zheng K, Li Q, Chen S, Wang S. 2017. Overexpression of ERF96, a small ethylene response factor gene, enhances salt tolerance in Arabidopsis. Biol Plant 61(4): 693–701.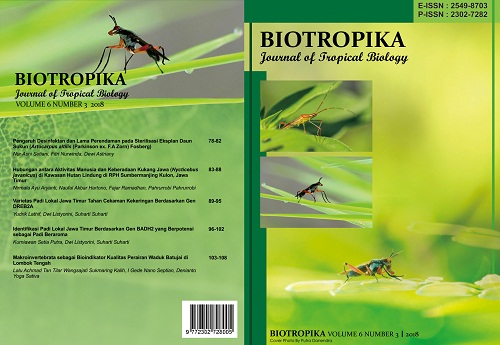 Downloads
License
Copyright and Attribution:
Articles in Biotropika: Journal of Tropical Biology are under Creative Commons Attribution (CC-BY-SA) copyright. The work has not been published before (except in the form of an abstract or part of a published lecture or thesis) and it is not under consideration for publication elsewhere. When the manuscript is accepted for publication in this journal, the authors agree to the automatic transfer of the copyright to the publisher.
Journal of Biotropika: Journal of Tropical Biology is licensed under a Creative Commons Attribution-ShareAlike 4.0 International License.
Permissions:
Authors wishing to include figures, tables, or text passages that have already been published elsewhere and by other authors are required to obtain permission from the copyright owner(s) for both the print and online format and to include evidence that such permission has been granted when submitting their papers. Any material received without such evidence will be assumed to originate from one of the authors.
Ethical matters:
Experiments with animals or involving human patients must have had prior approval from the appropriate ethics committee. A statement to this effect should be provided within the text at the appropriate place. Experiments involving plants or microorganisms taken from countries other than the author's own must have had the correct authorization for this exportation.