Kualitas Diversitas, Struktur Vegetasi di Area Hutan Sekunder dan Beberapa Agroforestri di Kawasan Wana Wisata Rawa Bayu, Kecamatan Songgon, Banyuwangi
Abstract
Wana Wisata Rawa Bayu Banyuwangi merupakan bagian dari Kesatuan Pemangku Hutan (KPH) Rogojampi petak 8 Hutan Songgon, KPH Banyuwangi Barat. Masyarakat terlibat dalam pengelolaan hutan di sekitar wana wisata menggunakan sistem Hutan Kemasyarakatan (HKM) yang bertujuan untuk meningkatkan kesejahteraan masyarakat tanpa melupakan upaya konservasi lahan. Di kawasan wana wisata ini terdapat dua jenis HKM yaitu agroforestri sederhana (AFS) dan kompleks (AFK). Namun, hingga saat ini belum pernah ada publikasi tentang perbedaan kualitas diversitas dan struktur vegetasi di dua agroforestri asal hutan. Oleh karena itu, perlu dilakukan analisis vegetasi untuk membandingkan kualitas diversitas dan struktur vegetasi antara dua agroforestri tersebut dengan hutan sekunder (HS), karakter tiap lokasi dan morfologi spesies dominan, serta survey sosial untuk memperoleh informasi tentang pengetahuan masyarakat terhadap berbagai jenis dan manfaat tumbuhan. Hasil menunjukkan bahwa terdapat variasi spasial pada struktur dan kualitas diversitas di masing-masing lokasi. Taxa richness dan H' pancang, tiang, dan pohon pada HS lebih tinggi dibandingkan AFK maupun AFS, kecuali pada semai. Masing-masing lokasi memiliki keunikan dan karakter morfologi yang berbeda-beda. Masyarakat  mengenal  jenis-jenis tumbuhan di agroforestri dan hutan sekunder, serta ada beberapa masyarakat yang mengetahui jenis-jenis tumbuhan lokal, serta mengetahui manfaatnya untuk meningkatkan kesejahteraan masyarakat.
References
Ardhana, I PutuGede. 2011. Teknik Agroforestry Di Areal Hutan Kemasyarakatan Desa Pejarakan, Kecamatan Gerokgak, Kabupaten Buleleng, Provinsi Bali.Jurnal Ilmu Pertanian Indonesia. Vol. 16: 81-90.
Connell, J.H., Slatyer, R.O., 1977. Mechanisms of succession in natural communities and their role in community stability and organization. Am. Nat. 111, 1119- 1144.
Hamzah, Z. Dan A. Anwar. 1979. Pengaruh Konversi Tegakan dengan Pinus merkusii terhadap Komposisi tumbuhan Bawah. Lembaga Penelitian Hutan. Bogor.
Mueller, Dieter and Dombois Heinz Ellenberg. 1974. Aims and Methods of Vegetation Ecology. John Wiley & Sons,
Inc. Canda Hal: 45-66.
Stohlgren, T.J, M.B. Falkner and L.D Schell. 1995. A modified-Whittaker Nested Vegetation Sampling Method. Journal of Vegetation. Kluwer Academic Publishers. USA. 117:113- 121.
Perrings C. (2005). Mitigation and adaptation strategies for the control of biological invasions. Ecological Economics 52 (3), 315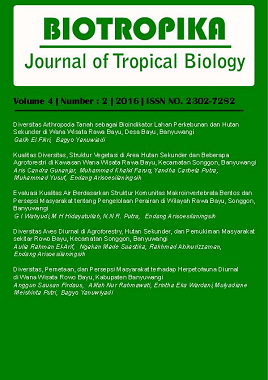 Downloads
License
Copyright and Attribution:
Articles in Biotropika: Journal of Tropical Biology are under Creative Commons Attribution (CC-BY-SA) copyright. The work has not been published before (except in the form of an abstract or part of a published lecture or thesis) and it is not under consideration for publication elsewhere. When the manuscript is accepted for publication in this journal, the authors agree to the automatic transfer of the copyright to the publisher.
Journal of Biotropika: Journal of Tropical Biology is licensed under a Creative Commons Attribution-ShareAlike 4.0 International License.
Permissions:
Authors wishing to include figures, tables, or text passages that have already been published elsewhere and by other authors are required to obtain permission from the copyright owner(s) for both the print and online format and to include evidence that such permission has been granted when submitting their papers. Any material received without such evidence will be assumed to originate from one of the authors.
Ethical matters:
Experiments with animals or involving human patients must have had prior approval from the appropriate ethics committee. A statement to this effect should be provided within the text at the appropriate place. Experiments involving plants or microorganisms taken from countries other than the author's own must have had the correct authorization for this exportation.